How to Unlock A Verizon Phone (Android & iPhone)
Whether you are running on an Android or an Apple enabled phone, Verizon as a communication company and mobile carrier usually lock their phones so as to prevent users from using different network providers on these phones. However, with advanced technology, a reputable number of phone unlocking services are available to choose and use. From these services, you can learn how to unlock a Verizon phone and render it useable on different network providers.
The good thing about these unlocking services is the fact that you can use them on various operating platforms. In this article, I'm going to painstakingly elaborate different methods on how to unlock a Verizon phone regardless of whether you are operating an Apple phone or an Android supported one.
Part 1: How to Unlock Verizon iPhone without SIM Card Online
All phone carrier services only allow their customers to unlock their phones once they have met certain terms and conditions. With this in mind, DoctorSIM Unlock Service came up with an easy step on how to unlock a Verizon phone without a Sim card. With dr.fone, you don't have to be worried about binding contracts since the unlocking process does not alter or breach the contract that binds you to your network provider.
Unlock Verizon iPhone without SIM Card Online!
The simple, fast, safe and legal way to unlock your phone.
Doesn't violate your phone's warranty.
60+ countries supported
No risk to your phone or data.
Step 1: Choose Your Phone Brand
Since dr.fone supports different phone models and brands, the first thing that you ought to do is to locate your Apple brand from the long list of brands available. The screenshot below perfectly pinpoints where to click.
Step 2: Select iPhone Model, Country and Network Provider
Once you have selected your mobile brand, the next step is to fill in the request form. Select iPhone 6S on the "Select Your Phone Model", select your country of residence and finally, choose Verizon from the network provider list.
Once you are done, scroll down the page to complete the rest of the form.
Step 3: Enter Contact and iPhone 6s Details
Enter your iPhone 6S IMEI number as well as your contact information in the spaces provided. If you are not sure about your unique IMEI number, dial *#06# on your iPhone 6S. The unique 15 digit IMEI code will be displayed. Enter this number in the spaces provided and click on the "Add to Cart" option.
Step 4: Unlock Code Generation
Pay the amount of processing fee stipulated in the second step of the unlock process and wait for the code to be generated. Once the code has been generated, enter this code in your iPhone 6S when prompted to do so. It's simple as that. For those who didn't know how to unlock Verizon iPhone, now I hope you are in a position to employ this method when the need arises.
Part 2: How to Unlock Verizon iPhone with iPhoneIMEI.net
Another one of the best online iPhone unlock service is iPhoneIMEI.net It claims that it unlocks iPhone via an official method, which means your iPhone will never be relocked no matter you upgrade iOS, or sync the phone with iTunes. Currently it supports to unlock iPhone 7, iPhone 6S, iPhone 6 (plus), iPhone 5S, iPhone 5C, iPhone 5, iPhone 4S, iPhone 4.
Steps to unlock iPhone with iPhoneIMEI.net
Step 1. Go to iPhoneIMEI.net official website. Select your iPhone model and the network your phone is locked to, then click on Unlock.
Step 2. On the new window, follow the instruction to find the IMEI number. Then enter the IMEI number and click on Unlock Now. It will direct you to finish the payment process.
Step 3. Once the payment is successful, the system will send your IMEI number to the network provider and whitelist it from Apple's database. The process usually takes about 1-5 days. Then you will receive a confirmation email that your phone is unlocked successfully.
Part 3: How to Unlock Verizon Android by dr.fone - Android SIM Unlock
When it comes to unlocking a Verizon locked Samsung Galaxy S5, dr.fone - Android SIM Unlock is the simple and fast tool we can choose. The following are the basic steps that each and every Samsung Galaxy user should follow if they want to know how to unlock Samsung Galaxy S5.
Step 1: Root Your Galaxy S5
The first thing to do for you to unlock your Samsung Galaxy S5 successfully is by rooting your phone. This rooting process makes it easier to manipulate the phone without losing any valuable data or damaging the phone.
Step 2: Connect Your Galaxy S5 to Your PC
Using your USB cable, connect your S5 to your PC. dr.fone will automatically detect the phone and display the screenshot listed below.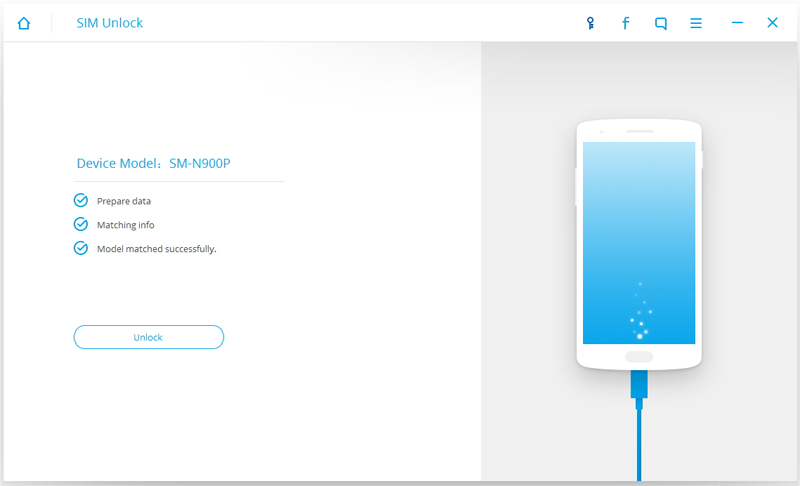 Step 3: Unlock Your Phone
Once you have successfully connected your PC to your phone, click on the "Unlock" icon to initiate the unlocking process. During this process, all you need to do is to sit back and watch as dr.fone seamlessly unlocks your Verizon codes. During this time, your phone will restart itself automatically on a number of times. Don't get worried by this restarting process, and don't disconnect your device until the lock has been removed entirely. Once the Verizon codes have been removed, an "unlocked successfully" message will be displayed on your PC monitor.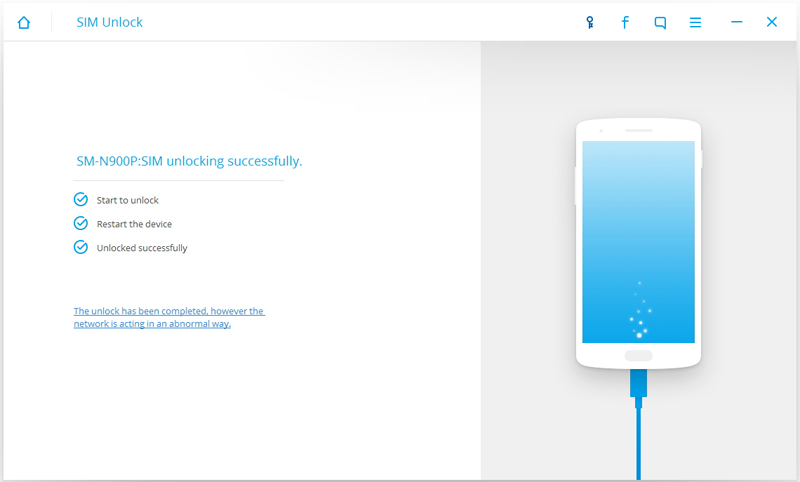 You can now disconnect your Galaxy S5 and check to see if the Verizon lock has been removed.
Part 4: Why are Different Phones Locked?
The reason as to why many network providers SIM lock their phones is because they offer these phones at a discount price to their clients in exchange for a contract. Customers are supposed to pay for the services provided by this network for a given period. This business model allows the organization to recoup the cost of the phone over the life of the contract. If the phones are not locked, the user may sign a contract with a different organization, get a discount, and then stop paying the monthly fee thus breaking the contract.
The binding agreement makes sure that the carrier can recoup its subsidy over the course of the contract. If a person breaks the contract without an apparent reason, the company in question has all the rights to charge you with an early termination fee. The reason as to why they do this is so as to ensure that they get back their money.
High-end smartphones, for instance, the iPhone 5S and Samsung Galaxy S4 are relatively expensive depending on the make and the model. With this reason in mind, some users may decide to buy these phones at a discounted price from conventional suppliers hence depriving the company the money it rightfully deserves. This has led to the locking of these phones so as to curb these behaviors.
From the information gathered above, we can conclusively state that it's easy to employ the Verizon iPhone 6s unlock method just in case you are a Verizon subscriber operating on a locked iPhone. On the other hand, if you have an Android phone, you can still employ the how to unlock a Verizon phone method to unlock your Android phone as mentioned in this article. The method you choose will no doubt depend on the model of your device.