The need to bypass iCloud activation is usually at minimal as one is always aware of his or her iCloud account details. But in the event of your device being misplaced or accidentally being taken by someone (usually stolen), bypassing the iCloud activation is the only viable solution that one with good intentions can afford in order to find necessary details about the device's owner.
iCloud accounts, even though not easily hacked, can still be hacked by skilled hackers or simply by people who are aware of your account details. If one tries to get into their hacked (or) tampered account by regular attempts, the iDevice could in fact reset its self and result in a total loss of data which is something no owner wants to happen.
So, as for the iCloud locked problem, we are going to share you some methods on how to bypass iCloud activation on iPhone. We hope these iCloud removal methods can solve your iCloud locked problem.
Apple only offers 5GB of free storage for each iCloud account. If your iCloud storage is full or getting close, you will get the annoying popups everyday. You can follow these 14 simple hacks to fix iCloud storage full on your iPhone/iPad.
Part 1: Bypass iCloud activation on iPhone through DNS method.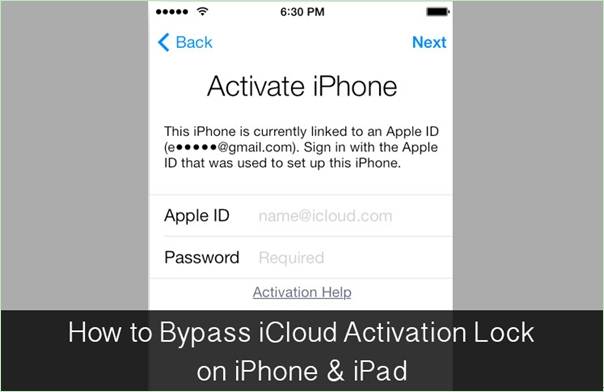 Whilst you hold the iPhone of a complete unknown entity and wish to return the same to its rightful owner and require appropriate details about the owner, this can be achieved in a brief time period by applying the following method.
In the activation window, press the home button and then select Wi-Fi settings and then tap on the 'I' bonded by a circle. Now it's time to remove the existing DNS server and put a custom one in motion. Now, let's follow the steps below to bypass iCloud activation on iPhone.
How to bypass iCloud activation lock
Enter the new DNS server as 78.109.17.60.
Tap on "Back" > "Done" > "Activation help."
Once you accomplish the above mentioned easy steps, a message would appear saying you have successfully connected to my server.
Tap on the "Menu" on the top right.
Scroll through a number of applications available for use such as YouTube, Mail, Maps, Games, Social, User chat, Video, Audio and more.
Select the appropriate application which you think can provide with the information you require for the owner of the phone.
Video Guide: How to bypass iCloud activation through DNS
Tips: During the using of iCloud, we use it most for data backup to avoid data lost. But if you can't acess you iCloud, maybe you are supposed to backup your iPhone data to computer. Well, dr.fone - Backup & Restore (iOS) happens to be the tool for it. As for detail information, please check the below box.
Backup & Restore iOS Data Turns Flexible
One click to backup the whole iOS device to your computer.
Allow to preview and restore any item from the backup to a device.
Export what you want from the backup to your computer.
No data loss on devices during the restore.
Fully Compatible with the latest iOS 11.
3981454 people have downloaded it
Part 2: Bypass iCloud activation online
Official iPhoneUnlock is a professional iPhone unlock website, which can provide online service to easily unlock your iCloud activation lock. And I think it is a nice choice if you encounter iCloud activation lock problems.
Directly go to the Official iPhone Unlock website and select "iCloud Unlock" option as shown in the screenshot below.

In the new window, just select the model of your device and fill out your IMEI code. Then make the payment and you will get your iCloud account unlocked in 1-3 days.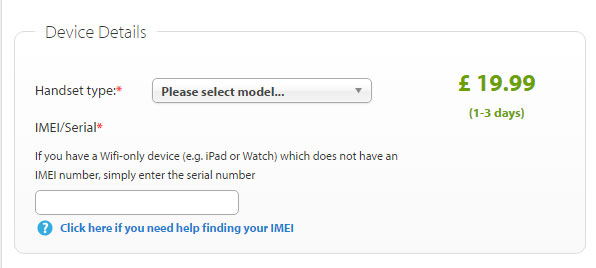 So, it is very easy and convenient for you to bypass your iCloud activation lock in this way. Why not have a try?

Note: Before making a purchase, please ckech the production introduction and necessary information on the service's official website.
Part 3: Bypass iCloud activation on iPhone with a suitable tool.
There are a limited number of functional tools available that can come in handy in bypassing the iCloud activation for your iPhone or iPad. One in the names is 'iCloud activation bypass tool version 1.4'. The tools name abides by what it says and is a really easy tool to use.
Below are the steps to bypass iCloud activation by using this tool.
Download and install the program on your desktop.
Launch the application and connect your iPhone or iPad via the USB cable to your desktop.

The tool will now scan your device and reads its IMEI number.
Click on the 'Bypass Activation Lock' button and patiently wait for the procedure to be completed. The tool with the help of your devices IMEI code will connect to the Apple servers from where it will terminate and delete all linked iCloud accounts of your device.
Once the process is complete, disconnect your phone and reboot it. You will notice that the iCloud lock has been permanently removed and hence no sorts of prior activation is required to use the device.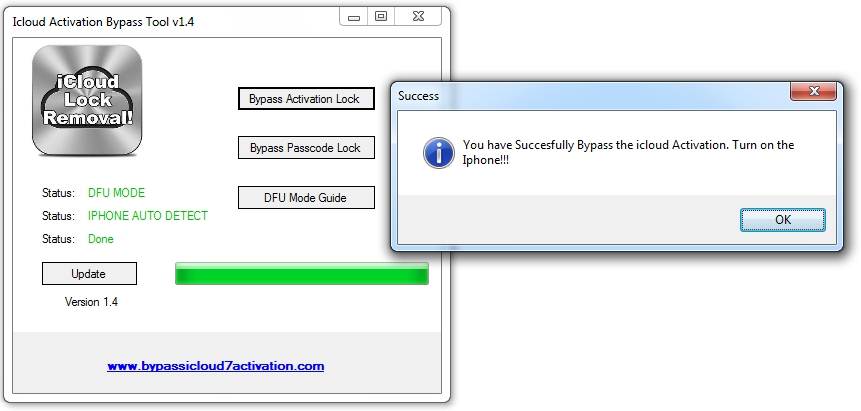 Tips: If you'd like to know more iCloud bypass tools, you can just read this article: Top 8 iCloud Bypass Tools.
Recommended tool to unlock locked iCloud
While talking about a suitable tool to bypass iCloud activation, missing out dr.fone – Unlock (iOS) doesn't make any sense as it is the most trusted and loved tool by millions of users. Available for Windows and Mac operating systems, it offers extremely easy process to make the work of bypassing iCloud done. There are many other tools that don't hesitate to make false promises but Wondershare has always managed to upkeep the security and trust of the users and just does what is says. Let us bring you more close to this iCloud bypass tool.
• The tool makes it easy for the users to unlock locked iCloud by providing really easy interface.
• It comes with an exceptional speed for unlocking i.e. works in less than a minute.
• A lot of other functions are supported with the tool like there is no requirement of IMEI number or providing security answers.
• With this, you can re-access Apple ID features and services once iCloud gets unlocked.
• Removing any kind of lock screen is a cake walk for dr.fone.
• Bypassing Apple ID is supported for iDevices running on iOS 11.4 or earlier only.
Fix "iPhone Is Disabled Connect to iTunes" Error In 5 Minutes
Welcoming solution to fix "iPhone is disabled, connect to itunes"
Effectively remove iPhone lock screen without the passcode.
Works for all models of iPhone, iPad and iPod touch.
Fully compatible with the latest iOS.
3981454 people have downloaded it
Part 4: Bypass iCloud activation on iOS 11 devices
Starting with iOS 11, Apple has introduced a very bizarre bug in their Activation mechanism, that allows you to bypass iCloud activation completely (with SIM card working), in certain conditions. The bug relies on the passcode activation method and requires Second Factor Authentication (2FA) to be enabled on the account to which the device is locked. As of iOS 11, the passcode activation option appears for the iCloud Locked devices if 2FA is on.
The bug allows a user to input a false passcode "0000" or "0000" if the requirement is for a 6-digit passcode, a few times, then leave the device to rest for ~1 hour, so that the session with the Apple Activation Server (albert.apple.com) expires. After that, the user would input the false passcode a few more times and the device will simply skip the activation part, essentially disabling Find My iPhone server-side.
A video tutorial on how to apply this method can be followed here:
Note: You can only follow this tutorial on iOS 11.x. iOS 10 and iOS 9 versions do not have the "Activate with passcode" option. Apple has patched this bug on the newer firmware, so it is recommended to try on iOS 11.1.1 and lower.
If 2FA is not enabled in the account, you will not see the "Activate with Passcode" option under the Username and Password fields. Instead, you will see an option called "Activation Help".
Part 5: How to erase data remotely from your lost iPhone
Note: Before proceeding, one should know that once all the data is erased from your iPhone, you will no longer be able to use 'Find my iPhone' and all your data will be erased completely.
Steps to erase data remotely from your lost iPhone
Launch Find my iPhone on any iOS device and enter your account credentials. You can use any iOS device for this procedure.

Once you login, you'll be able to view all the devices that are linked to your account. Select the device you wish to erase.
Please note that your device will be viewable only if the Find my iPhone feature is on your lost device and is active.

Tap on the actions button on the bottom and tap on erase.

You will be asked for confirmation to erase your lost iPhone and will then require you to fill in your account credentials for one last time.

Now you will require to fill in a contact number that would appear on your lost iPhone along with a suitable message. This way a generous person could get in contact with you help you retrieve your iPhone.

Once the required information is obtained, the erasing of data would start and you'll be notified when it completes.
Video Guide:
It's pretty easy to keep your iCloud account safe if you know the simple tricks. Whether you are using iCloud on your iPhone or any other Apple device, following these steps will ensure that your information is kept secure. And it's really easy to bypass iCloud activation!
Part 6: Unlock iCloud on activated iPhone / iPad / iPod
How to remove iCloud activation lock for all iOS 11.x iPhones 100%, and also for lower-version devices?
Here is how:
1. Download first the customized iTunes backup without iCloud ("Find my iPhone" should be turned OFF).
2. Connect your locked device to iTunes. Then follow insutructions in the video below, and you can add new iCloud ID account and use the iPhone or ipad as normal.
Note: This method will not remove iCloud from the Apple server. If you check your IMEI, you still have iCloud ON. This method, however, will remove iCloud from the local device iPhone / iPad / iPod.
iCloud
iCloud Unlock

iCloud Tips