3 Ways to Recover Deleted Facebook Messenger Messages on iOS
Deleting messages by mistake from Facebook Messenger can seem like a disaster because FB does not have a recovery option. Relax! ... provided you are using an Apple device, the dr.fone toolkit – iPhone Data Recovery application can recover deleted Facebook messages quickly and easily.
..... James will show you how
To retrieve deleted Facebook messages, you need to know Facebook itself thoroughly, which provides a couple of ways to help you well manage deleted Facebook messages. If you have not archived the FB chats, then you need to download them online by selecting a timeframe. If you have archived the messages, you will have no problem getting them back because they have merely been hidden in another part of your system's memory.
In this article I will show you how to recover deleted Facebook messages as follows:
Part 1. How to recover deleted Facebook Messenger messages
People are looking to find a recovery tool to recover deleted Facebook Messages. But different from social apps like WhatsApp, Line, Kik, and Wechat, Messenger messages are held online in the official server of Facebook, instead of in your iPhone device disk. This makes it impossible for all data recovery tools in the industry to get back your deleted Facebook messages.
But the GOOD NEWS is that we can download Facebook historical messages from its server, simply by selecting a timeframe. It is a popular way to get back deleted Facebook Messenger messages. Here is how:
Log in to your Facebook account using a web browser. In the upper right corner, click the arrow to expand the menu, and select "Settings" right above "Log out".

Click "Your Facebook Information", and select the second one "Download Your Information".

Among all the listed Facebook data types, find the "Messages" one that reads "Messages you've exchanged with other people on Messenger". This is the one you want.

Keep other options checked if you like, or mark only the "Messages" check box. Select a timeframe where your lost Facebook messages are in, select a file format, and click "Create File".
Wait a while for the downloadable file to be ready.

Then you can download and check your Facebook messages mis-deleted.
Now ... the 2nd Bonus Tip ... I am going to show you how to archive messages in iOS and then how to retrieve them.
Part 2: How to archive Facebook messages on iOS
Rather than deleting messages you no longer want, you can archive them. The great thing about archiving is that you can retrieve archived messages at any time.
Here's how you archive your Facebook Messenger messages on an Apple device:
• Tap the "Facebook Messenger" application to open it
• Select the "Messages" tab.
• Locate the message or conversation you want to archive.
• Tap on the message or conversation to select it.
• Tap "Archive" to send the message into the archives and delete it from your list of messages.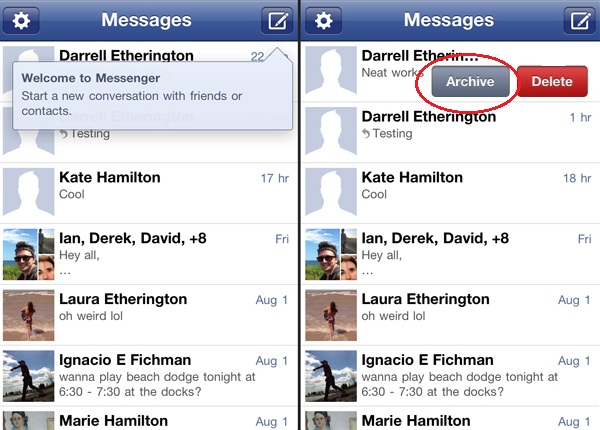 As you have seen, archiving messaged on Facebook Messenger for Apple devices is super easy. And you can find them easily and retrieve them whenever you want.
Part 3: How to recover archived messages on Facebook Messenger
Provided you archived a message rather than deleting it, it will be in your archives.
You can find particular archived messages by typing your contact`s name in the search feature or by going to the whole archive itself. To search the archives:
• Under the "Messages" tab, tap "More".
• Select "Archived".

• Now search for the name of the contact that you had a conversation with.
• Tap the name to open the "Actions" tab.

• Tap "Unarchive".
Job done ... the messages of that conversation will appear once again in your Facebook Messenger list.
As you can see, archiving messages and retrieving them from the archives is a piece of pie. So why not make a habit of archiving messages rather than deleting them?
Part 4: How to recover other Social App messages
To recover deleted messages from other social apps than Facebook on iOS device, you need to use a third-party data recovery tool, such as dr.fone - Recover (iOS). It allows you to scan your iPhone/iPad to retrieve deleted data from it.
World's 1st iPhone and iPad data recovery software
Provides three ways to recover deleted data from iPhones and iPads.
Recovers messages (social app messages included), photos, videos, contacts, messages, notes, call logs, and more.
Previews and selectively recovers what you want from iPhone, iTunes and iCloud backups.
Trusted by millions of users around the world and has received rave reviews.
Works for all iOS devices. Fully compatible with the latest iOS version.
3981454 people have downloaded it
Steps to recover deleted social app messages from iOS devices.
No matter how long it is since you deleted them, you can retrieve these messages in just a few simple steps provided your device is running on the Apple operating system (iOS):
Open dr.fone on your computer and click "Recover".
Connect your iPhone and then tap on Recover from iOS device.
After the phone is connected, you can select the specific file types to recover from your iPhone.

Tap "Start Scan".

Once the scanning has finished you will be able to select the social app messages you want to retrieve.

As you can see, the next screen shows a complete list of what has been deleted from your device ... calls, photos, contacts, messages, calendar, reminders, etc ... down the left-hand side of the screen.

Click on a social app option like "WhatsApp".
Find the messages which you would like to restore.
Select these messages by checking the related box.
Tap "Recover to Device".
That's it. Your messages have been restored.
Simple, isn't it, thanks to dr.fone?
Video Guide: How to recover deleted social app messages with dr.fone
This will get rid of the need to recover deleted social app messages.
There you have it... in this article you have learned how to retrieve deleted Facebook messages as well as other social app messages. You have also found out how easy it is to archive messages and retrieve them later.
Let us know what you think of this article...
Facebook
1 Facebook on Android

2 Facebook on iOS

3. Others