Delete WhatsApp Account or Data: Complete Tactics to Help You
WhatsApp is one of the most used messaging apps on the planet, and millions of people send messages, voice notes, photos, files, video calls, and more through the network every single day. Used at both business and consumer levels, WhatsApp has changed communication forever.
However, on a more personal level, WhatsApp can use a lot of data, and that's not just internet data, but data on your phone. With all the files, messages, and data that are sent via the app, WhatsApp can quickly fill up your phone memory which only slows things right down.
Today, we're going to take a detailed look into what you can do to sort out your WhatsApp data on your phone and get things running smoothly and quickly without any issues. We'll also touch on security and account details, ensuring you have full control over your WhatsApp experience.
Let's go!
Part 1. What happens when you delete your WhatsApp account?
Whether you're done with using WhatsApp or you're having a break, or even if you're moving onto a different messaging service, one of the first things you'll want to do is to remove and delete your WhatsApp account.
This means that your account is no longer in use and all the information related to your account will be deleted. This is essential when it comes to privacy and personal security and will be the first step you'll want to take when removing yourself from the service.
However, before going ahead and deleting your account, there are several factors you may want to consider ensuring deleting your WhatsApp account is what you actually want to do. When you delete your WhatsApp account, this is what happens;
Nobody will be able to see your WhatsApp profile or will have contact options for you
Your phone number will no longer be held in the WhatsApp network
All of your chat history and file-sending history will be deleted
All your WhatsApp personal data will be deleted
Part 2. How to delete WhatsApp account and re-activate later
As you can see, deleting your WhatsApp account can be a bit extreme, especially if you're just taking a break or trying out different messaging services and may want to come back to your account in the future. Fortunately, there's an option to delete your account temporarily.
This is basically the same as deleting your account except you won't have to worry about your data being deleted or removed, and all your contacts will remain in place. After you've had your time away, you can simply restore your account and carry on as usual.
Here's how you can do this;
Step 1 – From the home screen of your phone, head over to the Settings menu, and then select the apps list so you can see a list of all the apps installed on your device.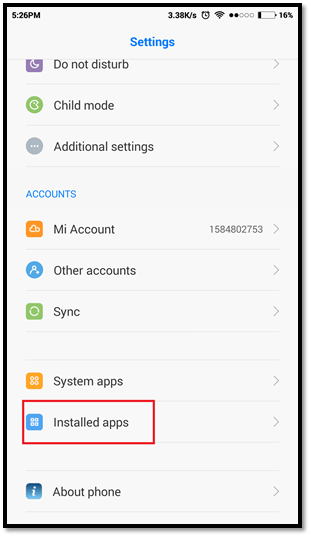 Step 2 -Scroll down the list until you find the WhatsApp entry and tap it.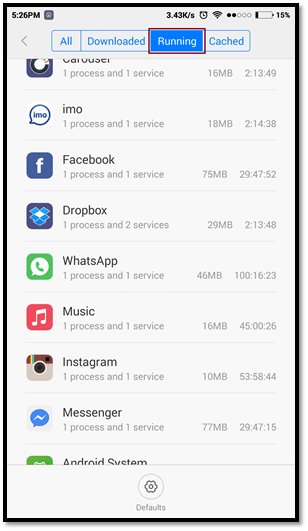 Step 3 – Now click the Force Stop option, and this will completely stop the WhatsApp app from running, updating, and being used. You can now use your phone as normal without WhatsApp running or using any data. When you reopen the app, the process will be reset.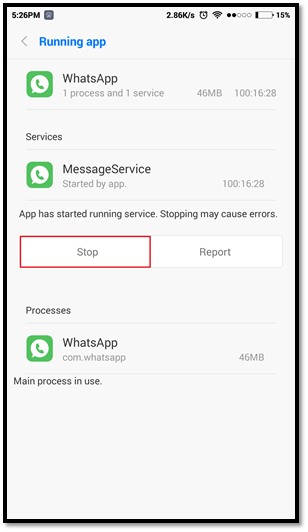 Part 3. How to permanently delete WhatsApp account
If you've had enough of WhatsApp or you're moving onto a different service, you may want to completely delete your account entirely and enjoy the benefits that we spoke about in Part 1 of this guide.
If this is something you want, here are the step-by-step instructions on how to do it. The instructions or options listed here may differ slightly depending on what device, operating system, and app version you're running, but the overall process should be about the same.
Here's how it works;
Step 1 – From the main menu of your device, open your WhatsApp app, tap on the Settings option in the top right-hand side, and click the Account option.
Step 2 – Now select the Delete My Account option and fill out the details on the next screen. This includes your phone number related to your account and your geographical location.
Step 3 – Tap the Delete My Account option, and that's it! Your account will be deleted, and you'll be able to delete the app completely, or use your phone number to sign up for a new account.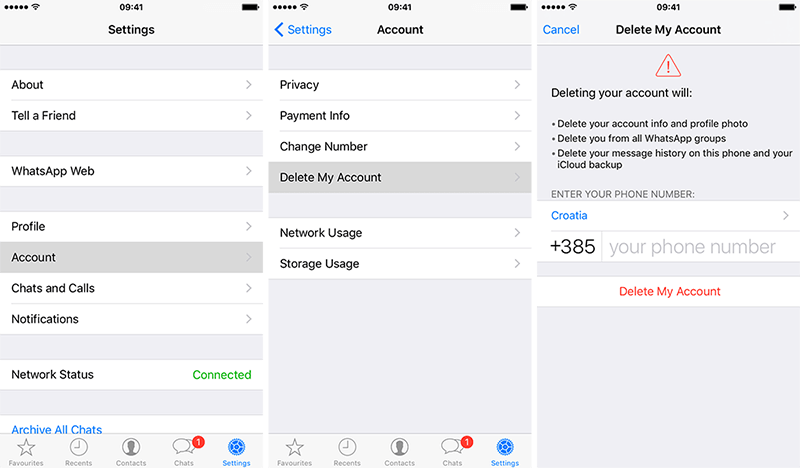 Part 4. How to permanently delete WhatsApp messages (data & media)
One of the main reasons you might want to delete your WhatsApp account is because it's taking up too much memory on your device and all your files and messages are causing your device to run slow. Don't worry; this isn't an uncommon problem.
Fortunately, using the software known as Dr.Fone – Erase (iOS), you don't have to completely delete the app or your account to get your device space freed up and working in a better condition.
The software is a powerful application that allows you to zero in on the sort of content you want to clear without having to lose or miss out on any of the experience. Four of the best benefits you'll be able to enjoy includes;
Dedicated tool to erase social app traces on iOS
Permanently delete WhatsApp data and traces
It works with all iPhone models and operating systems, including iOS 12/13
Easy to set-up and use; one of the most user-friendly solutions
Clears space on phone to make it run up to 75% faster
4,683,556 people have downloaded it
Sounds like the solution you've been looking for? Here's a step-by-step guide on how to use Dr.Fone – Erase (iOS) properly in the best way;
Step 1 – Download and install the Dr.Fone – Erase (iOS) to your Mac or Windows computer by heading over to the website and then following the onscreen instruction. Once installed, open the software, so you're on the main menu and plug in your device with WhatsApp.
Step 2 – On the main menu, click the Erase option then the Erase Private Data option on the left-hand menu. Then click the WhatsApp& Attachments option. Finally, click Start.
Step 3 – The software will now automatically scan your phone and look for private data or files like the ones WhatsApp likes to keep. Wait for this process to be completed and then tick which files you want to delete. For the best experience, tick all the boxes and click Erase.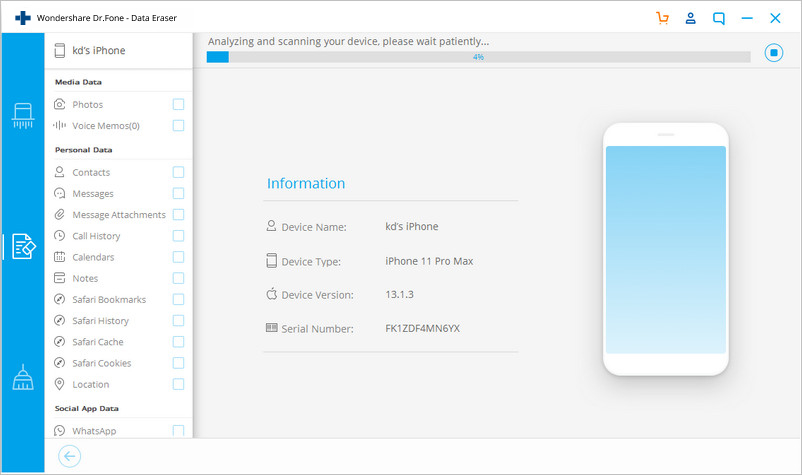 Step 4 – The software will now clear all the WhatsApp traces from your phone, and you'll be clear to disconnect your device and start using it. To make sure it worked, you can also rescan your phone to see if any files were missed.
Summary
There's no denying that WhatsApp is one of the most helpful apps out there today, especially when it comes to communication. With these data and account management tips by your side, you can now use it safely in the knowledge you're having the best experience.
Master iOS Space
Delete iOS apps

Delete/resize iOS photos

Factory reset iOS

Delete iOS social app data