Hoe Foto's, SMS, Video en Contacten overzetten van Symbian naar Android
Er komt eens een tijd wanneer je de Nokia Symbian OS al zat bent en wilt overstappen naar een Android. Van telefoon veranderen is simpel. Data van Symbian naar Android overbrengen niet. Hierbij heb je een derde programma voor nodig, namelijk MobileTrans Telefoon Transfer. Het is een tool om contacten van Symbian naar Android over te brengen. Niet alleen contacten, ook foto, video, berichten en muziek. Hier is een handleiding om data zo snel en veilig mogelijk over te brengen.
Transfer Foto's, Sms, Video en Contacten van Symbian naar Android in 1 klik!
Duurt niet langer dan 10 minuten.
Werkt op Apple, Samsung, HTC, LG, Sony, Google, HUAWEI, Motorola, ZTE en vele andere smartphones en tablets.
Compatibel met bekende providers zoals AT&T, Verizon, Sprint en T-Mobile.
Compatibel met Windows 10 of Mac 10.11
7 Dagen Geld Terug
Transfer Contacten, Berichten, Video, Foto en Muziek van Symbian naar Android
Stap 1. Start MobileTrans
Start Wondershare MobileTrans op de computer. Kies daarna "Phone to Phone Transfer" mode uit het venster.
Stap 2. Verbind Symbian en Android met de pc
Verbind je Nokia Symbian en de Android met de computer. Laat de software detecteren. Kies je Nokia als bron aan de linkerkant en de Android als bestemming aan de rechterkant.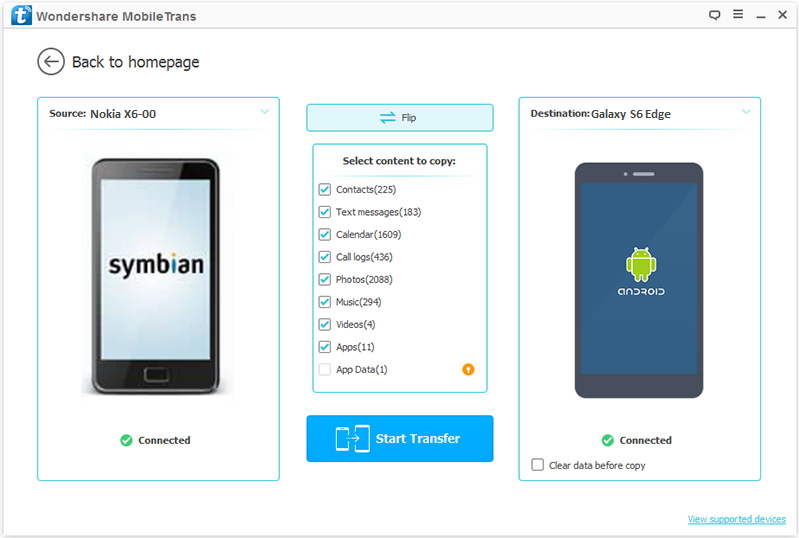 Stap 3. Transfer Berichten, Muziek, Video, Foto en Telefoonnummer van Symbian naar Android
Vink de data aan die verplaatst moeten worden. Als je alleen de Symbian contacten wilt verplaatsen naar Android, moet je de rest deselecteren. Start de Symbian naar Android transfer door "Start Transfer" te klikken.
Misschien vind je dit ook leuk