Hotspot Shield VPN Reviewed: All Things You'd Like to Know
Hotspot Shield VPN is one of the most widely used Virtual Private Networks in the world. It provides its support to more than 500 million users globally through different platforms. Needless to say, the Hotspot VPN is one of the most reliable tools that you can try. Nevertheless, there are times when users face unexpected setbacks using Hotspot VPN app. If you want to switch your VPN service or would like to try VPN Hotspot the first time, then you have come to the right place. We have provided a comprehensive review of VPN Hotspot Shield right here.
Part 1: Hotspot Shield VPN: Overview
To start our review of Hotspot Shield VPN, let's have a look at some of its prominent features and why this VPN service is worth a shot.
As of now, this VPN Hotspot is used by over 500 million people the world over. It has got dedicated apps for all the leading platforms and comes with tons of other features as well. Since it supports a point-to-point encryption, the Hotspot VPN is mostly used to connect to public networks.
• Using the hotspot VPN app is pretty easy
• It also has a freely available version to meet your basic requirements.
• It has a strict no-log policy
• You can connect up to 5 devices at once (using the Elite app).
• The VPN Hotspot Shield can be used to browse anonymously by making sure that your IP is protected.
• Advanced malware protection
• Highly secure firewall
• Has a quick kill switch feature
• Supports Peer to Peer connections
• WebRTC (Web Real-Time Communication) and IPv6 leak protection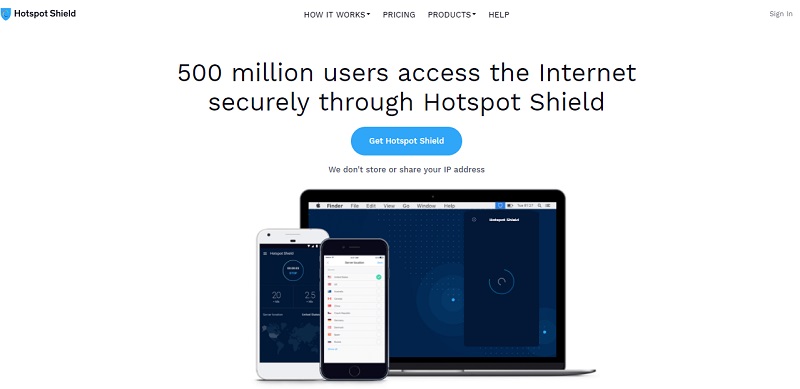 Part 2: Hotspot Shield VPN Review
Developed by AnchorFree, Hotspot Shield VPN is a freemium which was originally released in 2005. Needless to say, it has come a long way in the last decade. After getting familiar with the main features of VPN Hotspot, let's dive-in and know its pros and cons.
Pros
• There are dedicated apps of Hotspot VPN that you can use for free (basic features)
• Multi-language interface and support
• Comes with a money-back guarantee
• Free browser extensions available
• Has an inbuilt ad-blocker and cookie blocker as well
• Easy to use and clean interface
• Unlimited bandwidth and data limit
• It provides a seamless support for streaming services like Netflix, Hulu, BBC iPlayer, etc.
Cons
• No 24/7 customer support
• It follows a proprietary encryption which is not transparent.
• Not all servers provide an ultra-fast speed
• Based out of Mountain View, California (no offshore guarantee)
• Not available for Linux
Platforms
As of now, VPN Hotspot Shield works on the leading versions of Windows and Mac.
The Hotspot VPN app is available for iOS and Android devices. Earlier, it was compatible with Windows phones as well, but the service has been discontinued.
It has a freely available Chrome and Mozilla browser extension too.
Servers
Currently, VPN Hotspot has its presence is almost 25 countries the world over. You can get a complete list of its server locations right here. Besides having its presence in countries like USA, UK, Australia, France, Germany, it is even present in nations like Russia, China, Iran, and more.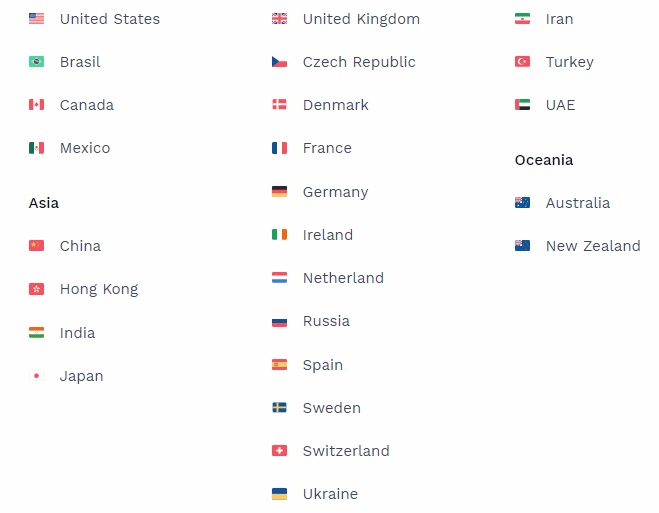 Pricing
Even though Hotspot VPN app and browser extensions are available for free, it only provides its basic features. The Elite version comes in different pricing plans:
• $12.99 a month
• $53.94 for 6 months
• $71.88 a year
• $119.99 for a lifetime purchase

Browser Extensions
Hotspot VPN provides freely available extensions for both, Chrome and Firefox. Though, they support in-app purchases as well for a premium experience. The extensions are newly updated and come with lots of security features. You can switch between 14 locations as of now (majorly European and North American countries).
Download Add-on for Firefox | Download extension for Chrome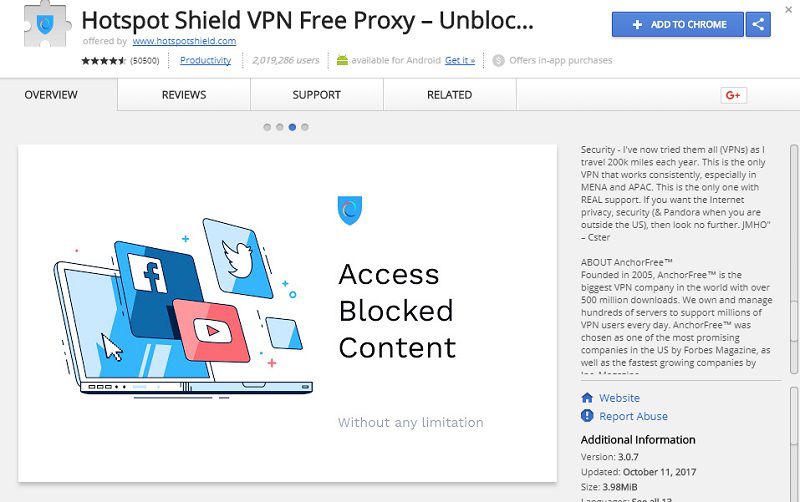 If you want to get an ultra-fast speed while browsing anonymously, then you can pick the "optimized" location option as well.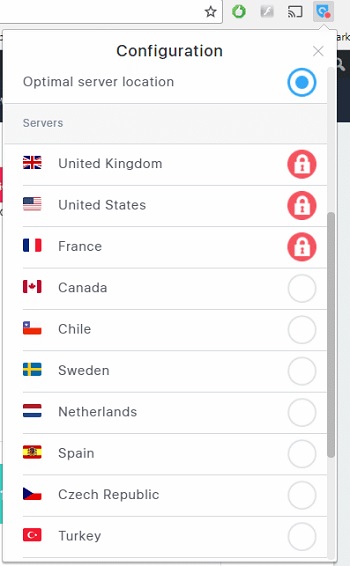 Mobile Apps
You can also download the Hotspot VPN app for iOS and Android devices (Windows Phone app is no longer supported). One of the best things about the iOS and Android app of VPN Hotspot is that it can be used with a single tap. Just download the app, install it, and connect to the Hotspot Shield VPN.
Hotspot Shield VPN Android | Hotspot Shield VPN iOS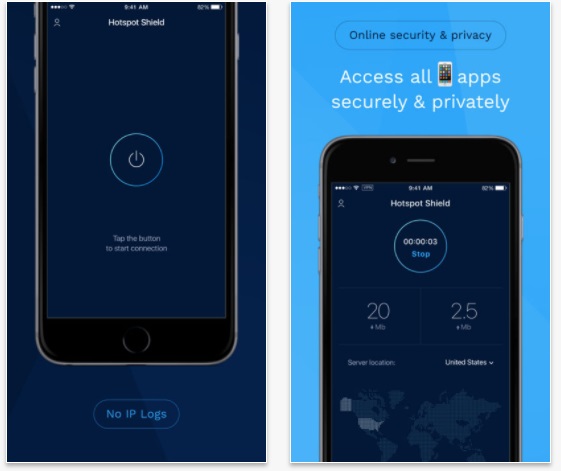 To customize your experience, you can select the location of your choice. The freely available version has limited locations, but you can upgrade to its Elite plan to access all the servers provided by the tool. No logs are maintained on the Hotspot VPN app and the data speed is also listed on its home page.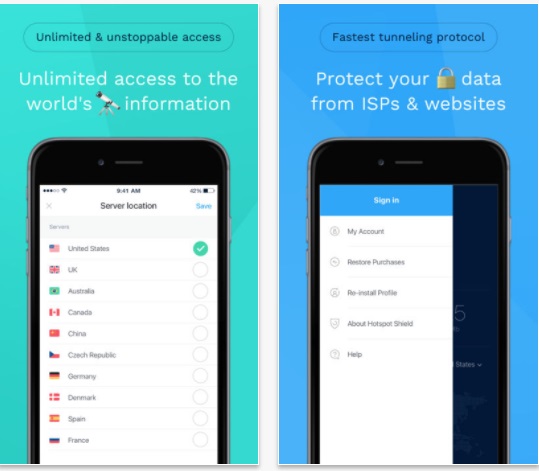 Mac and Windows PC
The VPN Hotspot Shield also has dedicated Windows and Mac apps that are pretty easy to use. You can pick the location of your choice and view the speed of the incoming and outgoing data as well. The service has an extensive database of more than 3.5 million threats. This is to ensure that your system stays protected from any kind of malware attack.
Besides that, you can also visit its settings to customize your experience. You can pick the language of your choice and turn on/off any prominent feature.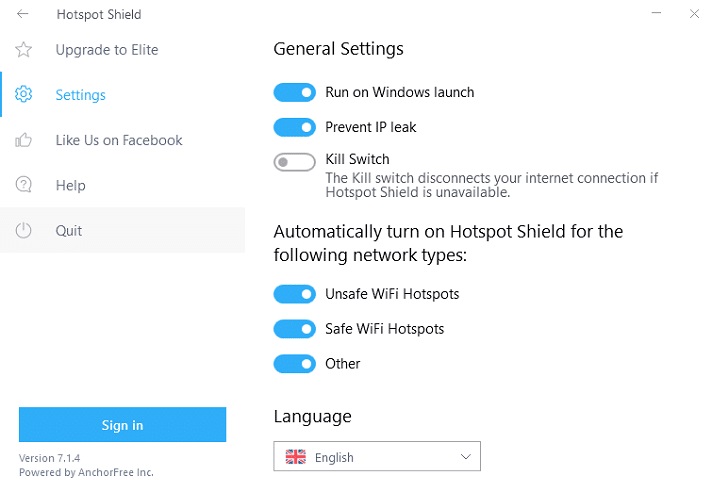 User Reviews
Here's what some real-time users have to say about VPN Hotspot:
"I've been using it for several months on my PC, Mac, iPad, and iPhone. Works smooth in the background." – Manuel
"Used to be good, now I have to keep turning it off and on again and again because it gets too slow. Sometimes it goes from 54mbps to 14mbps!" – Juliana
"When I travel, this is the only VPN that doesn't get blocked. Netflix, BBC Player, Hulu, Amazon. I've tried them all. This just works." - Rhoda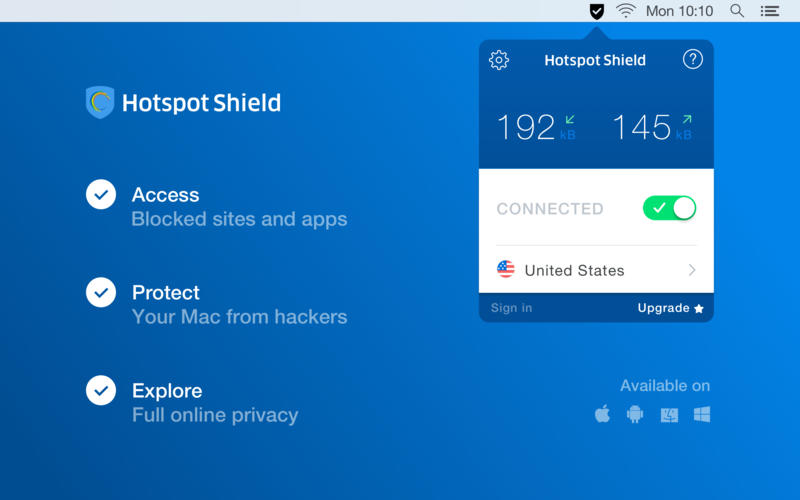 Verdict on Hotspot Shield VPN
Hotspot Shield VPN is one of the most widely used services in the world for a reason. It comes with tons of features at an affordable rate. Nevertheless, the tool doesn't have a transparent encryption policy and is not available for Linux. If you want to bypass geo-based restrictions on social media and streaming services, then this would be an ideal option. Though, for business needs, you can take the assistance of other advanced VPNs.
We hope our review of VPN Hotspot Shield will help you make up your mind. It is one of the most popular VPNs, which is available for numerous platforms. Having an easy to use interface, it will let you connect to the location of your choice instantly. Go ahead and give it a try and share your feedback with us regarding VPN Hotspot in the comments below.
VPN
VPN Reviews

VPN Toplists

VPN How-tos