CyberGhost VPN Review - All You'd Like to Know about Cyberghost
Part 1: CyberGhost VPN Overview
If you still do not know what is a VPN (short for "Virtual Private Network") then you probably need one. This kind of service provides the user an encrypt online connection, where the data transfer is not carried the way it is usually done. It is possible to describe VPN as a "network inside another network", totally software-based. The VPN is a good choice to protect your online surface, guarantying online privacy and security.
CyberGhost VPN is one of the most truthful options in the market, being a reference when it comes to structure development and user experience. The software works as a careful "encoded tunnel", linking the device where its installed with the CyberGhost server. In this way, all the data activity (such as surfing, messaging, downloading or streaming) cannot be tracked or intercepted.
The features contained at CyberGhost VPN are:
Hide Your IP: your original IP address is replaced with another one, directly from the CyberGhost network. With this, your online activity is impossible to track.
Highest Encryption: the CyberGhost servers are designed to communicate in the most secure way, using methods according to the specifications of any device.
WiFi Protection: When using a public WiFi, is way easier for hackers to track and monitor another people's data. Possibly, if not using VPN protection, the data can be stolen. CyberGhost technology protects privacy even on public networks.
Global Servers: since CyberGhost has over 1000 VPN servers in over 30 countries, you can swap identity to one of those and access all kinds of content, with no geo-restrictions.
Along with these features, there are many others that can be reached in CyberGhost website. The software is multi-platform, so you can download it to all your devices. Also, contains a free 7-days trial, and after that the plans are very accessible, thinking about what works best for the user experience.
Part 2: Is CyberGhost Safe?
A question that frequently appears when talking about VPN services is that if it's really useful and secure. If you are wondering: is CyberGhost safe? Well, your firewall or antivirus software will not protect online privacy, that is only provided by VPN as a quality encrypted network, and the one used by Cyberghost is military-grade based.
About the trustworthy of the software itself, not the network, CyberGhost VPN assurances that they do not store any data that might compromise any user's identity. In the policy of the program, it is contained that no tracks, no logs, and no personal data are kept. Knowing this, it is right to say that CyberGhost is one of the top 10 VPN services, based on thousands of reviews, and other top proxy and virtual private network websites.
Part 3: Download CyberGhost VPN for all devices
Now, if you are interested in getting CyberGhost VPN, the first thing you have to do is access its website then click on "The Apps" option on the navigation bar and select which device is yours (Windows, macOS, iOS, Android or Others).
CyberGhost official website: www.cyberghostvpn.com
After selecting the device option that you have, click on the big "Download" yellow-button and follow the steps below based on the device you are using:
For Windows users: Wait for the download to finish, then close all the programs running in front and click on the file saved. Now, just follow the setup window and finish the installation process.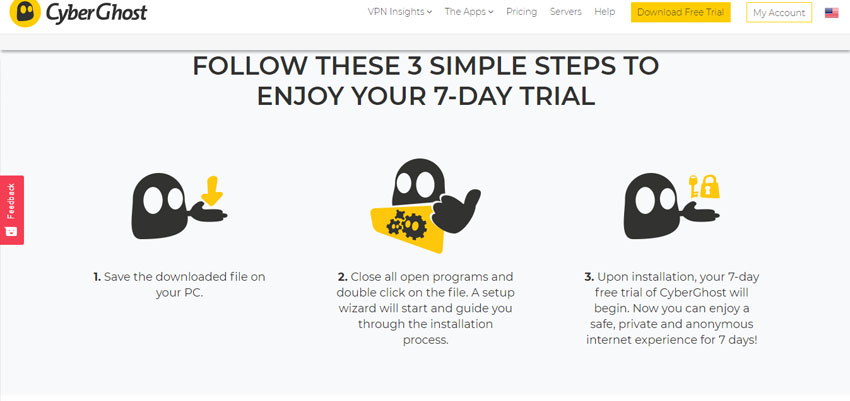 For macOS users: Save the downloaded file and move the CyberGhost icon to de "Applications" folder. Install all the additional features de software asks you to and then click on the yellow button at the bottom of the screen to start using it.
For iOS users: Go the App Store, search "CyberGhost" and download the file. After it finishes, guarantee that all permissions are granted and then swipe to the left until you find the "Start Now" button.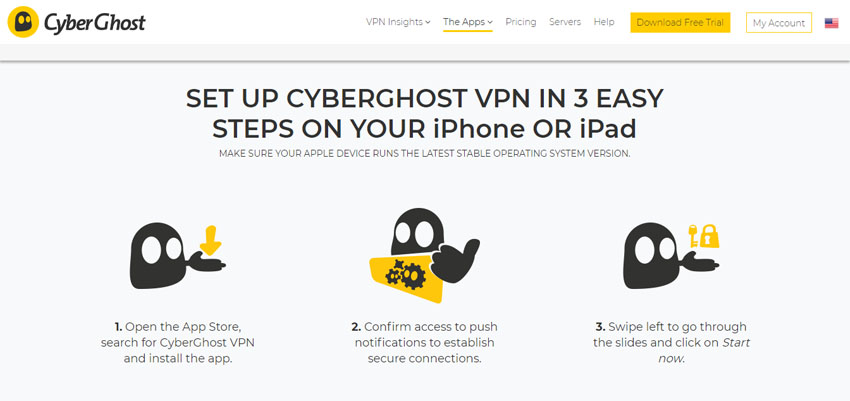 For Android users: Open Google Play Store, search "CyberGhost" and click on "Install". Give the app full access of the features required and then when the installation is complete click "Open" to start it.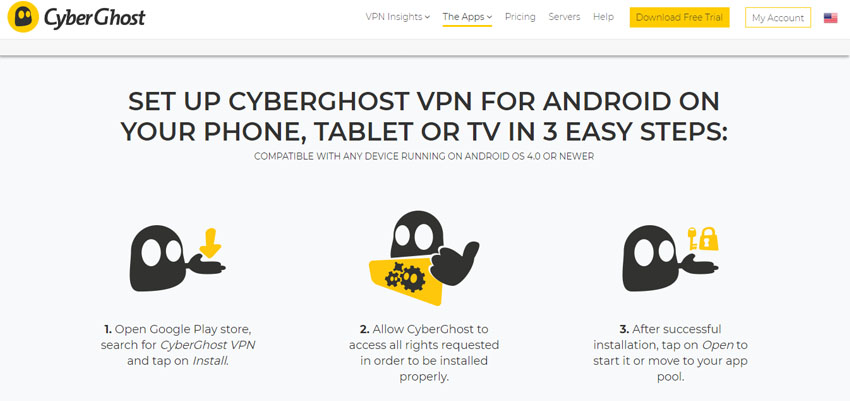 Following this simple guide, you will be able to install your VPN software and navigate safely through the web.CyberGhost is an easy and great option for all kinds of users since its installation process requires little time and just a few steps.
Part 4: CyberGhost VPN reviews from Real Users
If you are still having doubts about getting this service, we have listed below provide some interestingly good reviews from CyberGhost real users that are well-known of the subject from various websites.
Have a look at them, and hopefully, you can then decide on how useful CyberGhost can be for you too:
-- "CyberGhostVPN has impressive features and capabilities that VPN users look for in their VPN service. It has easy to use applications, multiple protocols and unlimited bandwidth usage that delivers superb VPN experience to all its customers." (VPN Comparison)
-- "CyberGhost VPN is a reliable option if you're thinking about using a VPN for the first time. The company has made its way into the mainstream in recent years thanks to the popular free version of its service." (Shivar Web)
-- "After a detailed analysis of CyberGhost VPN and its package plans, it can be said that CyberGhost serves as an excellent alternative for those who currently seek a VPN. CyberGhost, unlike other VPN service providers, offers free VPN to its users without any restriction or limitation on usage. Furthermore, CyberGhost presents feature-rich package plans in exchange for an affordable price." (VPN Ranks)
-- "It does the job effectively with minimal ads and without a significant performance drop. With a slick professional-looking interface and a decent selection of servers, CyberGhost VPN is the free VPN service you've been looking for." (PC Mag)
-- "For most VPN needs, CyberGhost Pro offers a very persuasive package. The software is very polished, is easy to use, and incorporates unusual features that could genuinely be useful. "Basics" such as DNS leak protection and a kill switch are also fully accounted for." (Best VPN)
For those who are being introduced to the VPN world, this technology is designed to assist navigation in anonymous-mode and protect you from snoopers.The VPN can also help with region-locked and blocked content online. Thus, CyberGhost is the most solid VPN option in the market and constantly appears in best VPN charts, as shown in the reviews above. Hope this article helps you in knowing more about is cyberghost safe and how you can as a user make use of cyberghost VPN service.
VPN
VPN Reviews

VPN Toplists

VPN How-tos