For some Samsung Galaxy users, one of the biggest trouble is when they find that their phone is SIM locked to a specific network. At first, you may be happy to buy an expensive phone at a very low price, which comes with SIM lock. But in the long run, you will find it imposes so much inconvenience when you can't use SIM of other network while roaming. In this guide, we are going to discuss three of the best free ways for Samsung Galaxy SIM Unlock, and one paid solution to sim unlock your Samsung Galaxy phone, which saves you much trouble and can get your phone unlocked instantly.
Part 1: Remove Samsung SIM Lock with dr.fone toolkit
Before going through the three free methods, let's take a look at dr.fone toolkit - Android SIM Unlock first. Unlike the free methods, you don't need to take your phone to the store, or go through all the complicated steps to remove the sim unlock of your Samsung Galaxy. It hardly takes 5 minutes to remove SIM lock on Android. The best part is that this sim network unlock pin software is user-friendly and it doesn't require any technical knowledge. It is compatible with all Samsung Galaxy, Tab, and Note models.
The fastest way to unlock your phone.
Simple process, permanent results.
Supports over 400 devices.
Operates in over 60 countries.
No risk to your phone or data.
3981454 people have downloaded it
How to use dr.fone toolkit - Android SIM Unlock to unlock Samsung Galaxy
Step 1. Launch dr.fone toolkit on your computer, select SIM Unlock. Connect your Samsung Galaxy phone to the computer using a USB cable.
Step 2. If your device is Samsung S3~S7 and you've rooted the Samsung phone before, it only need one click to sim unlock your samsung galaxy phone. After the phone is connected, you only need to click on Unlock button, your phone will be successfully unlocked within 5 minutes. That's it. Simple, right?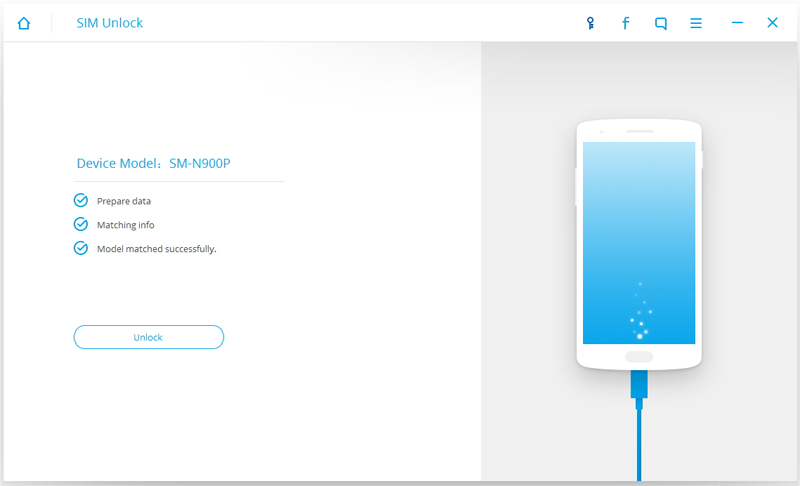 If you have other Samsung device, after you connect the device, you need to follow the instruction on dr.fone toolkit to set the phone in service mode first.
Dial *#0808# or ##3424# or #9090# on your Android phone. One of the 3 will work on your model and you will enter USB Settings / Diagnostic / Service Mode.
Once you are in Service Mode you select the DM + MODEM + ADB or UART[*] or CDMA MODEM option, and then hit "Unlock".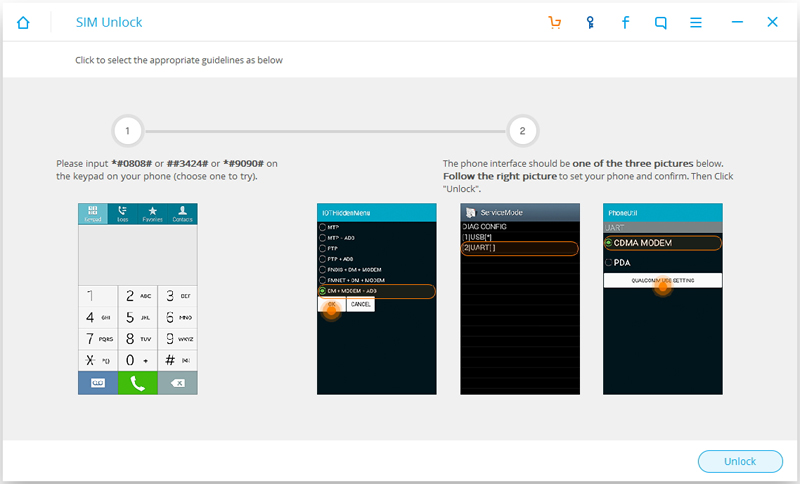 Step 3. After the phone is in Service Mode, click on Unlock, the program will then start the SIM unlocking process.
Even though it's not a free tool, it can save you a lot of time and totally hassle free to SIM unlock your Android phone. If you don't want to purchase a program to do the task, you can still go through the three free methods to sim unlock Samsung Galaxy below.
Part 2: Free SIM Unlock Samsung Galaxy by Network Provider
Request an Unlock Code from Network Provider
After fulfilling the contract with the carrier, you can get a unique sim network unlock pin for Samsung Galaxy SIM unlock free from the carrier. The terms and requirements may differ from every network carrier. You can check your contract or go through the carrier's website first.
If you fulfill all the requirements and you tell them that you are going abroad and want to buy a local SIM at the destination, carriers will provide Samsung Galaxy SIM unlock code for sure. After you get the unlock code, you can follow the steps below to unlock your Samsung Galaxy for free.
Step 1. Insert New SIM
After getting the code for Samsung Galaxy SIM unlock free, turn off your Galaxy and remove old SIM and replace it with new SIM from another network.
Step 2. Turn Your Samsung Galaxy On
When your device builds a connection to the new network, it will ask for unlock code.
Step 3. Enter the Code Correctly
Be sure to enter the exact code. If the code is entered wrong for several times, it's the only carrier that can unlock the phone because the device will be locked automatically. After entering the correct code, you will successfully switch to the new network.
Part 3: Free SIM Unlock Samsung Galaxy by Apps
If you don't want to go the network service store and ask for the sin unlock code, you can also try to unlock Samsung Galaxy by the app GalaxSim Unlock. GalaxSIM Unlock is the most popular and best app to unlock your Samsung Galaxy. With around 4.3/5 of average rating, it has up to 1 million downloads. Instead of paying the network and unlocking the SIM, it is a lot affordable.
Despite of its popularity, this app still requires a few steps to sim unlock the phone. And according to some reviews from Google Play store, there are no detailed guide for it. So this method may work for some users who has more knowledge about the Android system. But if you are seeking an affordable and easiest way to Samsung Galaxy SIM Unlock, it is pretty much better way than unlocking through the carrier.
Part 4: Free SIM Unlock Samsung Galaxy Manually
Check whether the phone is SIM unlocked
Insert new SIM on your device to ensure that your phone is locked. Several Galaxy phones come unlocked. So, you have to check it first.
Update Your Device
When your device builds a connection to the new network, it will ask for unlock code.
Enter the Code Correctly
When you turn your phone on for the first time, you may find that it is running on Android 4.1.1. So, you have to update it first because you may not be able to unlock the device if it is running on Android versions older than 4.3. To check out the existing version of your device, simply go to "Settings", scroll down and choose "About Device" on our phone to know your Android version.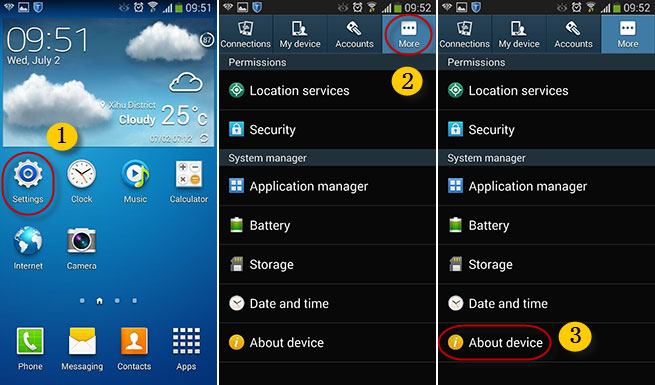 In "About Device" go to the next menu and choose "System Updates" option and then "Check for Updates". Your phone will update automatically. You can update your device through Wi-Fi network only because your new SIM has no connectivity at all.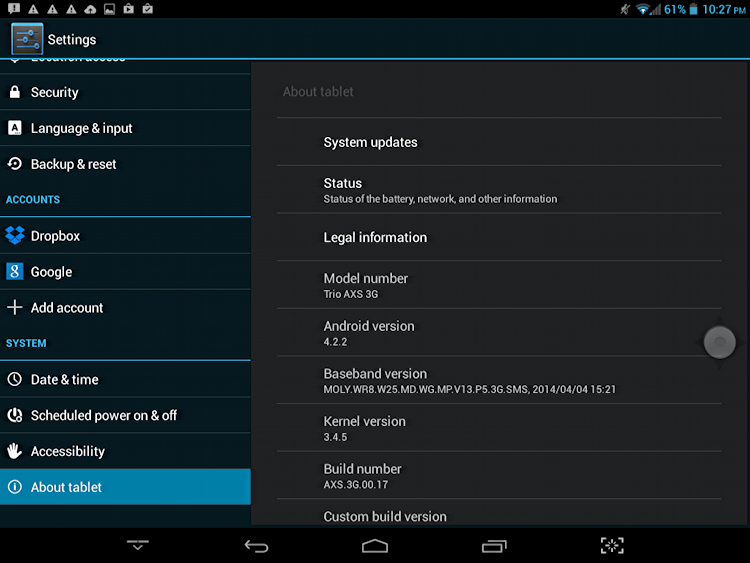 Be Sure that You Are Unlocking GSM Phone
It is impossible to unlock Samsung Galaxy running on CDMA network. You can perform Samsung Galaxy SIM unlock free only on GSM network. It is not sure that this method will work with all Samsung Galaxy versions.
Open the Galaxy Dialer
You will have to enter the code "*#197328640#" in the dialer to get into the Service menu.
Tap UMTS – It will give you access to the main menu. You may press the Menu button and "Back" if you chose an incorrect option.
Tap DEBUG SCREEN - Access Debug menu
PHONE CONTROL – It will open the menu to adjust Samsung Galaxy settings.
NETWORK LOCK – It will control SIM Lock function.
PERSO SHA256 OFF – Choose this option and wait for 30 seconds.
Press Menu and choose Back. This way, you will get back to NETWORK LOCK menu.
NW LOCK NV DATA INITIALLIZ – Choose this option and wait for one minute.
Restart your device – After a minute, restart your Samsung Galaxy. Though you won't get any confirmation, your phone must be successfully network unlocked if you could insert new SIM and use another network service.
Unlock Samsung
1. Unlock Samsung Phone