Forgot Pattern Lock? Here's How You Can Unlock Android Pattern Lock Screen!
Forgetting the pattern lock of a device and getting locked out of it is probably one of the most frustrating scenarios faced by Android users. Nevertheless, unlike popular operating systems, Android provides a seamless way to most past the forgot pattern lock feature.
You can either try Google's native solution or a third-party tool in case if you have forgot pattern lock on your device and reset it. In no time, you would be able to access your device (or even someone else's phone by following these techniques). To make things easier for you, we have provided three simple solutions to resolve forgot pattern Android devices.
Part 1: How to bypass forgot pattern lock using 'Forgot Pattern' feature?
One of the easiest and fastest ways to fix the forgot pattern lock issue on a device is by using its inbuilt "Forgot Pattern" feature. If you are using an Android 4.4 or earlier versions, then you can simply access this feature. Since users can hack an Android device just by knowing the Google credentials of the connected device, the solution was later discontinued (as it was considered as a security vulnerability). Nevertheless, if your device hasn't been updated and you are using an Android 4.4 or previous version, then you can bypass the forgot pattern lock by following these steps:
1. Firstly, provide a wrong pattern to your device. It will let you know that you applied the incorrect pattern.
2. On the same prompt, you can see an option of "Forgot pattern" on the bottom. Simply tap on it.
3. This will open a new screen, which can be used to bypass the forgot pattern Android. Select the option for entering the Google Account details and proceed.
4. In order to reset the forgot pattern lock, you need to provide the correct Google credentials of the account already linked to the device.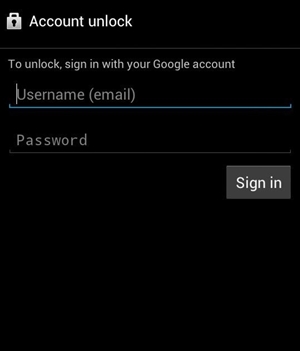 5. After signing-in to the interface, you will be asked to provide a new pattern lock for the device.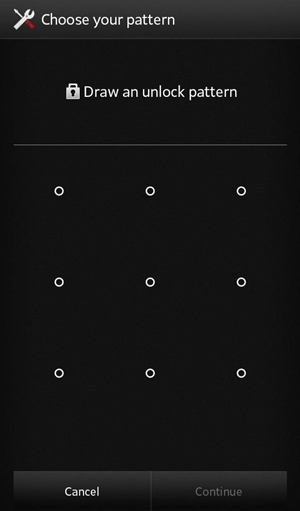 6. Confirm your choice and set a new pattern lock on your device.
Part 2: How to get pass forgot pattern lock using Android Lock Screen Removal?
One of the major drawbacks of the "Forgot pattern" feature is that it doesn't work on new Android devices. Since most of the devices out there have been updated, the technique has been outdated. Therefore, you can simply take the assistance of dr.fone - Android Lock Screen Removal to bypass the forgot pattern lock on your device. Without causing any harm to your device or erasing its data, your device's password or pattern would be removed.
It is a part of the dr.fone toolkit and is compatible with all the leading Android devices out there. It can be used to remove passwords, patterns, pins, and more. It has an easy to use interface and provides a simple click-through process to resolve the forgot pattern Android lock on your device. All you need to do is follow these steps:
Remove 4 Types of Android Screen Lock without Data Loss
It can remove 4 screen lock types - pattern, PIN, password & fingerprints.
Only remove the lock screen, no data loss at all.
No tech knowledge asked, everybody can handle it.
Work for Samsung Galaxy S/Note/Tab series, and LG G2, G3, G4, etc.
3981454 people have downloaded it
1. To start with, visit the official website of dr.fone Android Lock Screen Removal and download it on your system. After installing it, launch the tool and select the option of "Unlock" from the home screen.
2. To use its forgot pattern lock feature, you need to connect your device to your system using a USB cable. Once your device has been detected automatically, just click on the "Unlock Android Screen" button.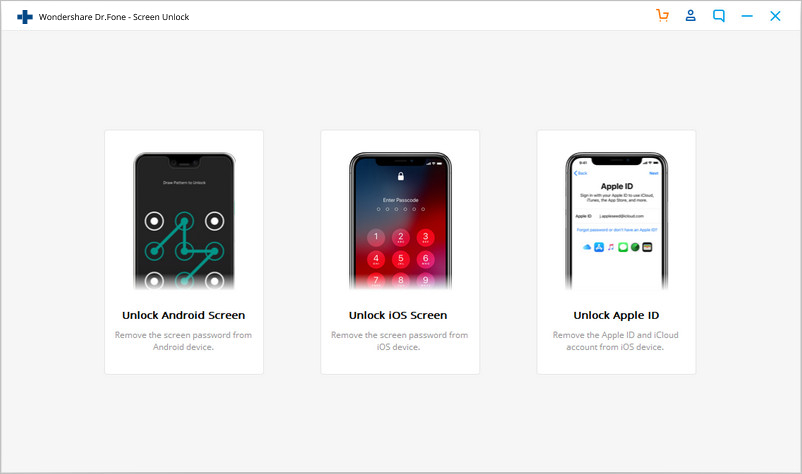 3. Select the correct phone model and click Next. It is important to ensure phone model correctness to prevent bricking.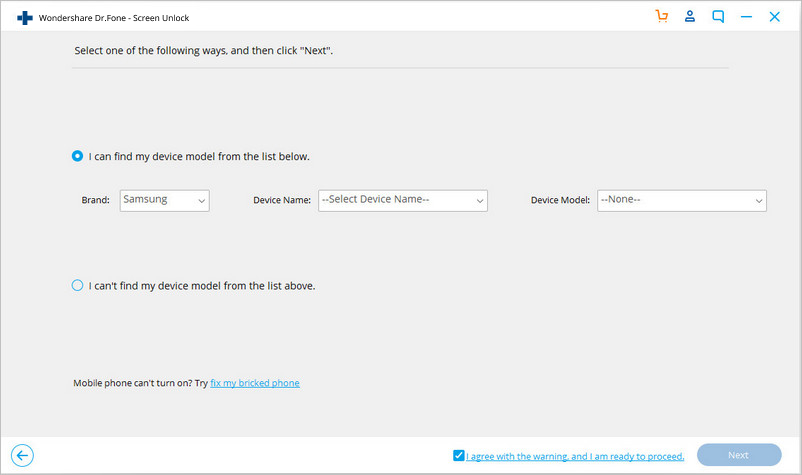 4. Then enter "confirm" in the box to tell the tool that you agree to proceed.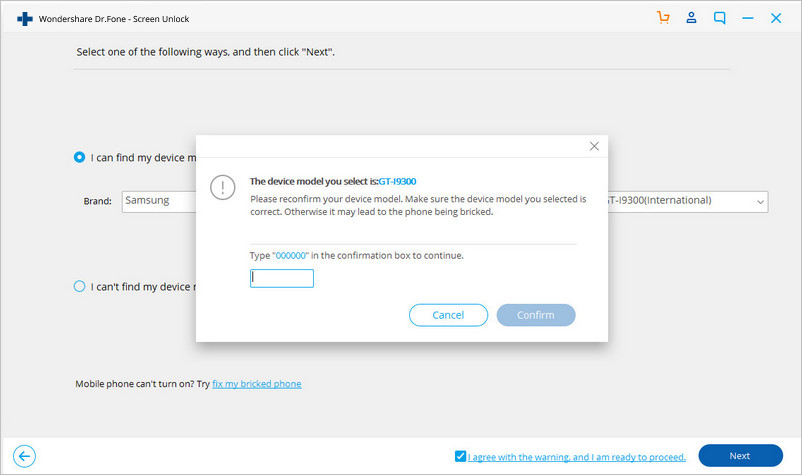 5. Now, in order to fix the forgot pattern Android issue, you need to put your device into the Download Mode. To do this, you need to ensure that your device is switched off.
6. Once it is off, hold the Power, Home, and Volume Down button simultaneously. After a while, press the Volume Up button to put your device into Download Mode.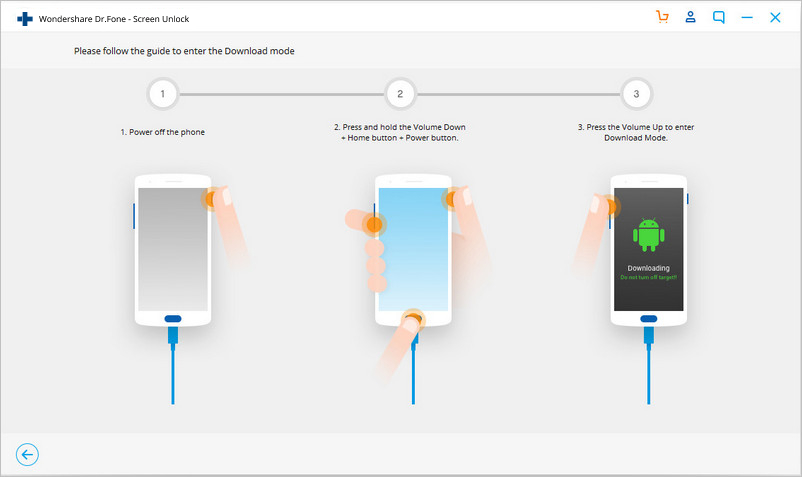 7. After when your device would enter its Download Mode, it will automatically be detected by the interface. It will start downloading the needed recovery packages to resolve the issue.
8. Sit back and relax as it might take a while to download the recovery packages. Let the application process the essential operations and don't disconnect your device till it is completed successfully.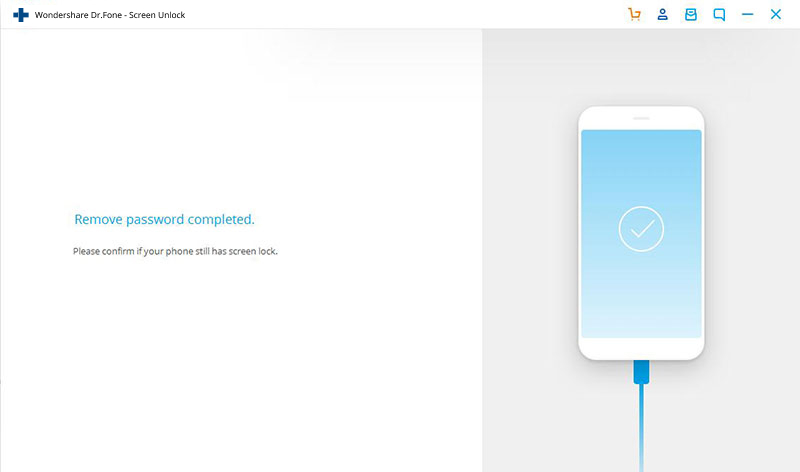 9. In the end, you will get a prompt like this on the screen, informing that the password/pattern on the device has been removed.
That's it! Now, you can disconnect the device safely and use it the way you like.
Part 3: How to bypass forgot pattern lock using Android Device Manager?
To make it easier for its users to locate, lock, or erase their devices remotely, Google has developed a dedicated feature of Android Device Manager. It is also commonly known as "Find My Device" as it is mostly used to locate a lost (or stolen) device. Though, you can use this feature to ring your device, lock it, unlock it, or erase it remotely. You can access it from anywhere by providing your Google credentials and resolve the forgot pattern Android problem. All of this can be done by following these steps:
1. Launch a web browser of any device and go to the Android Device Manager website by clicking right here: https://www.google.com/android/find.
2. You need to provide your Google credentials to sign-in. Remember, this should be same Google account that is linked to your device.
3. After signing-in, select the target Android device.
4. You will get a location of the device with several other options (lock, erase, and ring).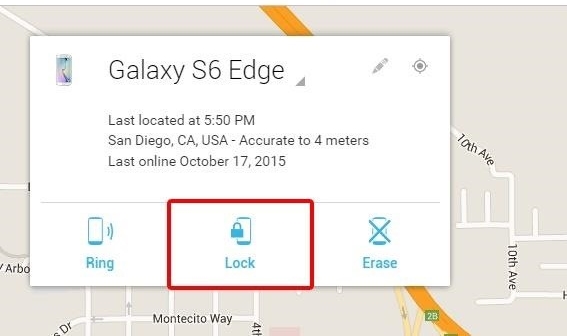 5. Click on the "Lock" button to reset its password.
6. It will open a new pop-up window. From here, you can provide the new password for your device.
7. After confirming your password, you can also provide an optional recovery message and phone number (if your device has been lost or stolen).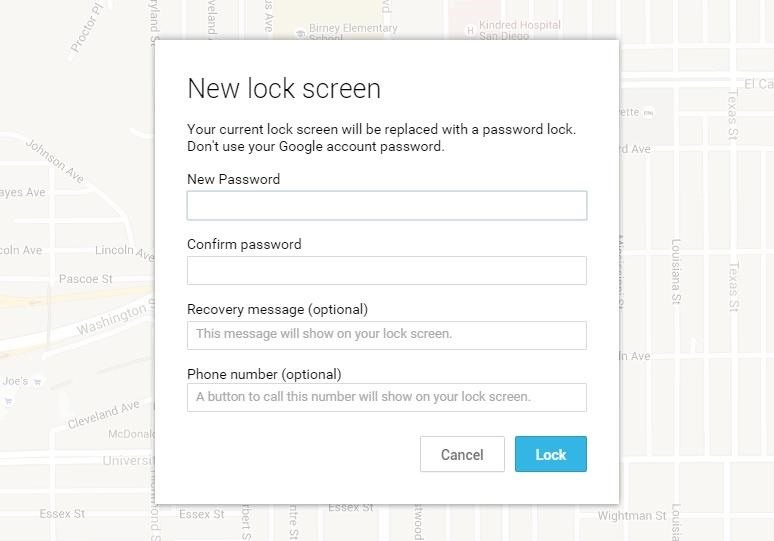 8. Save your changes and sign-out of your account from Android Device Manager.
This will automatically reset the old pattern on your device to the new password.
If you have also forgot pattern lock on your device, then you can simply remove or reset it by following these solutions. In this way, you won't even lose your important data files or cause any harm to your device. Without facing any unwanted setbacks, you would be able to bypass forgot pattern Android using dr.fone toolkit. It provides a fast, reliable, and secure solution to remove the lock screen security of an Android device in an effortless way.
Unlock Android
1. Android Lock

2. Android Password