4 ways to transfer SMS from iPhone to Android
Switching iPhone to Android? You have purchased a new Android phone and now planning to switch your platform from ios to Android? Or just want to transfer SMS from iPhone to Android? Here are the 4 ways to transfer SMS from iPhone to Android.
Part 1: 1-click phone transfer for Windows/Mac
dr.fone - Switch is the tool for the purpose of transfer of call logs, contacts, text messages, calendar, photos, music, video and apps between Android, iPhone, Nokia phones and even BlackBerry at a single click.
Transfer SMS from iPhone to Android in 1 click!
Easily transfer SMS, photos, videos, calendar, contacts, messages and music from iPhone to Android.
Enable to transfer from HTC, Samsung, Nokia, Motorola and more to iPhone XS (Max) / iPhone XR/ X/8/7S/7/6S/6 (Plus)/5s/5c/5/4S/4/3GS.
Works perfectly with Apple, Samsung, HTC, LG, Sony, Google, HUAWEI, Motorola, ZTE, Nokia and more smartphones and tablets.
Fully compatible with major providers like AT&T, Verizon, Sprint and T-Mobile.
Fully compatible with the latest iOS version fully and Android 8.0
Fully compatible with Windows 10 and Mac 10.14.
3981454 people have downloaded it
Steps for the transfer SMS from iPhone to Android with dr.fone - Switch
Step 1. Launch dr.fone to transfer SMS from iPhone to Android
First of all, run the data transfer tool dr.fone on PC. By clicking "Switch" option, you can go to the iPhone to Android transfer window.
Note: Have no computer? The mobile version of dr.fone - Switch allows you to transfer iPhone messages to Android with an iPhone-to-Android adapter. Moreover, you can use this app to get messages from iCloud to Android wirelessly.
Step 2. Connect your iPhone and Android device to PC
Next, try to connect your iPhone and Android phone to PC. Then, the program will detect and scan the contents in your phone. After one or two minutes, all the contents will display in the interface.
Step 3. Transfer SMS from iPhone to Android
Here you can selectively select SMS and click "Start Transfer" to initiate the process of transferring SMS from iPhone to Android.
Part 2: Extract SMS from iPhone using itunes
The first step is to ensure that your iPhone is having the backup to your computer'. In case, your iPhone XS (Max) / iPhone XR was backed up to iCloud, change the option to 'This Computer' and click on the 'Back Up Now' option available. As soon as the backup is stored on your PC; you need to look for the file named 3d0d7e5fb2ce288813306e4d4636395e047a3d28. The file should be located in the following paths, based on the version of the Operting system you are using.
iTunes backup file on Windows XP or lower
The file should be at Hard drive.Then click to Documents and Settings and then go to username of PC. Then you are required to click on Application Data, then click on Apple Computer. You have to follow MobileSync and then Backup.
iTunes backup file on Windows 7 or 8
Again the file should be present at OS hard drive, where you are required to go at Users and choose your username and go to file AppData. Then you are required to go to Roaming section and click on Apple Computer. You are required to click on MobileSyncand click on Backup.
iTunes backup file on Mac OS X
For Mac OS X, the file should be present at User file. Here, you are required to go to Library section and then click on Application Support, then go to MobileSync and click Backup.
Part 3: Through the use of any app or tool
For this you need to Plug your iPhone into your PC. As soon as you plug in your iPhone in, your PC should automatically start iTunes application.
• Click on iPhone device in the top-right corner of iTunes section.
• Click the "This Computer" option available under the 'Backup Location' settings.
• Then Click Backup section for the complete backup of your device to computer.
• Now Locate the backup file on computer.
• For Windows operating system, the file is generally stored under /Users/(Username)/AppData/Roaming/Apple Computer/Mobile Sync/Backup.
In case, you are running a Mac, the file will be stored under /(user)/Library/Application Support/Mobile Sync/Backup. You need to click on the Option and then Go menu, in case you don't see your Library folder in your user folder.
All you need is to get your folder opened with the latest timestamp.
Find the text messaging file. One must remember that the Apple doesn't allow the complete process with so much ease and thus you are required to work on it with some dedication.
Now, Copy the file to computer desktop screen and move this file to either your Android phone's internal memory or the SD card, if your device has an SD slot. Saving the file on the desktop helps saving time when you try to find it later.
Plug your Android device into your computer, and open it with either Finder (OSX) or Windows Explorer.
Place the text messaging file on your Android phone. You can move the file, which you placed on your desktop previously, to any of the location in the form of the main folder on your device's internal memory or on the main folder on your SD card if your phone has got it!
Get your Android phone unplugged from PC.
Now you need to take help from any app in order to convert the files into Android support format.
Apps, which can come to great use for the same purpose are as follows:
iSMS2droid
Download iSMS2droid from Google Play Platform. As we all know that Android can't read the file generated by your iPhone natively, so you are in need of a Google Play app to convert the file to an Android friendly format. By using your Android phone, you can go to app store and download, install the iSMS2droid app from there.
Launch iSMS2droid and click 'Select iPhone SMS database'.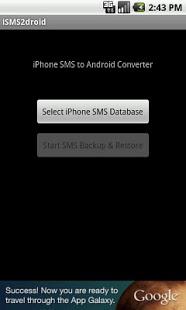 Just find the text messaging file on the concerned device, and then click on it.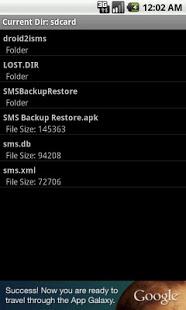 Click 'All Text Messages' in the following window, which opens. This window will convert the complete texts into an Android-friendly format, which is generally .apk file. You can also select only the texts which you like to bring over to your phone, However remember that doing this is a very long process and at the same time is effortful work.
You just tap on 'start
SMS backup
and Restore', which will take you to the Google Play listing for the
SMS backup and restore
app and you can download it from there.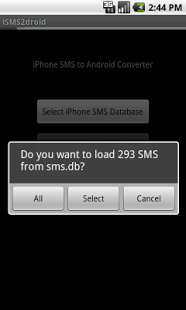 Install and Launch the SMS backup and restore App option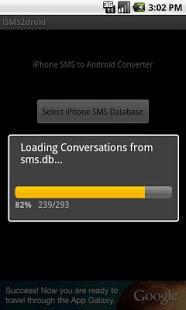 Tap Restore button
Now, Locate your iSMS2droid file, then tap ok Button.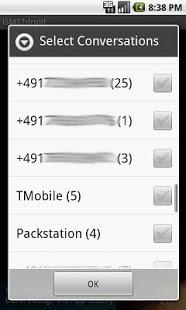 Select "Restore All Messages" and Click 'OK' button.
As soon as the process of restore is complete, the entire iPhone messages will be available on your Android device.
Part 4: 3 apps like iSMS2droid
SMS Export
SMS Export Plus app is the best SMS backup services. The option to Print or Save to PC or Mac, Save to PDF or Excel, Backup contact wise messages. Now it very easy to print your SMS or messages straight from your iPhone
SMSBackupandRestore
SMS backup and restore is a simple Android app that backs up and restores your phone's text messages.
The features are:
• Facility of Backup SMS Messages in XML format.
• Backup created locally on the device with options to automatically upload to Email, Google Drive or DropBox using the Add-On app.
• Choose a scheduled time to automatically backup.
Phone/iPad/iPod Manage
A one stop app which help you to Manage Everything on Your iPhone, iPad and iPod and is capable to do what iTunes can't!
The main features are:
• Ability to Transfer files from PC and iTunes and also from your iDevice to PC and iTunes.
• Music & video conversation facility is available and even videos and music can be converted to compatible formats for iOS device during the process of transfer.
• Copying of Photos between PC and iDevice and also option of sharing and printing photos with much ease.
• Systematic manage contacts from iPhone: Organizing contacts, Backup, Reeditin option, and removal of duplicates etc
• Transfer of various content directly between iDevice: These files may be contacts, photos, music, text messages etc and can be easily transferred between different Apple devices.
iOS Transfer
Transfer from iPhone

Transfer from iPad

Transfer from Other Apple Services