Beginner's Guide: How to Use Samsung Kies Air?
Samsung Kies Air is an Application that enables you to wirelessly synchronize the contents stored on your phone for trouble-free data sharing and transferring. Well, to be precise, Kies air makes managing data and content stored on your phone extremely easy.
Part 1: What is Kies Air?
At a day and age when technology has become a major part of daily lives, it is very common to see people with more than one electronic device to store their list of contacts, photos, music, videos and other content. Managing this data between various devices held by the same person is a task in itself, very time consuming and stressful.
It is a time to manage data wirelessly and Samsung Kies Air does exactly that for you. It is a software built and designed to aid users to share, transfer and manage information quickly from their smartphone using a PC or another mobile device with a web browser over a WiFi network. This is the best App for people looking to sync data between two or more devices. The App was developed in Korea and put to work in such a way that makes a connection between a smartphone and a PC to easy, quick and accessible file management.
Samsung Kies Air App has a variety of features to offer. It is specifically designed for Android devices and can be downloaded quickly without occupying much of the device's internal memory. It also lets you transfer and manage information and data from your Android device without using USB cables, pen drives, and other external hardware sources.
Samsung Kies Air App once downloaded on a smartphone can be used to connect it to a computer or another movie device efficiently. This connection is built wirelessly over a WiFi network. It is important that the device you wish to connect with has a web browser and the smartphone and other device are both connected to the same internet network. Make sure the network is strong and stable, capable of supporting heavy file downloads and uploads.
Samsung Kies Air might not be pre-installed in your smartphone but can be downloaded easily.
If you are a Samsung smartphone user, go to "Galaxy Apps Store" and search for "Kies Air" and download the version available.
You can also download the App from a trusted portal, either from the official Samsung website or Samsung Kies Air website and give access to the App to install itself on your device. Reading the terms and condition of the App download is a must.
Thirdly, you can just click on the link given here and click on "Download Now".
The App will download on your Android Smartphone and you can find it in "Apps" on your device with the following icon.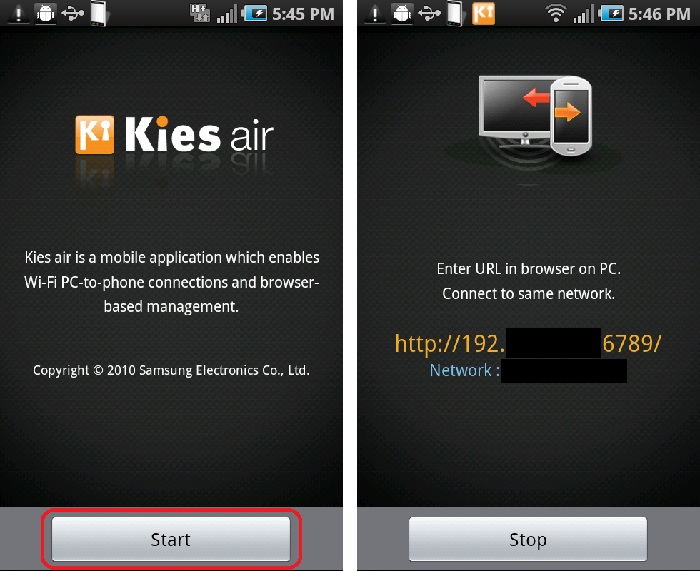 Part 2: How to use Samsung Kies Air to connect Android devices?
Kies Air Samsung is an App which is used to wirelessly connect your Android phone to a computer. As long as both the phone and the computer are on the same Wi-Fi network, the connection is made and files can be transferred easily. Follow the steps given below to wirelessly connect your Android device to a computer:
1. Connect your Android device to a WiFi network and download Samsung Kies Air App on it using one of the above-mentioned methods.
2. Now connect your computer to the same Wifi network.
3. Launch the App on your Android device and tap on "Start".
4. You will now see a URL on the screen. Copy the URL.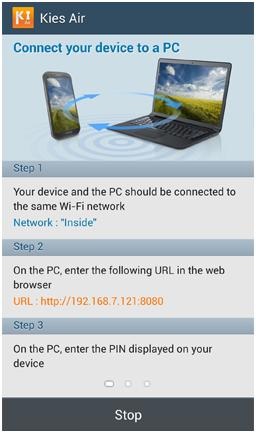 5. Open a web browser on your computer and paste the URL in the browser's address bar.
6. Now see that a four digit PIN generates on your device screen as shown below.
7. Use this PIN to enter it in the browser when asked.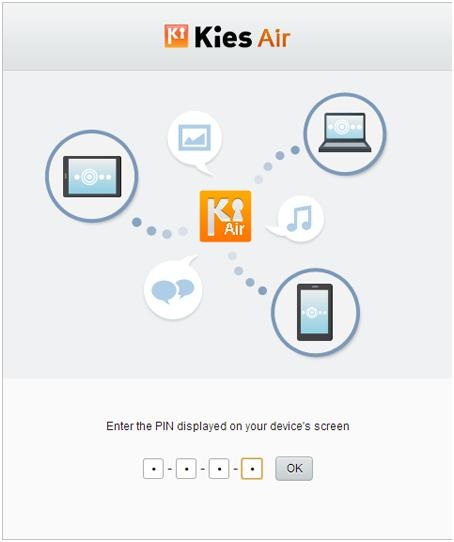 8. Once you enter the four digit PIN and click on "OK", the Android device and computer will automatically connect and a Samsung Kies Air window will open in the browser as shown below.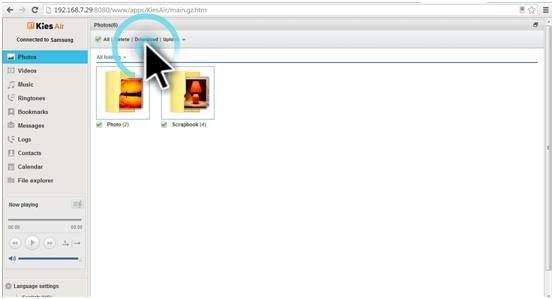 9. Now you can transfer all files to your computer by just a click. The name of various files is indicated on the right in the Samsung Kies Air window on the browser as shown above.
Using the Kies Air App is as easy as described in the steps above. The whole set-up hardly takes a few minutes of your time and then files from your Android device can be managed and synchronized easily using a PC.
Part 3: Samsung Kies Air nor working or connecting.
Samsung Kies Air is a very powerful App, enabling wireless file sharing and content management. It is downloaded and used by many users all over the world who enjoy its services. This is a secure App as it does not access the data stored in your device without asking for your permission. Only after such a permission is granted, will the App start performing its functions.
However, it has been observed by a few users that the App does not work as smoothly as it must on certain occasions. Users face a problem when the App does not work, stops working or refuses to connect to a PC. These errors can be attributed to many reasons, one of the most common one being a poor internet connection unable to support multimedia file transfers. Other possible reasons could be:
Samsung Kies version not supported on your device. In such a situation you must update the App and try using it again.
Wrongly entered PIN. This is a human error and can be avoided by deliberately entering the PIN generated on the device onto the computer.
Sometimes the Android version needs to be updated to continue using the App.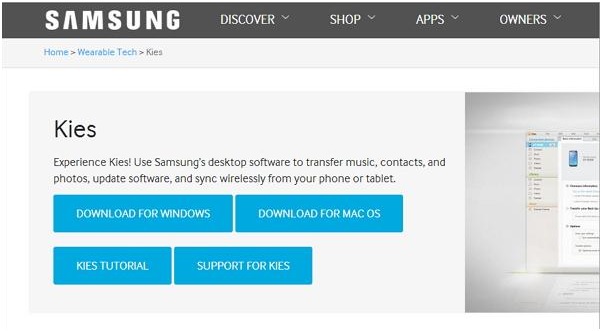 It is important to understand that the Samsung Kies Air App might be witnessing such problems but they can be fixed easily. If you are sure the none of the above-mentioned reasons exist and your device and computer can still not be connected wirelessly, the follow the steps given below:
Make sure the Android device and computer are connected to same WiFi network. If the connection still not build, follow the steps given hereunder.
Uninstall the App from your Android device and download it again from the following link http://j.mp/dlkiesz. Once downloaded and installed again, the USB drivers on the computer must also be reinstalled to resolve the issues. Restart the device and use the App smoothly.
If the problem still persists, go to "program files" on your PC, then to "Samsung Kies" and then to "USB drivers". Now double click on the SAMSUNG_USB_Driver_for_Mobile_Phones.exe to solve the problem once and for all.
Samsung Kies Air is thus a one of a kind App that makes device management simpler. Many, across the world, recommend it so go on and download it to use its multifaceted services for free!
Samsung Tips
Samsung Tools

Samsung Tool Issues

Transfer Samsung to Mac

Samsung Model Review

Transfer from Samsung to Others

Samsung Kies for PC