Galaxsim Unlock Apk Download and Its Best Alternatives to Unlock Samsung Galaxy
As smartphones have become our basic need to sustain daily life, people must be familiar with the phones well. If you have locked Android phone, you cannot use another SIM network except the one your while buying the phone. It is very important to know how to unlock your Android phone so that you can use any other SIM on your phone if you need to change it while moving to another country. There may be many reasons for changing your present SIM but if your phone is locked, it will create problem. Hence, we are going to introduce you with some amazing application that will help you unlock your Android devices in just few easy steps. There are many applications and ways for locking Android device; some are free while other charge heavy amounts for using. In the first part of the article, we will know about Galaxsim which is a top Android unlocking app whereas the second part deals with dr.fone as the best alternative app to Galaxsim for unlocking Android phones.
Part 1: GalaxSim Unlock Download and Guide
We will make you familiar with Galaxsim, a fantastic Android unlocking application, in this first part of the article. When it comes to unlocking your Android phones using application GalaxSim is the best choice. Being a top Android SIM Unlocking tool, it helps you unlock your phone in a very easy way. Supporting all most all phones from Galaxy family, it gives you the detail information about the lock status of the phone. You can even backup our EFS data and restore it on your Google Drive or Gmail without paying any penny. You can easily download it for free from the Google Play Store for your smartphone, or you can use this download link.
Galaxsim is a very user-friendly app, and you can easily use it for unlocking your Android phone in few simple steps. We are going to show you how to use Galaxsim on your phone to unlock it.
Step 1. Visit Google Play
At first, we need to go to Play Store on our Phone and search for Galaxisim on the store. We can easily find it by typing on the search bar.
Step 2. Download and Install Galaxsim Unlock
Now we have to download and install this application, Galaxsim Unlock on our Android phone in the second step.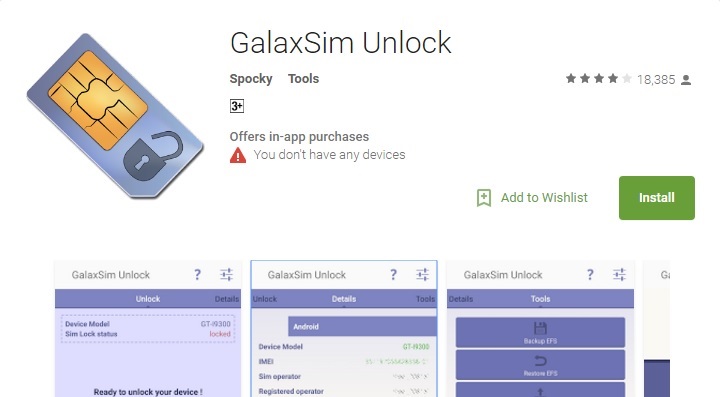 Step 3. Open Galaxsim Unlock
Now we will open Galaxsim Unlock on our phone by tapping on its icon.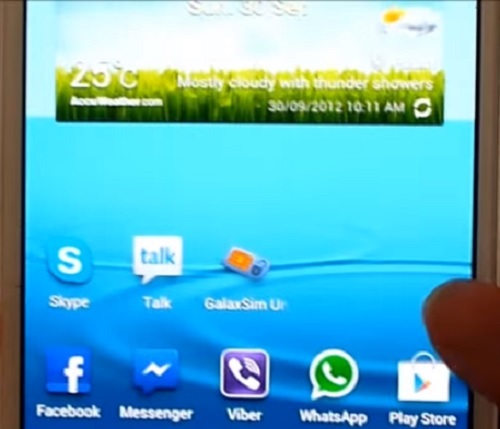 Step 4. Check Status and Unlock
Once the app is open, you have to give your permission to run it on the device. It will show you the status of the Android phone if it is locked or not as in the screenshot.
Viewing the status, you have to click on Unlock to start the process.
Step 5. Phone Unlocked
You will get your phone unlocked now in a moment as shown in the screenshot below. Now you have successfully unlocked your phone and can use another sim for sure.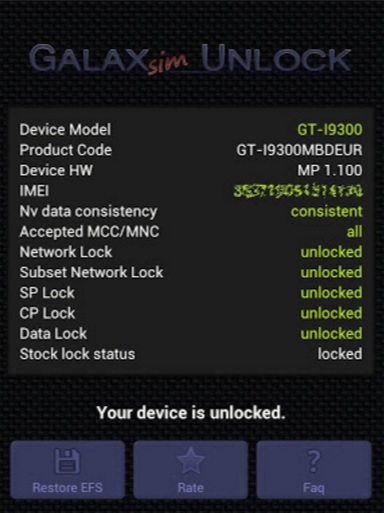 Part 2: Best Galaxsim Unlock Alternative: Dr. Fone– Android Sim Unlock
In this part of the article, we are going to introduce you with the best alternative to Galaxsim, and it is dr.fone which can unlock many Android phones within few minutes. Supporting more than 400 phones and over 60 countries across the globe, dr.fone is the easiest and fasted method to unlock your Android Phone in simple steps without risking the data on your phone. To unlock your Android phone using this amazing tool, just follow these steps:
The fastest way to unlock your phone.
Simple process, permanent results.
Supports over 400 devices.
Operates in over 60 countries.
No risk to your phone or data.
3981454 people have downloaded it
Step 1. Launch dr.fone
We are going to launch dr.fone on your PC and choose Android SIM Unlock from More Tools Section in the very first step.
Step 2. Connect the Android Phone to PC
We have to connect the Android phone to the PC with a USB cable. In the same step, we have to enable USB Debugging Mode on our phone so that it will detect our phone automatically. After that, you need to click on 'Next' button to proceed ahead.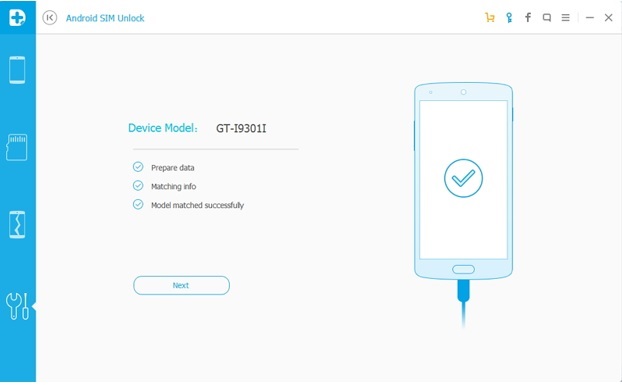 Step 3. Manage USB Settings
Now you have to dial *#0808# or ##3424# or #9090# on our Android phone to set the device in USB Settings / Diagnostic / Service Mode. After dialing, we need to select M + MODEM + ADB or UART [*] or CDMA MODEM on the phone. After that we need to click on 'Unlock' to move ahead.
Step 4. Unlocking the Phone
As soon as you have clicked on 'Unlock', dr.fone will start the process of unlocking the phone. It may take a bit to unlock the device so wait till it is done.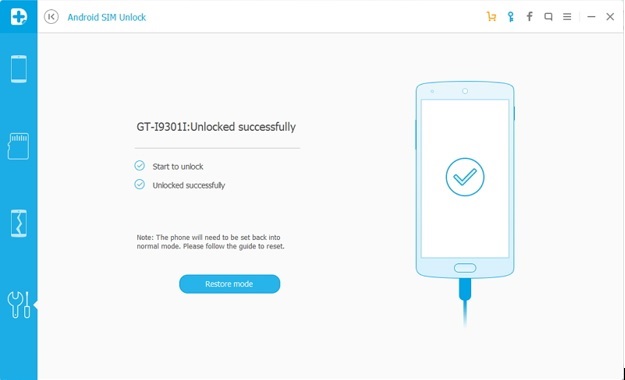 Now when your phone is successfully unlocked, it is mandatory that we need to put the phone into Normal Mode.
Step 5. Tap on Restore Mode
To put the phone back into Normal mode, we have to click on 'Restore Mode' and have to dial again *#0808# or ##3424# or #9090# on the Android phone and select MTP + ADB or USB [*] or PDA on the hidden menu as shown in the screenshot. After that we need to click on 'Next' and the phone will be into Normal mode. In this way, we have successfully unlocked our Android phone.
Part 3: Best Galaxy Phone SIM Unlock Code Generator
There is another way to SIM unlock our Galaxy phone, which is SIM unlock code. In this way, firstly we need to find a trust-worthy SIM unlock code generator. DoctorSIM Unlock Service is surely one of the best in the market. It supports to SIM unlock 1000+ phones, including Samsung, Apple, LG, Sony, etc. It will permanently unlock your phone and you can use it on any carrier provider in the world.
Unlock your phone in 3 simple steps!
Fast, safe and permanent.
1000+ phones supported, 100+ network providers supported.
60+ countries supported
How to use SIM UNlock Service
Step 1. Firstly visit SIM Unlock Service official website, click on Select Your Phone button and then choose Samsung among all the phone brands.
Step 2. On the following window, fill in your phone IMEI number, model, your contact information, etc. Once your order is processed, the system will send you the unlock code and instruction in email. You can then use the unlock code to permanently unlock your Galaxy phone. The whole process does not require any technical skills.
This article is a very useful guide for Android users who want to learn how to unlock Android Phone using GalaxSim Unlock app and dr.fone. The mentioned steps are clear and easy to follow so that even a non-technical person can also use them. Unlocking an android phone was never so easy as these two tools have made for us.
>
How-to
>
SIM Unlock
> Galaxsim Unlock Apk Download and Its Best Alternatives to Unlock Samsung Galaxy