Ways To Find Unlocking Codes For Mobile Phones
When you have a locked device, it is pretty much impossible to move from one network to another. This would cause problems if for instance you wanted to travel outside the country and want to switch to that country's carrier for the duration of your stay. Or maybe you just want to switch carriers because you don't like your current provider.
Whatever the reason, you should be able to unlock your device easily. But this has often proven difficult because of the fact that you need unlock codes. The problem is that many sites promise free unlocking codes for your device and many turn out to be fraudulent sites that use the word "free" in their advertising but actually require you to pay for the service. If you have been unsuccessfully searching for free unlocking codes for your device, look no further. This article compiles three of the best for Android and iPhone.
Part 1: 4 Ways to Find Unlocking Codes for Android Devices
1. Android SIM Unlock
Android SIM Unlock claims to be the fasted way to sim unlock your Android phone. It supports to unlock more than 400 Samsung devices wthout unlock codes. It analysis the locking principle on the SIM card and then choose different unlocking method for each device. You can always download the free trial version to test it first.
The fastest way to unlock your phone.
Simple process, permanent results.
Supports over 400 devices.
Operates in over 60 countries.
No risk to your phone or data.
3981454 people have downloaded it
How to unlock my Samsung phone with Android SIM Unlock?
For Samsung S3~S7 devices, if your phone is already rooted, just launch dr.fone on your computer and, connect the phone to the computer. Select Android SIM Unlock toolkit, after your phone is recognized, click on Unlock. It will instantly sim unlock your phone permanently.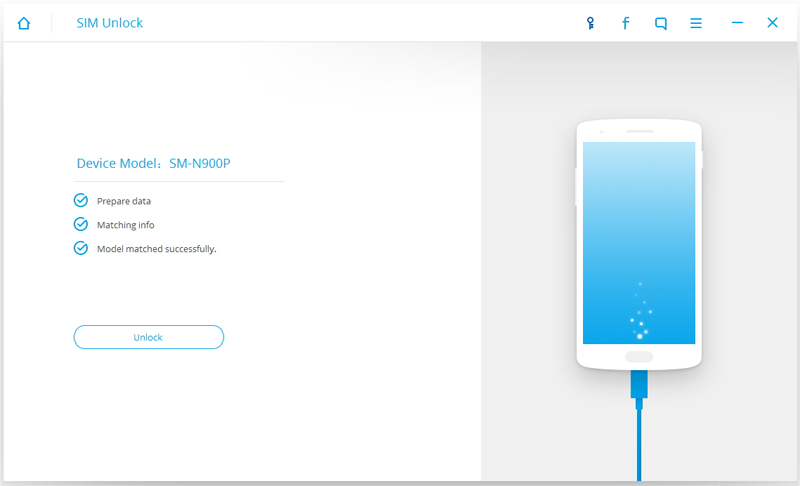 For other Samsung devices, you don't need root access to unlock your phone. Connect your phone to the computer using a USB cable. Normally dr.fone will recognize your phone automatically. Click on Next to continue.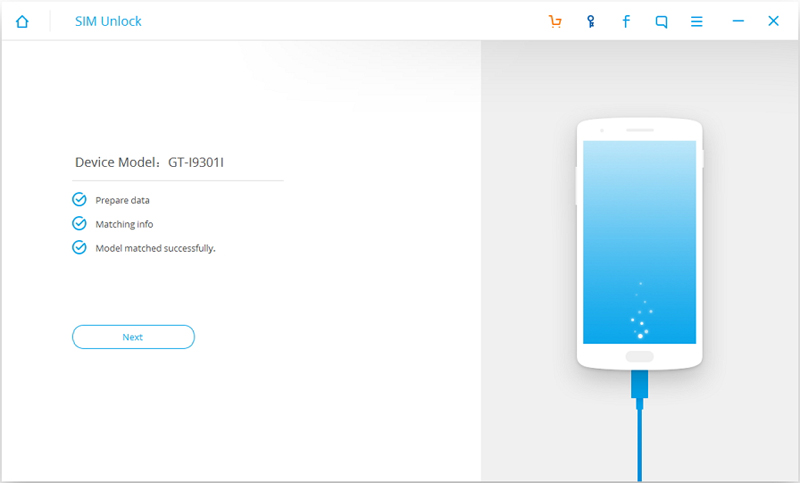 Follow the instruction on dr.fone to set the phone to USB Settings / Diagnostic / Service Mode. Dial *#0808# or ##3424# or #9090# on your phone keypad. Normally one of them will work on your phone. Then phone will automatically enter USB Settings / Diagnostic / Service Mode. Select DM + MODEM + ADB or UART[*] or CDMA MODEM on the phone. After the phone is set properly, click on Unlock.
Just in a few seconds, dr.fone - Android SIM Unlock will unlock your phone automatically.
2. Unlock it Free
Website URL: http://www.unlockitfree.com/
This site does exactly what it says it will do- unlock your device for free. It offer a great unlocking service especially for Nokia devices. It is also very easy to use. All you have to do once you're on the homepage is enter the model number of your device (this is typically the number or code that follows the name of the device) and then click "find"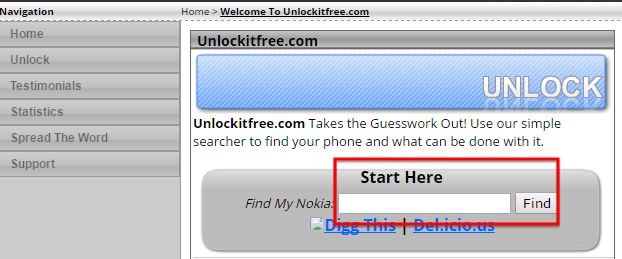 In the next window, you will be required to enter your IMEI number, phone model, country and provider. You can get your IMEI number by dialling *#06# on your device.
Once you have entered all the details correctly click "Generate" and the website will give you seven different codes to unlock your device.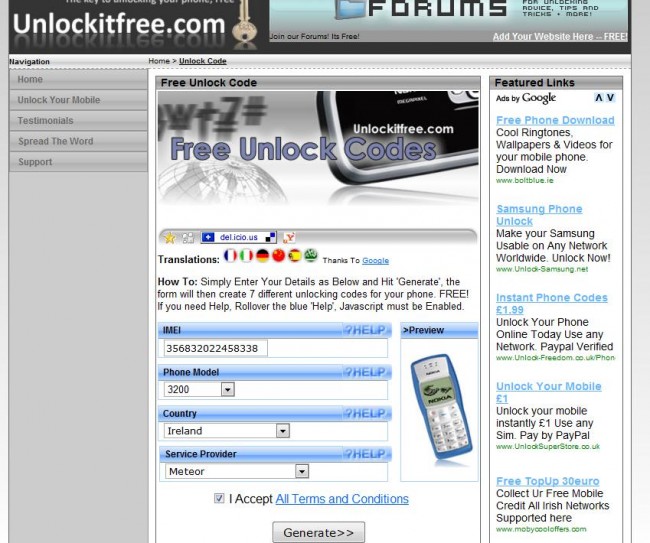 Use the first one. If it fails to work, try the last code. 80% of people unlock their devices with either the first or the last code. Of this doesn't work either, try 2 more. But don't enter more than 4 codes as this will disable your device.
3. Trycktill
Website URL: http://www.trycktill.com/
This one is more a website for mobile content but it can also generate free mobile unlocking codes. Click on "Unlock" on the top bar menu to begin. The site is in Swedish so may want to translate it before you can use it. You can do that by clicking on the British Flag at the bottom of the page.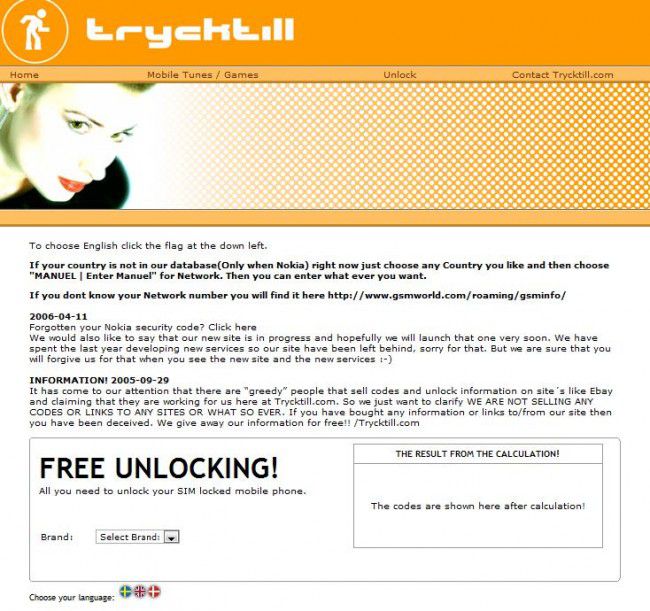 Select your phone model from the drop down menu and then select the model number and enter the IMEI number. Finally, agree to the terms and conditions and then click "Generate Code."
In the results page you should see a code as well as instructions on how to use it to unlock the phone. The codes and instructions will differ slightly depending on the device model.
This website unlocks LG, AEG, MAXON, Nokia, Panasonic, Vitel and Siemens devices.
4. NokiaFree
Website URL: http://www.nokiafree.org/
Despite the website name and its URL, this site doesn't just unlock Nokia devices. It can unlock a lot of other devices as well. You can use it online or download the software which supports more brands.
Once you have downloaded the software, launch to on your computer and then provide the required information, the IMEI number, your Phone model and make, country and service provider. Then click on "Calculate" and the program will generate unlock codes for you and how to use them.
Part 2: 3 Ways to Find Unlocking Codes for iPhones
For iPhone users there is a way to get unlocking codes for free. This is a new form of payment known as TrialPay. The following three sites offer you the chance to trade tasks for unlock codes.
1. Free Unlocks
Website URL: https://www.freeunlocks.com/
On this site you can trade a few tasks for iPhone unlock codes by choosing to pay via TrialPay. In fact the site offers you the chance to choose between paying in cash or via TrialPay.
To use it all you have to do is select the phone model and the phone type. You will then be required to enter your IMEI number and when you get to checkout, choose TrialPay to complete the order. You will complete a task and then get your codes delivered to your inbox.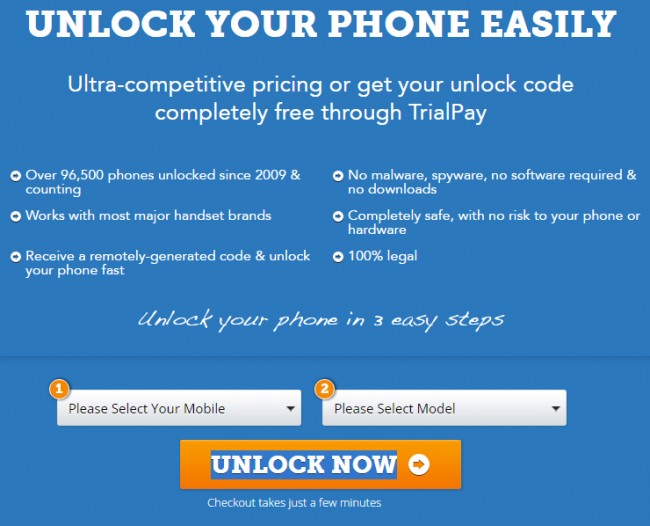 2. iPhoneIMEI
Website URL: iPhoneIMEI.net
iPhoneIMEI.net uses an official method to unlock iPhone devices and whitelist your IMEI from Apple's database. Your iPhone will be unlocked automatically Over-The-Air, simply connect it to a Wifi network (Available for iOS 7, iOS 8, iOS 9, iOS 10 or higher, iOS 6 or lower should be unlocked by iTunes). So you don't need to send your iPhone to the network provider. The unlocked iPhone will never be relocked no matter you upgrade the OS or sync with iTunes.
3. dr.fone - SIM Unlock Service
SIM Unlock Service is another service from Wondershare dr.fone team. It supports both iPhone and Android devices. Even though it is not free unlock code, it surely will provide you a totally better experience to sim unlock your iPhone. It helps you unlock your iPhone so you can use it on any carrier provider you want in the world. Most importantly, it will not void your warranty.
Unlock your phone in 3 simple steps!
Fast, safe and permanent.
1000+ phones supported, 100+ network providers supported.
60+ countries supported
7 Day Money Back Guarantee
On SIM Unlock Service official website, click on Select Your Phone button, and then select your phone brand among all the smart phone brands.
On the new window, fill in your phone IMEI number, model, contact email, and other required information. After your order is processed, the system will send you the unlocking code and instruction. You can then follow the instruction and use the unlocking code to unlock your phone.
Part 3: Popular Youtube Video for Unlocking Your Phone
Here we've found a popular video on Youtube for you to follow and sim unlock your phone.
It is very important to note that by unlocking your device you are breaching the contract you have with your service provider. Also, note that if the codes fail to work the first 4 times don't try to enter a fifth time as this will generally disable your device. This will mean that you will be unable to use the device. Proceed with caution.