When we have an Android phone, we are connected to the world, and everything goes fine. But when we find that our phone is locked to a specific network, and it doesn't support any other SIM operator, a pile of issues start arising. Unlocking SIM has many benefits: the main benefitis that your phone gets freedom from network restrictions, and you can use anyother GSM network which you need as per your need and move anywhere with your lovely phone. An unlocked phone also helps you save money in many ways. Therefore,it is essential for every single Android user to know the very ways of unlocking his/her Android Phone.
Today, we are showing you the top three ways to sim unlock Android phone without sim network unlock pin. We will show you each method with clear screenshots and will also point outthe pros and cons of each method.
Part 1: Unlock SIM using dr.fone toolkit - Android SIM Unlock
Unlocking an Android SIM-locked phone was never an easy task but dr.fone - Android SIM Unlock has made it so simple and easy that anyone can unlock his/her Android phone in just few minutes without using any unlocking code. You can say dr.fone toolkit is the best Android sim network unlock pin software available for the users across the globe. Supporting more than 400 phones and over 60 countries across all over the world, dr.fone toolkit is the easiest and fasted method to unlock your Android Phone in simple steps without risking the data on your phone.
The fastest way to unlock your phone.
Simple process, permanent results.
Supports over 400 devices.
Operates in over 60 countries.
No risk to your phone or data.
3981454 people have downloaded it
We are going to guide you how to use dr.fone toolkit to sim unlock Android phone without codes.
Step 1. Launch dr.fone toolkit
We are going to launch dr.fone toolkit on your PC and choose SIM Unlock among all the toolkits.
Step 2. Connect the Android Phone to PC
We have to connect the Android phone to the PC with a USB cable. In the same step, we have to enable USB Debugging Mode on our phoneso that it will detect our phone automatically. After that, you need to click on 'Next' button to proceed ahead.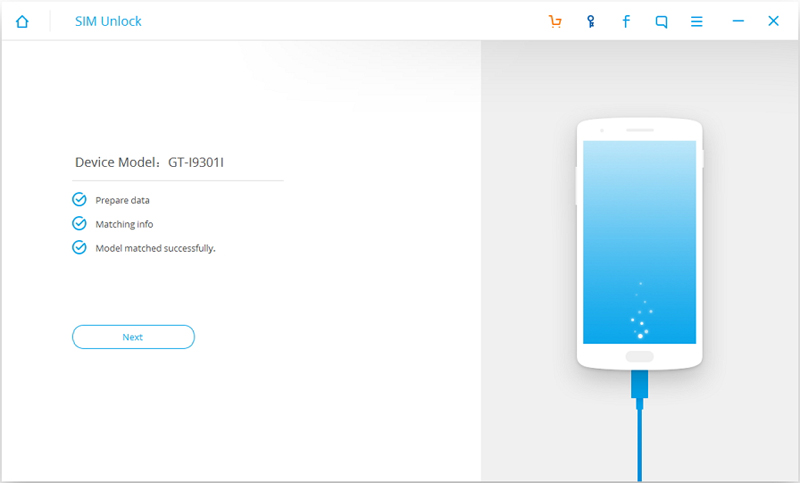 Step 3. Manage USB Settings
Now you have to dial*#0808# or ##3424# or #9090# onour Android phone to set the device in USBSettings / Diagnostic / Service Mode. After dialling, we need to select M + MODEM + ADB or UART [*] or CDMAMODEM on the phone. After that, we needto click on 'Unlock' to move ahead.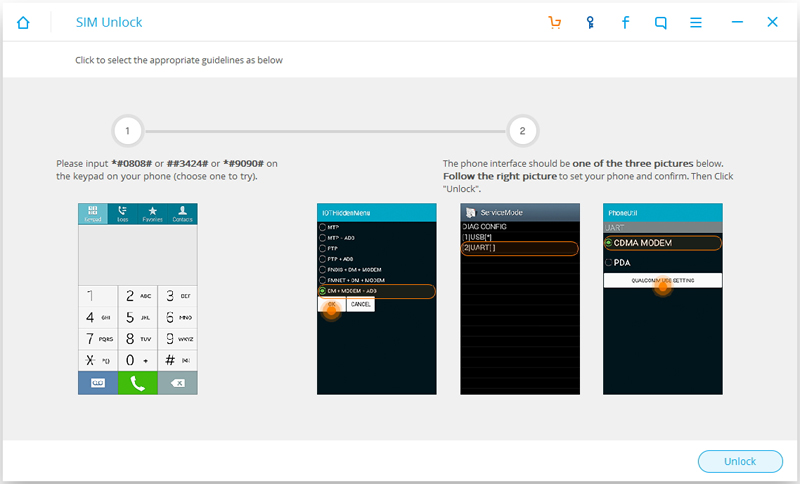 Step 4. Unlocking the Phone
As soon as you haveclicked on 'Unlock', dr.fone toolkit will start the process of unlocking the phone. Itmay take a bit to unlock the device.
Now when your phone is successfully unlocked, it is mandatory that we need to put the phone into Normal Mode.
Step 5. Tap on Restore Mode
To put the phone back into Normal mode, we have to click on 'Restore Mode' and have to dial again *#0808# or##3424# or #9090# on the Android phone andselect MTP + ADB or USB [*] or PDA on the hidden menu as shown in thescreenshot. After that we need to click on 'Next' and the phone will be into Normal mode. In this way, we have successfully unlocked our Android phone.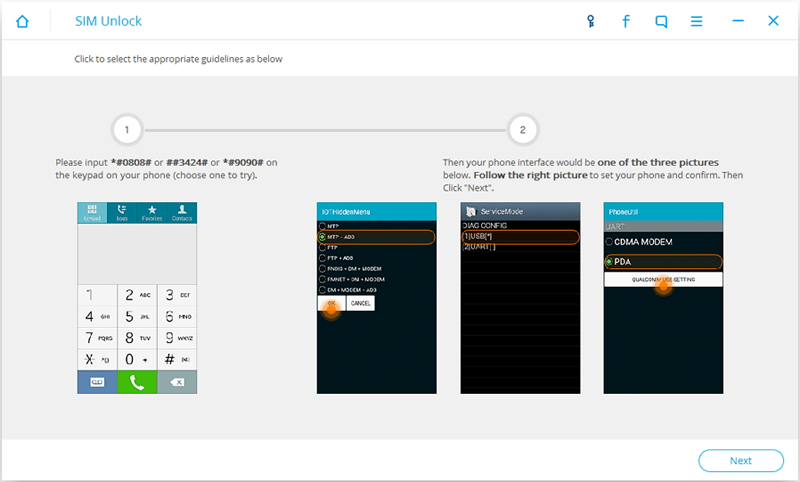 Pros
No technical skills required. Everyone can can unlock the phone within a few minutes.
You don't need to take the phone to the store.
No risk of losing data on phone.
Money Back Guarantee if it doesn't work.
Cons
Currently it only supports some Samsung devices.
Part 2: Unlock SIM Using Galaxsim Unlock
Before sharing how to unlock an Android phone without code using Galaxsim, it is important to know a bit about this smart application. Galaxsim Unlock is an awesome application developed for unlocking Android smartphones and tablets including but not limited to S, S2, S3, some S4,Tab, Tab2, Note, Note2, etc. It can unlock most of the new Galaxy devices successfully in a moment so that the users can use any other network.
Now we are going to show you howto use GalaxSim Unlock to unlock an Android phone without code. Follow up the following steps and unlock the SIM on your Android.
Step 1. Download and Install GalaxSim
What we have to do first is to visit the Google Play Store to download Galaxsim and install it on the Android phone we want to unlock.
Step 2. Launch Galaxsim Unlock
In this step, we have to open Galaxsim by tapping on its icon. You can easily find its icon on your Android phone.
Step3. Check Status and Unlock
Once Galaxsim is opened, you have to give your permission to run it onthe device. It will show you the status of the Android phone if it is locked ornot as in the screenshot. Viewing the status,you have to click on Unlock to start the process.
Step4. Phone Unlocked
You will get your phone unlocked now in a moment as shown in the screenshot below. Now you have successfully unlocked your phone and can use another sim for sure.
Pros
User-friendly and easy to use
Provides detail information of the lock status
Allows you backup EFS data and restore on Google Drive or Gmail for free.
Supports most phones from Galaxy Family·
Compatible with phones previously unlocked with "voodoo unlock"or "galaxy s unlock."
Persistseven after reset / flash / wipe / unroot
Also, detects errors such aslost IMEI/Serial in nv_data by using other apps
No need of Code for unlocking
Cons
Needs in-app purchase
May not support some phones
All features are not free to use
Part 3: Unlock SIM using Galaxy S Unlock
GalaxyS Unlock is a smart SIM unlocking application developed for Android devices. Like Galaxsim, it also doesn't use any unlocking code yet, can easily unlock your Android phone. It helps you unlock any Galaxy S, Galaxy S II, Galaxy Tab and Note phone.
To use this application,you can follow these simple steps.
Step 1. Download and Install
At first, you have to download Galaxy S Unlock from the Google Play Store using this download link.
Step 2. Open Galaxy S Unlock
After installing, open Galaxy S Unlock on your phone. It will ask you to save the EFS file before unlocking.
Step 3. Phone Unlocking
This is the last step and your phone will be unlocked. It will also ask you to restart your phone to finish the process. Once it is unlocked, you can restore the EFS data and insert another SIM for using another network.
Pros
User-friendly and freely available
Saves EFS data
Cons
Not supporting all android phone
Reading this article lets you know the three best ways to sim unlock your Android without code. You can adopt any one of the mentioned methods to remove the restriction imposed on your phone. The steps as you read are simple and easy to follow. The most important fact about these methods is that you don't needany unlocking code.
>
How-to
>
SIM Unlock
> Sim Unlock Android Phones without Code: Three Ways to Remove Android Sim Lock