5 Best & Free PC Screen Recorders and How to Record Screen on PC
We all know how handy screenshots can be. If you get some funny message, with the click of a button you can take a screenshot of that and share it with your friends, hassle-free. In the age of social networking, it's hard to imagine not having the ability to capture screenshots. However, computers don't generally come with such a handy PC screen recorder to simply record what's going on in your computer. There is no in-built one-click solution for that.
However, there are other great external PC screen recorders available which help you do what screenshots do, except in full motion. With these PC screen recorders you can easily capture live-motion videos of the tools you are using in your computer, or applications, and create simply how-to videos to be uploaded on Youtube or shared with friends as tutorials or any number of other purposes.
Top 1 PC Screen Recorder: iOS Screen Recorder
iOS Screen Recorder is a great screen recorder for PC which has been introduced by Wondershare. This doesn't just help you record your Computer Screen, but also lets you mirror your iPhone, iPad or iOS devices to your computer. You can thus enjoy the consequent features on a larger screen, all the while recording them with no lags whatsoever.
This application comes with some great features. You have the ability to record audio or capture videos in HD. You can mirror pretty much any device onto the PC Screen, and record games, videos, application usage, whatever. The great thing about this is how user-friendly it is, offering a one-click solution to all your needs.
Because of its abundance of features you can use it for several purposes. You could use a projector to enhance the screen before an entire class for a presentation. You could record your gameplay and post it on Facebook. And you can use it to give demonstrations at work as well. As such, this is currently one of the best free video recorder for PC available on the market.
Easy-to-use PC screen recorder to mirror and record iPhone screen
Simple, safe and fast.
Record games, videos, and more.
Export HD videos to your computer.
Capture the system audio of your device.
Support both jailbroken and non-jailbroken devices.
Support iPhone,iPad and iPod touch that runs iOS 7.1 to iOS 12.
Offer both Windows and iOS programs (the iOS program is unavailable for iOS 11-12).
3981454 people have downloaded it
How to Record PC Screen with iOS Screen Recorder:
Step 1: Open up the iOS Screen Recorder application on your computer.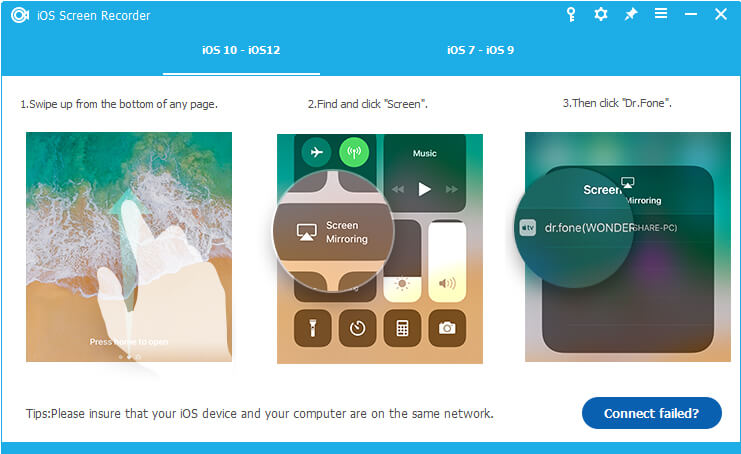 Step 2: Now connect both your Computer and your device to the same Wi-Fi network. However, if your computer can't access Wi-fi then set it up and then connect both of them to the same network.
Step 3: Now you need to Mirror your device. This can be done slightly differently in the case of iOS 7, iOS 8 and iOS 9, and for iOS 10, iOS 11 and iOS 12.
For iOS 7, 8 or 9, you need to swipe up from the bottom to open up the control centre. You'll find an option for "Airplay", followed by "dr.fone". Once you choose that you have to enable "Mirroring."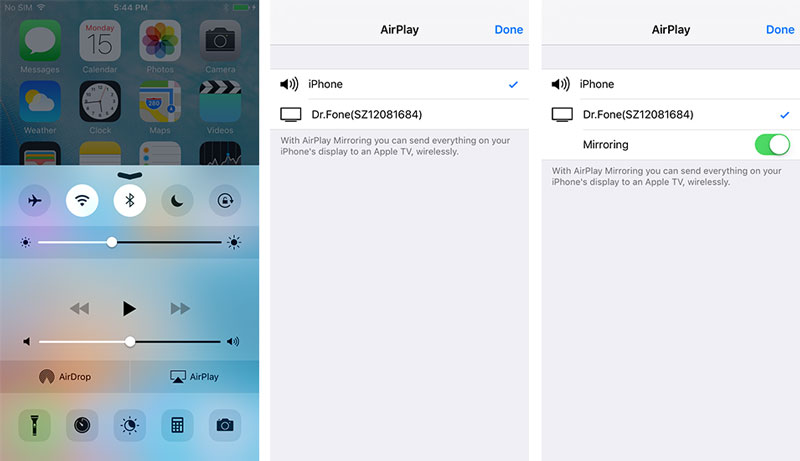 For iOS 10, 11 or 12, the process is similar. You swipe up from the bottom of the screen to access the control centre. You then click on "AirPlay Mirroring" or "Screen Mirroring" and then simply select "dr.fone"!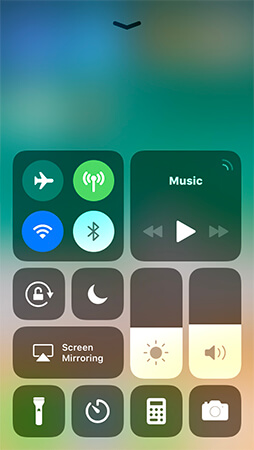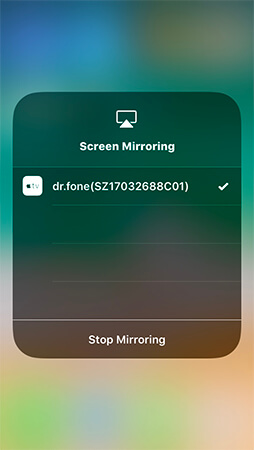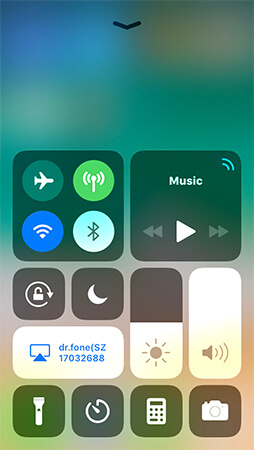 And voila! you've mirrored your screen onto your computer!
Step 4: The final step is the easiest, you've just got to record! To do so simply click on the red button which means "record", and once you stop the recording you'll be taken to the folder with the recording.
Top 2 PC Screen Recorder: Ice-cream Screen Recorder
The unique thing about this screen recorder for PC is that it gives you the option to record just a part of the screen. You simply have to drag your cursor over the part of the screen that needs to be recorded and it will do so. As such, it is a great option for webinars, video tutorials, gameplay recordings, etc.
Features:
1. Area Selection.
2. Drawing Panel with which you can add arrows and draw outlines with an inbuilt 'paint' system, making the recording more interactive.
3. You can also Watermark the video.
Pros:
1. Allows formats such as mp4, mkv and webM.
2. Allows audio recording.
3. Webcam Recording.
4. Cool features.
Cons:
1. In the free version there is a 10 minute cap on all recordings.
2. Editing options are quite limited.
3. The recordings can't be used for commercial purposes, not by the free users.
Download link: http://icecreamapps.com/Screen-Recorder/
Top 3 PC Screen Recorder: Envied Video Maker
This is an impressive desktop screen recorder for PC, and like Ice-cream recorder, you can select just a portion to record or add drawings to it. However this video recorder for PC also allows you to add titles, descriptions and other meta information to the recording.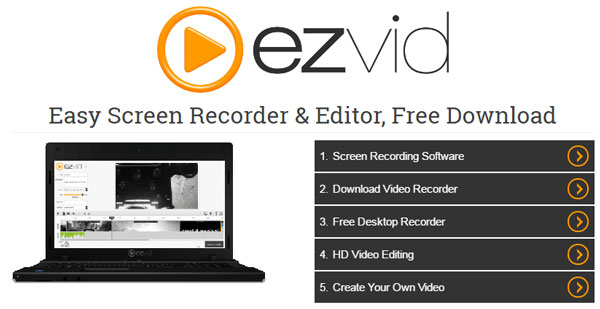 Features:
1. Easy screen recording function with the ability to record just one portion or add text and drawings to it.
2. Audio synthesis, with which you can write down a text which will promptly be turned to a computer generated speech to go with the video.
3. Instant upload to YouTube.
Pros:
1. Webcam recording available.
2. Audio synthesis and voice generation.
3. On-screen annotation is possible.
4. Easy upload of videos to Youtube.
Cons:
1. Videos can't be customized and edited.
2. Videos can be recorded only unto 45 minutes.
3. Videos can only be uploaded to Youtube.
Download Link: http://www.ezvid.com/download
Top 4 PC Screen Recorder: Atomi ActivePresenter
Somewhat lacking in features that are available in other softwares, this is nevertheless a minimalistic video recorder for PC which can record your screen activities in HD quality, and offers a great design which is easy to navigate.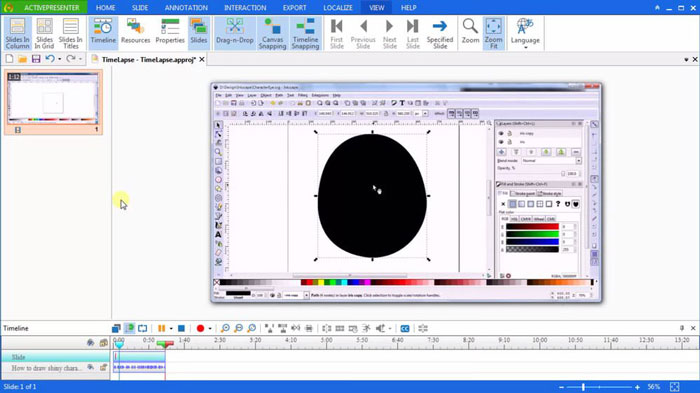 Features:
1. Video recording in a variety of formats such as MP4, FLV, AVI, WMV, WebM, MKV.
2. Basic video and editing options such as crop, join, slow down, blur, etc, are available.
Pros:
1. No time cap on recording even for free users.
2. No video watermark for free users.
3. A Variety of formats available.
4. Easy to use post-recording editing options.
Cons:
1. No option to directly upload videos online.
2. The free version is somewhat lacking in features that are only made available to the Premium users.
Download Link: https://atomisystems.com/activepresenter/free-edition/
Top 5 PC Screen Recorder: Screenpresso
This Screen recorder for PC is ideal for premium users but its quite lacking in its Free version. However, it can still take screenshots and record the activities on your screen and can manage them well. It also comes with a built-in image editor.
Features:
1. Capture videos or images.
2. Edit videos or images with the editing options, or generate PDFs with a document generator.
3. Share the videos over Youtube, Evernote, Google Drive, Facebook, Twitter and many more.
Pros:
1. Recording audio.
2. Webcam recording.
3. Easy to manage a library of the captures.
4. Easy to share over several mediums.
Cons:
1. Not available in Android for the Free users.
2. There's a limit on image editing features for free users.
3. There's a fixed watermark on all its images and videos.
Download link: http://www.screenpresso.com
The applications and softwares mentioned all come with great editing features and video capture features. However, they differ in a few significant ways. For example, Screenpresso always records the screen along with a watermark which cannot be taken down, whereas Atomi ActivePresenter doesn't come with any watermarks. However, although Atomi has a minimalistic and simple design, that comes at the cost of the kind of features available in Envied Video Maker, Ice-cream Screen Recorder or iOS Screen Recorder. Furthermore, the later - iOS Screen Recorder - has the added advantage of a Mirroring option, making it compatible with other devices and mediums, whereas the other applications are relatively handicapped on this regard.
Whereas most of these video recorders for PC come with their pros and cons, most of them are restricted in the Free version. If that is of concern to you, then iOS Screen Recorder is a great option because its features are unlocked even in the Free Version and there is no mandate for constant updates, all the while coming with all the necessary tools for recording and mirroring.