Best Alternative to AirShou: Flexibly and Easily Record iOS Screen
Screen Recording has become a cultural staple of the Social Media world. We all love to record our activities on our iOS Screens and share it with the world. However, iOS devices don't come with inbuilt means to record iOS Screens, because of which people are generally on the lookout for alternative methods. AirShou is a commonly used software to record iOS Screen, however recently people have been coming forward with complaints about it, hoping to find an alternative.
If you wish to record iOS Screen, you're probably on the lookout for the most flexible and convenient software that helps you do that. AirShou is great, but like most things it has its pros and cons, you just have to figure out what works best for you. So we've taken the liberty to explain to you all the advantages and disadvantages of AirShou to record iOS Screen, and we've even scouted for a great alternative to AirShou. Please read on, and be empowered to make an informed decision.
Part 1: What is AirShou?
Basically, AirShou is a third party software that helps you record iOS Screen without much of a difficulty and without having to resort to jailbreaking your phone. As such it is an often preferred means to record iOS Screens.
Advantages of AirShou:
1. Easy to download and install.
2. Easy functionality.
3. No Jailbreak necessary.
Disadvantages of AirShou:
1. Users complained about it not installing on iPads.
2. Many users complained that it sometimes hangs after 30 seconds of recording.
3. It's not available in the App store and thus isn't guaranteed to be malware-free.
4. It displays an error while downloading to iOS version 10 onwards.
5. The recorded video is often blurry and features voice distortion.
Where to download AirShou?
I am sorry to tell you that AirShou is unable to download, because their company doesn't provide the service.
Part 2: iOS Screen Recorder is the Best Alternative to AirShou
So you now know what are the advantages and disadvantages of AirShou. If you're fine with the cons, then well and good. But if that gives you pause and you want to find an alternative to AirShou, then our best recommendation is to get iOS Screen Recorder, which is the closest thing to perfect and doesn't come with the disadvantages as its AirShou counterpart.
iOS Screen recorder is also a third party software/app, which can conveniently record iOS Screens on computer or iOS device. However, it comes with greater features as it also allows your iOS devices to be mirrored to your PC screen, which is a feature you won't find in AirShou. Furthermore, it can easily be accessed in all iOS devices, and the recording is smooth and convenient unlike some of the complaints against AirShou.
Flexibly and easily record iOS Screen on iPhone or PC
Simple, intuitive, process.
Record mobile games, videos, music, and more on your device or PC.
Mirror and record mobile gameplay on PC.
Supports both jailbroken and non-jailbroken devices.
Support iPhone,iPad and iPod touch that runs iOS 7.1 to iOS 13.
Offer both Windows and iOS programs (the iOS program is unavailable for iOS 11-13).
3981454 people have downloaded it
Please read on to find out how to record iOS screen using iOS Screen Recorder software and app.
2.1 How to use iOS Screen Recorder software (for iOS 7-13)
Step 1: Access the Software
Once you've downloaded and accessed the iOS Screen Recorder software, open it.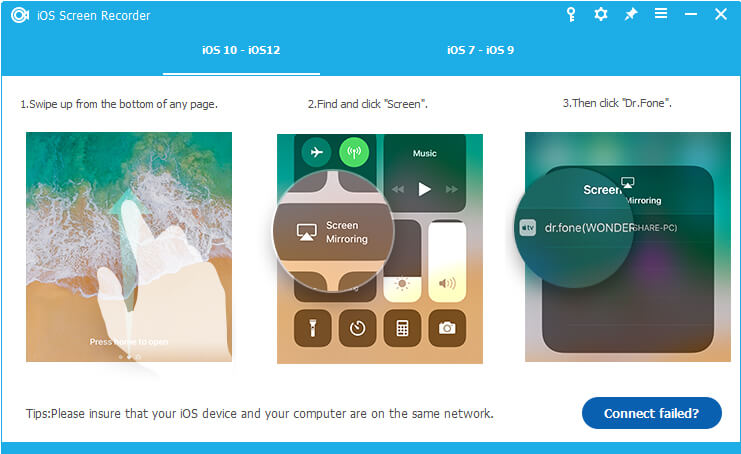 Step 2: Connect iOS device and computer to the same WiFi
Connect both the iOS device and your computer to the same WiFi network, and if that isn't possible then connect them to the same Local Area Network (LAN.)
Step 3: Mirror your device
For iOS version 7, 8, and 9, swipe up from the bottom to access the control panel. Select 'AirPlay', followed by 'dr.fone' and enable 'Mirroring.'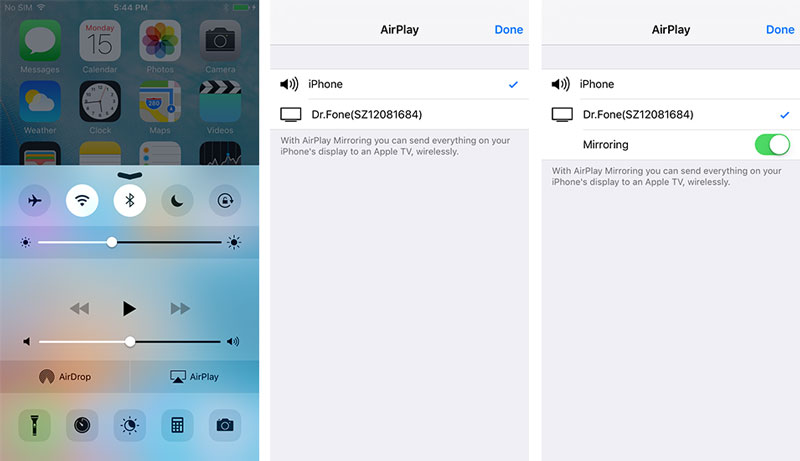 For iOS version 10-12, swipe up from the bottom to access the control panel. Select 'AirPlay/Screen Mirroring' and then choose 'dr.fone.'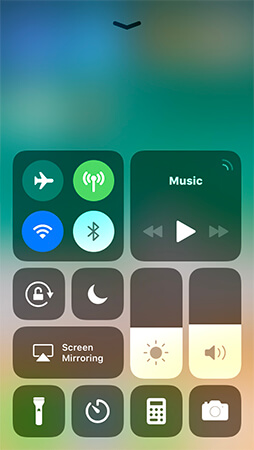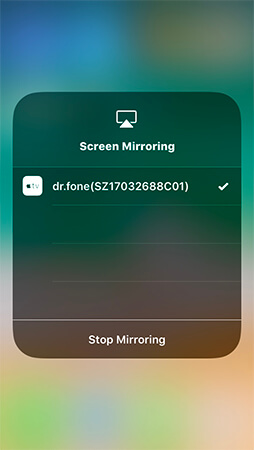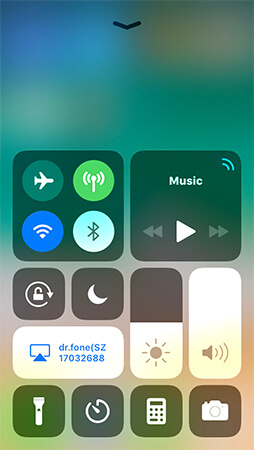 And with this your iOS device would be mirrored to your computer!
Step 4: Record iOS Screen
Now, you simply click on the red circle 'record' button at the bottom of the screen to start recording iOS Screen. You can toggle full screen on/off using the square button next to it. And to stop recording you can again press the red button. Once you stop recording you'll be automatically led to the save folder.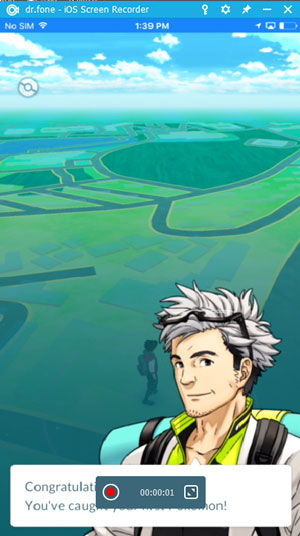 & &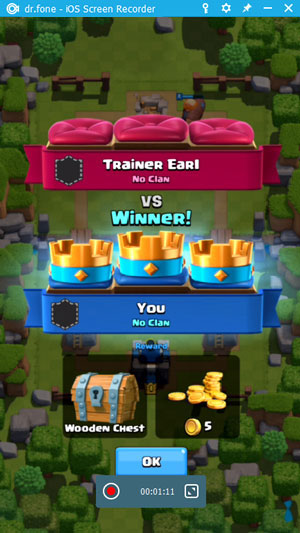 So you can now conveniently record iOS Screen on your computer, however if you'd like to record the iOS screen directly then read on to find out how to record iOS Screen using the iOS Screen Recorder app.
2.2 How to use iOS Screen Recorder app
Step 1: Install the app
Go to the iOS Screen Recorder App Installation Page.
Click on the 'Install' button to get the app onto your iPhone or iPad. When prompted for your approval, click 'Install' again.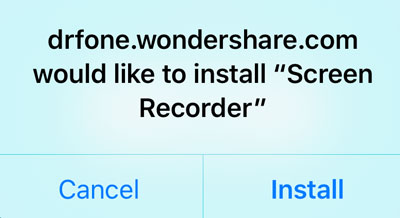 Step 2: Click 'Trust'
After installation, go to Settings> General> Device Management. Hit the name of the distributor with 'Screen Recorder' listed and then click 'trust' to indicate that you trust the developer.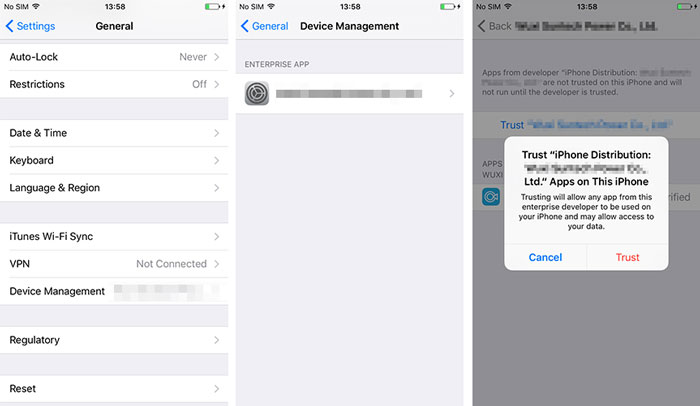 Step 3: Record iOS Screen
Access the app, click 'Next', and following that just hit the red 'record' button to start or stop recording. Once you stop your recording will be saved to the Camera Roll.
Well then, you now know what is AirShou, and what are its advantages and disadvantages. For some of you the disadvantages might be inconsequential so you can go ahead with it, but if you want an Alternative to AirShou which is more reliable and comes with more functions, you should opt for iOS Screen Recorder, as it can be used for all iOS devices conveniently and even allows for mirroring. However, the choice lies in your hand. We've merely supplied you the information you need to make a calculated decision. Whatever you decide, please feel free to let us know down in the comments whether our article helped you in the decision making. Thanks for visiting, take care!