How to Transfer Photos from Samsung to Mac
If you have ever tried to connect Samsung to Mac, you know that you can't simply connect your Samsung Galaxy to your Mac and begin transferring photos. This is because, there is no direct way for your Galaxy which is an Android device to communicate with the Mac. Android devices will generally communicate better with a PC. But this doesn't mean that it is impossible, far from it.
This article will share with you a few simple ways you can transfer photos from your Samsung to your Mac.
Part 1. How to Transfer Photos from Samsung to Mac in 1 Click
If your goal is to transfer the photos without any mishaps and as quickly as you can, your best option is dr.fone - Transfer (Android). That's because this program is designed to make it very easy for you to move data from any device (including Android devices) to your Mac. You can do so in a single click as we shall show you shortly. But before we get started, let's take a look at some of the features that make this program the ideal solution for you.
Transfer Photos from Samsung to Mac without Hassle!
Transfer files between Android and computer, including contacts, photos, music, SMS, and more.
Manage, export/import your music, photos, videos, contacts, SMS, Apps etc.
Transfer iTunes to Android (vice versa).
Manage your Android device on computer.
Fully compatible with Android 8.0.
3981454 people have downloaded it
Here's how to use dr.fone - Transfer (Android) to get your photos from the Samsung Galaxy to your Mac.
Step 1. Download and install the program to your computer. Open it and click on Transfer. Then connect your Samsung phone to computer using an USB cable.
Step 2. On the main window of Transfer, click on Transfer Device Photos to Mac. This will help you transfer all photos on your Samsung phone to Mac in just 1 click.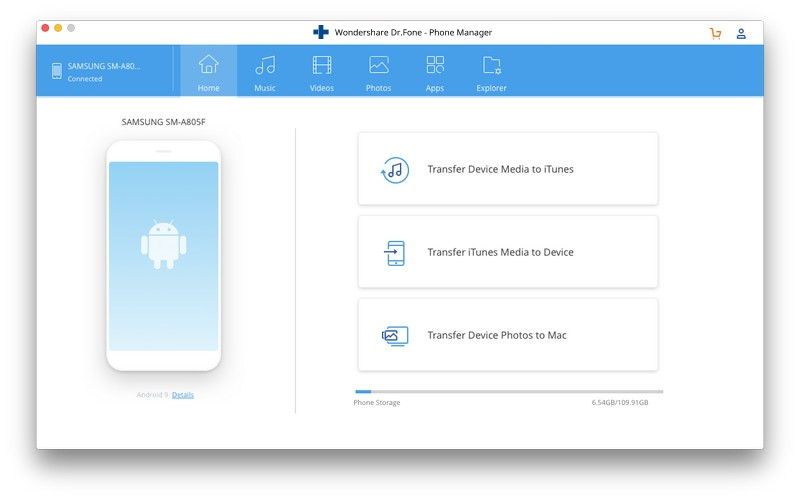 If you would like to transfer photos from Samsung to Mac selectively, go to Photos tab. Here you can preview and select the photos you like and export them to your Mac easily.
Part 2. Transfer Photos from Samsung to Mac USB Cable with Image Capture App
Another way to transfer images to your Mac from your Samsung Galaxy device is to use the built-in Image Capture app. It is very simple, all you have to do is connect the device to the Mac using a data cable. The built-in image capture app should open and ask if you want to import the photos on your device to the Mac.
If this doesn't happen, make sure that you have set the connection type as "Camera (PTP) instead of Media Device (MTP). If you have selected MTP instead, the Mac may be unable to recognize the device.
Part 3. Transfer Photos from Samsung to Mac with Laplink Sync
There are also other ways you can sync the photos on your device to your Mac. These are applications that like MobileTrans are designed to make it easy for you to move data between Android and Mac. While there are many of them in the market, not many will offer the same service as MobileTrans and they will require that you purchase a subscription before transferring the photos.
It is quick, readily accessible and will allow the user to transfer all photos on the Android device to the Mac by USB cable or use Laplink Sync- an app. You can install Laplink sync on both your Samsung and Mac, which you can transfer data wirelessly. It does't need cables and you can transfer videos and photos as you like.
Bottom line is, if you want a quick, easy and reliable way to transfer not just photos but any other type of data from your Samsung Galaxy to your Mac, dr.fone - Transfer (Android) is the only solution you should choose. The reason is simple, unlike the other options we have highlighted above, there is no chance that the process will fail. dr.fone - Transfer (Android) will transfer your photos, or any other type of data successfully every time you use it.
Mac Android Transfer
Mac to Android

Android to Mac

Android Transfer on Mac Tips