Transfer WhatsApp from Android/Samsung to Galaxy S9/S8
While you are enjoying thrill associated with having a new modern phone like Galaxy S9/S8, it is likely that something will spoil the thrill. Your excitement may cut short when you discover that all your WhatsApp conversations with friends and lovers will be lost since you are changing phone. But, don't worry as we are here to help you out. So, if you have got S9/S8 but do not want to lose your WhatsApp conversations with friends which you have on your old Samsung phone, this post is dedicated to offer you information on how to transfer WhatsApp from Samsung to S9/S8. You will learn all the things you need to transfer your old chat messages, photos and others on WhatsApp to newly purchased S9/S8 without stress or delay. There are three methods through which you can Transfer WhatsApp from Android to S9/S8 and they include: Local Backup, Google Drive and dr.fone - Switch Wondershare. The dr.fone - Switch is the recommended method of file and data transfer whatsapp, sms, music, photos from device to device owning to the fast, reliable and simple process. This article will focus on the transfer through dr.fone - Switch which is the recommended way to transfer WhatsApp conversation to S9/S8 speedily and securely.
Part 1. How to Transfer WhatsApp from Android/Samsung to S9/S8
dr.fone - Switch is a simple and easy to use click-through transfer process. It is built to help users transfer data from one device to another even between the ones with different operating system like Android to iOS and others. With this application, you can easily transfer text messages, photos and other file types with the speed of light. In fact, it is thoughtfully designed and well capable to do the work when it comes to transferring WhatsApp from android/Samsung to S9/S8.
Transfer Whatsapp from Android to Samsung S9/S8 in 1 Click!
Transfer all video and music, and convert the incompatible ones from old Android to Samsung Galaxy S7/S9/S8.
Enable to transfer from HTC, Samsung, Nokia, Motorola and more to iPhone X/8/7S/7/6S/6 (Plus)/5s/5c/5/4S/4/3GS.
Works perfectly with Apple, Samsung, HTC, LG, Sony, Google, HUAWEI, Motorola, ZTE, Nokia and more smartphones and tablets.
Fully compatible with major providers like AT&T, Verizon, Sprint and T-Mobile.
Fully compatible with iOS 11 and Android 8.0
Fully compatible with Windows 10 and Mac 10.13.
3981454 people have downloaded it
Steps to Transfer WhatsApp from Android to S9/S8
Step 1. Launch dr.fone after you download and install it.
Step 2.You will see "Switch" solution after you run it, just click it.
Step 3. Put ON Debugging Mode and connect your Android/Samsung phone and Samsung S9/S8. Both phones connected will be displayed on the interface.
In this step, you are expected to connect both your old Samsung and the new Galaxy S9/S8 on the same computer using two different USB cables. Immediately the both phones are correctly connected, the program will label your Samsung as the "SOURCE" and your new Galaxy S9/S8 as the "Destination"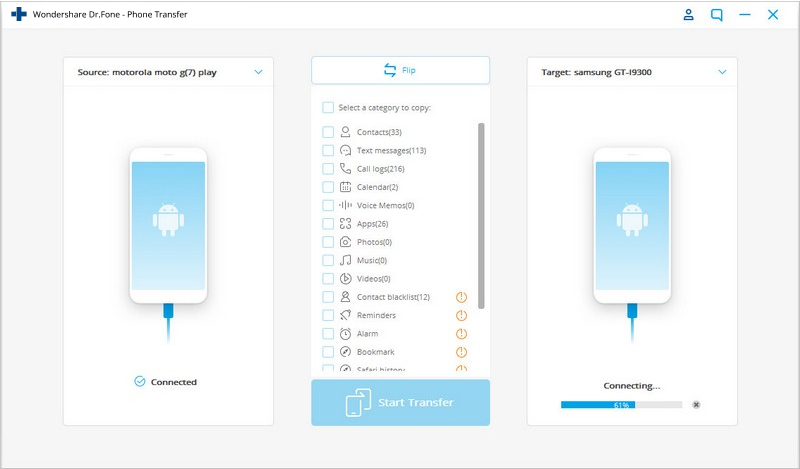 Step 4. Choose "App Data" and "App" in order to transfer and click "Start Transfer". Then, select the particular data you want to transfer whether the conversation or any other data. After this, WhatsApp messages and conversation in your Samsung or old Android will be automatically transferred to your new S9/S8.
When the copy and transfer is in process it is important for you to avoid disconnecting any of the phones as that can disrupt everything. You can see how easy and simple it is to Transfer WhatsApp from Android to S9/S8 with the help of Wondershare dr.fone - Switch application.
Part 2. How to Transfer Whatsapp from Android to Samsung S9/S8 with Local Backup
Back up your Whatsapp messages on your old phone by using these commands Whatsapp > Menu Button > Settings Chats and Calls > Back up Chats. Make sure that the chats are backed up to your external SD card if your phone has one. Install the SD card into your new phone.
If the Whatsapp chats are installed on the internal drive of your Samsung device you will need to transfer the backup files from the old Samsung to the same folder in your new S9/S8. You can do this using file explorer or from the back up files on your computer. It is important to note that some files can be lost during this process so you will need to check if all the files are on your new phone. After you have transferred the files you install Whatsapp on your new phone and the app will locate the backed up chats.
Part 3. How to Transfer WhatsApp from Android to Samsung S9/S8 with Goole Drive
To transfer Whatsapp from Android to Galaxy S9/S8 using Google Drive is also possible. You copy the history to Google Drive from your Android device . Using the same steps as in method 2 you can manually copy the chats to Google Drive or set it to mechanically copy as frequently as you would like.
To transfer the Backup to the S9/S8, download Whatsapp and after you have verified your number you could be prompted to revive chats and media from Google Drive. All the new messages should appear on the new S9/S8.
With dr.fone - Switch, you can transfer files and data between several devices including LG, Apple, HTC, Sony, Samsung, ZTE, Google, Motorola, HUAWEI and others. It works with intuitive process making WhatsApp/Music transfer Samsung/Android to Galaxy S9/S8. Just follow the steps provided here for the WhatsApp transfer or Music Transfer and you will have your entire WhatsApp data/music data into your new Galaxy S9/S8.
Samsung Transfer
Transfer Between Samsung Models

Transfer to High-End Samsung Models

Transfer from iPhone to Samsung

Transfer from HTC to Samsung

Transfer from common Android to Samsung

Transfer from Other Brands to Samsung