How to Recover Deleted Kik Photos From iPhone
Have you ever deleted your Kik pictures from your phone only to realize that you made a mistake in deleting them in the first place? And to make matters worse, you are in no position or you have no idea whatsoever on how to recover them? Well; if that's your case, worry no more as "Superman" is here to save you. Though many methods on how to recover Kik photos are available, not all of them are highly dependable. Some can sort you out correctly while others can greatly disappoint you. Depending on the method you choose, you can easily recover these pictures in a matter of minutes if not seconds.
In this article, we are going to take a look at one of the best and highly recommended method on how to recover Kik photos. I would urge you to pay unmatched attention as this will be your gateway to success when receiving and sending pictures using Kik Messenger.
Importance of Recovering Kik Pictures
As they say, pictures are worth a thousand words and in our situation, it can't be said better than this. When you accidentally delete some of your precious Kik pictures, the memories that came along with them are lost and in some cases, never to be recovered ever again. I believe you wouldn't want to be in such a situation ever especially if you value and treasure your Kik photos. It's for this reason that you need to recover Kik photos as soon as you can.
Part 1: How to recover deleted Kik photos from iPhone by dr.fone
As I had stated earlier, a good number of programs that claim to recover deleted Kik photos are available to choose from depending on your preferences. However, don't pick or use any program just because it claims to have the job done. When it comes to recovering deleted Kik photos, trust on dr.fone to get the job done.
dr.fone - iPhone Data Recovery is a spectacular program that helps you recover deleted Kik photos in a span of minutes regardless of whether you're operating on iOS or Android operating systems. The good thing about this program is the fact that it comes with an easy to use interface. You don't need to learn any form of rocket science to operate dr.fone.
Recover deleted Kik photos from iPhone easily & flexibly
World's 1st iPhone and iPad data recovery software with highest recovery rate in the industry.
Recover Kik messages and photos in 3 steps.
Recover photos, videos, contacts, messages, notes, call logs, and more.
Compatible with latest iOS devices.
Preview and selectively recover what you want from iPhone/iPad, iTunes and iCloud backup.
Export and print what you want from iOS devices, iTunes and iCloud backup .
3981454 people have downloaded it
Steps on how to recover Kik photos from iPhone by using dr.fone
Step 1 The first and foremost thing to do is to download and install dr.fone on your laptop or desktop. You can choose to buy the program or use it as a free trial. Once you have installed the program, launch it on your computer and look out for the "Recover from iOS Device" option on the interface. Click on it to open it.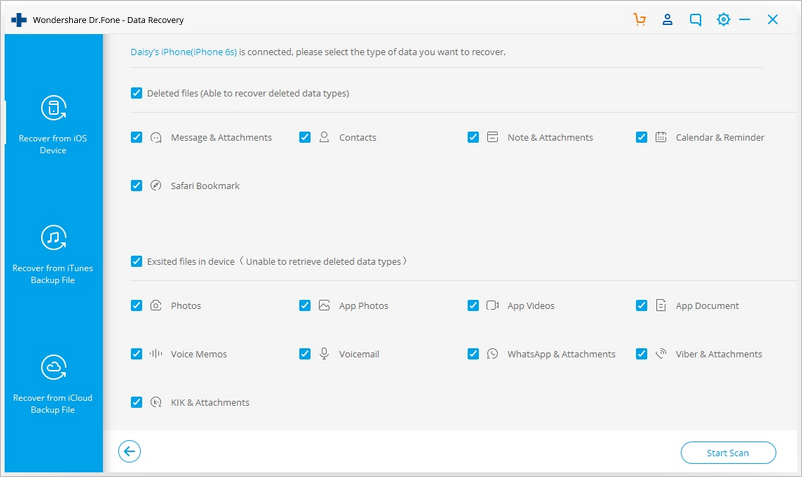 Step 2 The moment you open the data recovery option, a new interface with different data recovery options will open up. Since we need to recover photos, we only need to select the "Photos" option. You can locate this option on the second row of your interface. Check the box next to the "Photos" icon to select it.
Step 3 Below the interface, you will be in a position to see the "Start Scan" option. Before clicking on this option, connect your phone to your laptop using its USB cable.
N.B.: Please note that you can't retrieve any form of data if your iPhone is not connected to your computer.
Step 4 Once your phone is connected to your computer, click on the "Start Scan" button and sit back as dr.fone does the retrieving work for you. The program scans your entire phone and displays all the photos present in it whether deleted on not.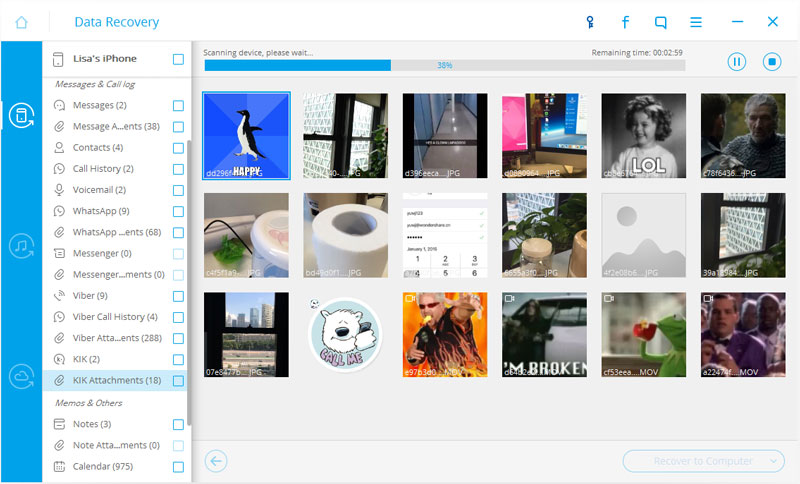 Step 5 Select all the Kik photos you want to retrieve by checking the box in front of them. Once you are armed with all the retrieved photos, click the "Recover" option which is located at the bottom right side of your screen.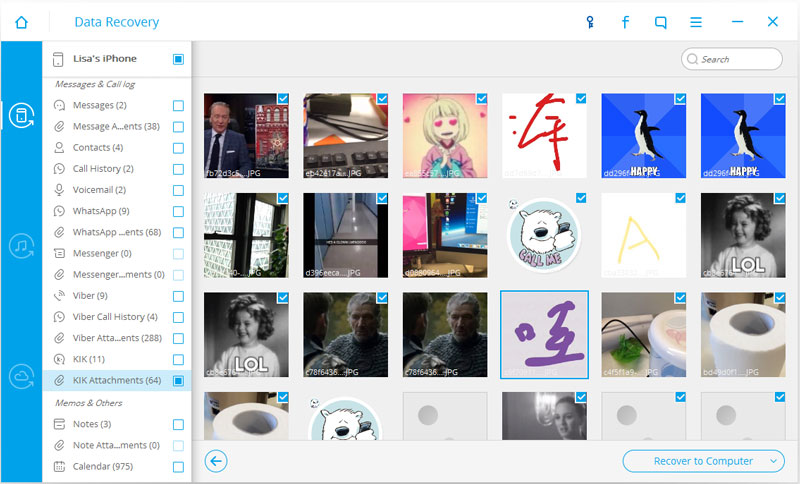 By default, the recovered photos will be saved on your computer. Create a folder on your computer and save your recovered Kik pictures in it. And just like that, your have your photos back and a simplified method on how to recover deleted Kik photos.
Part 2: How to backup Kik photos - Avoid Kik photos lost again
Why you need to backup Kik Photos
The moment you recover deleted Kik photos, it's highly advisable to have a backup plan so as to ensure that your Kik photos are secured and safe regardless of any circumstances. It should be highly noted that you don't have to delete your photos accidentally for them to get lost. Many people have found themselves in a sticky situation where their phone got lost or crashed due to a virus and all of their Kik photos got lost in the long run. It's for these reasons that we need to have a backup plan.dr.fone - Restore Social App helps in saving and preserving your Kik photos. With this in mind, you don't have to be worried when your phone gets formatted or when you delete your Kik photos accidentally.
Create a backup to protect your Kik chats
Backup your Kik photos with just one click.
Restore only the data you want.
Export any item from the backup for printing or reading.
Completely safe, no data lost.
Fully compatible with Mac OS X 10.11, iOS 9.3
3981454 people have downloaded it
Steps to backup Kik photos
Step 1 If you don't have dr.fone, simply download it from Wondershare, either as a free trial or as a complete purchase. If you already have dr.fone, launch it and select the "More Tools" option located on the bottom left part of your interface.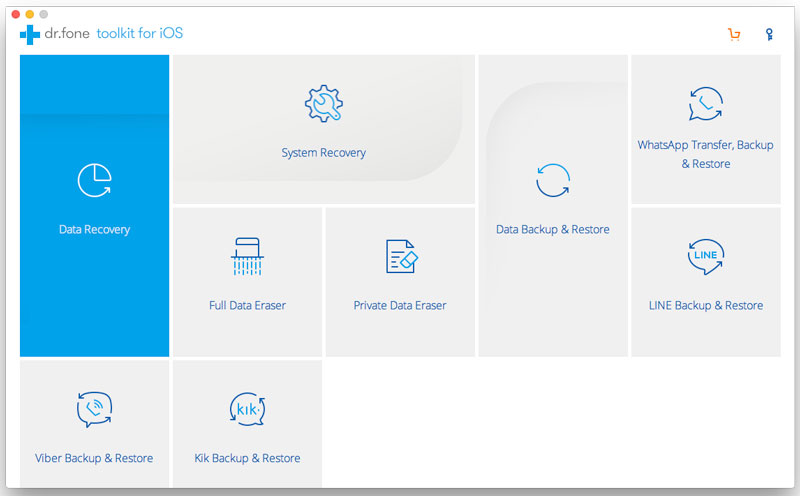 Step 2 Once you click on the "More Tools" option, you will be in a position to see the "iOS Kik Backup and Restore" option. Connect your phone to your computer using its USB cable and click on the restore option. A new interface with the "backup" option as illustrated below will open up.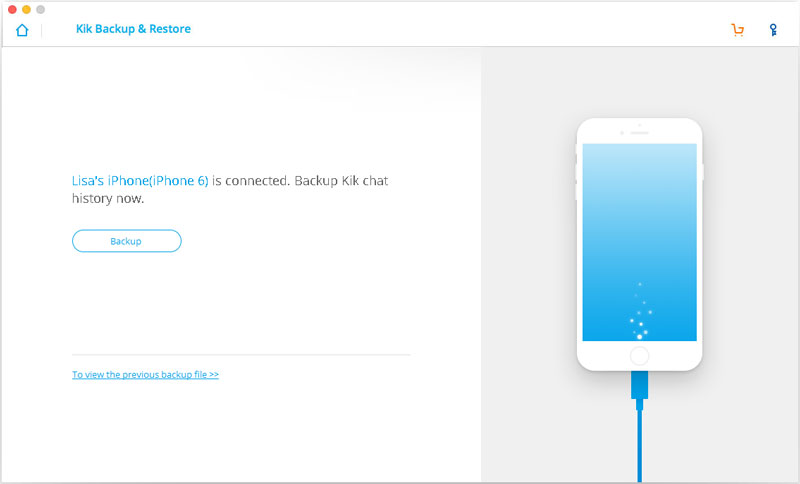 Step 3 With your phone connected to your computer, click on the "Backup" option and wait as dr.fone backs up all your Kik photos. You'll be able to see the backup process as illustrated below.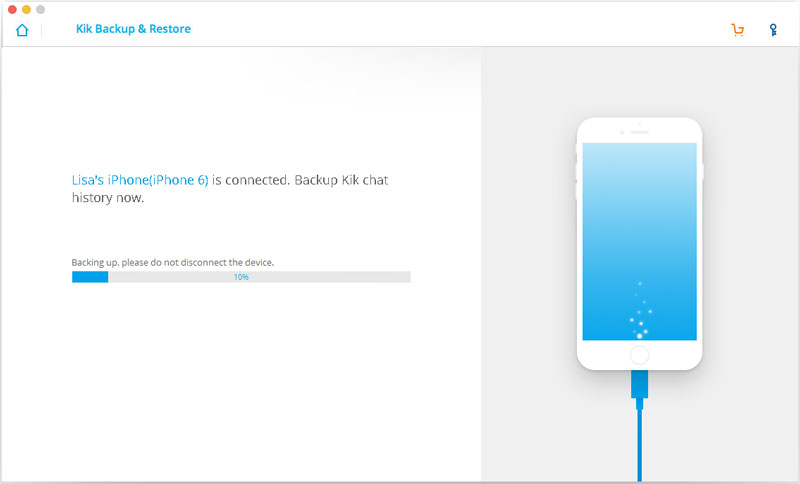 Step 4 Once the backup process is done, you'll get a notification message informing you that the backup procedure is done. Just unplug your phone from your computer and just like that; your Kik photos are completely backed up.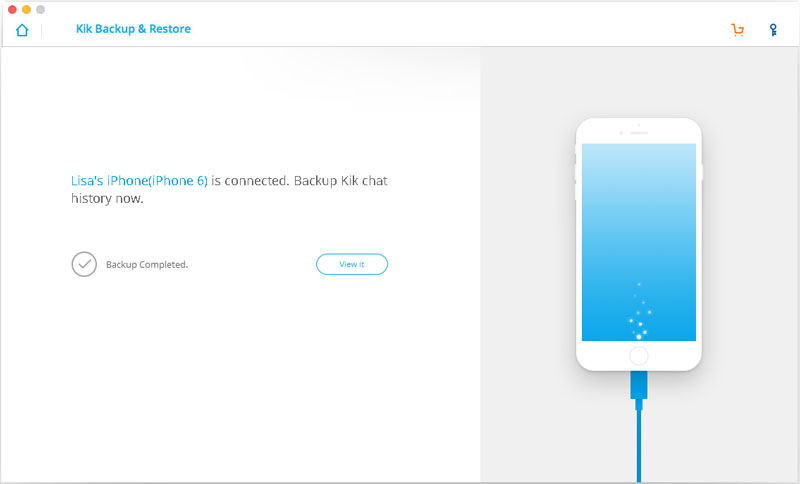 Part 3: Kik photo tips
If you want to preserve your Kik photos, it's always advisable to have a tip or two on how to do it. Take a look at the tips below and make sure that you employ one or all of them.
-Always have an external or internal backup to save your Kik pictures in. You can decide to have an external hard disk drive to backup your pictures in it. For internal options, you can create a backup plan on your phone. You should, however, note that the internal storage option depends on the type and model of phone that you are using.
-Share some of your pictures with your close friends. Though not everybody is trustworthy nowadays, this method allows you to ask back for your pictures just in case you deleted yours accidentally.
-In circumstances where you have already deleted the photos, always make sure that you have an excellent data retrieving program like dr.fone in hand.
With each and every method mentioned above, accidentally deleting your Kik photos should be your last worry. Regardless of how they got deleted, just employ any of our two methods and you are good to go.
Kik
1 Kik Tips & Tricks

2 Kik Backup, Restore & Recovery