MOV è un formato video che usa un algoritmo di compressione compatibile sia con piattaforma Macintosh che Windows. La conversione del formato MPG in MOV può consentirti di riprodurre i video MPG con Apple QuickTime (MOV). In questo articolo vediamo come convertire MPG in MOV su Mac e Windows (Windows 8 incluso) step by step:
Parte 1: Come convertire MPG in MOV su Mac
Per convertire MPG in MOV su Mac OS, inclusi Mountain Lion e Lion, puoi usare Video Converter per Mac come tuo assistente. Questa app per Mac app è sviluppata appositamente per effettuare le conversioni dei principali formati video e audio su Mac facilmente e con elevate velocità. Ecco la guida passo dopo passo per la conversione MPG to MOV su Mac:

Importa i file MPG nel convertitore: seleziona e trascina direttamente i file nel tuo convertitore MPG to MOV per o vai su File menu e scegli Aggiungi Video Files.
Apri la lista dei formati e scegli MOV dalla categoria Formati Video. Se devi inserire il video su iPhone, iPod, iPad o vuoi modificarlo con iMovie, Final Cut Pro, puoi selezionare il formato corretto dalla lista messa a disposizione del convertitore MPG MOV.
Clicca Start per convertire MPG in MOV su Mac OS.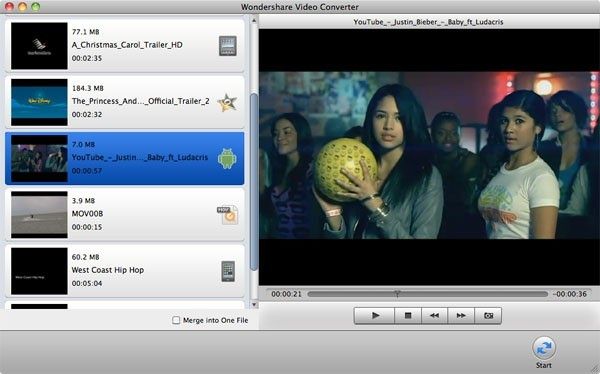 Parte 2: Come convertire MPG in MOV su Windows
Qui, facciamo uso di Video converter, che ha le stesse funzioni e prestazioni della versione Mac:
Carica files: Puoi caricare i tuoi files sia trascinandoli nel programma che usando il menu "Aggiungi Files".
Imposta formato output: Clicca sull'immagine del formato nella parte destra del programma e imposta il tuo formato output in "MOV". Se clicchi sulla icona sotto dell'ingranaggio potrai impostare il tuo video encoder, risoluzione, frame rate, e canale audio.
Avvia la conversione MPG to MOV: Clicca "Converti", e la conversione inizierà in modo automatico. Al termine clicca su "Apri Cartella" per aprire i file convertiti.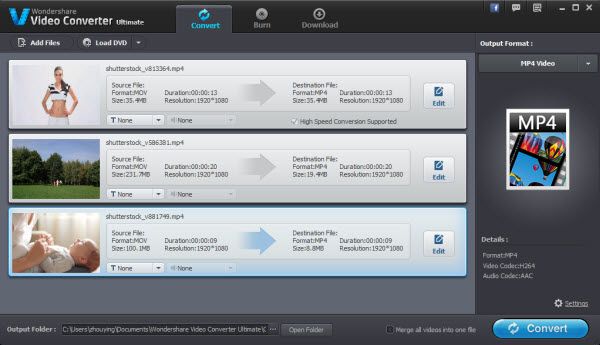 Suggerimento: Questo MPG to MOV Converter fornisce anche funzioni di video editing. Se vuoi rendere personalizzato il tuo video, clicca sul pulsante "Edit". Puoi aggiungere un watermark o dei sottotitoli, e impostare la luminosita. contrasto, saturazione video etc.
Guarda il seguente Video Tutorial: