Cosa è AVCHD?
AVCHD è l'acronimo di Advanced Video Coding High Definition. Sviluppato congiuntamente da Sony e Panasonic, è ampiamente utilizzato nelle videocamere ad alta definizione. I formati AVCHD sono principalmente tre tipi: M2TS, MTS, e TS.
Cosa è MOV?
MOV, è un formato contenitore multimediale, che differisce per codec video. Viene utilizzato principalmente come formato di file per filmati QuickTime, ma è anche supportato da iMovie, Final Cut Pro. Solo i file con codifica H.264 MOV e MPEG-4 con codifica MOV possono essere riconosciuti da iTunes e dai dispositivi Apple come iPhone e iPad, ecc.
Se hai un sacco di file AVCHD registrati con videocamere come la Sony HDR-XR200V, Panasonic HDC-TM350 o Canon HF S10 e vuoi convertire AVCHD in MOV per riprodurli su QuickTime, modificarli in iMovie o Final Cut Pro, leggi le informazioni qui di seguito.
Per convertire AVCHD in MOV su Windows, ti consiglio AVCHD to MOV converter cioè un professionale Video Converter. Per gli utenti Mac come Mac OS X Snow Leopard,Mountain Lion, Lion etc., occorre utllizzare Video Converter per Mac.
Step 1: Importare files AVCHD in AVCHD to MOV converter
Installa ed esegui questa app. Scegli uno dei due modi qui sotto per importare i files AVCHD:
Trascina direttamente i files AVCHD in questa app.
Clicca per importare i files AVCHD che vuoi caricare.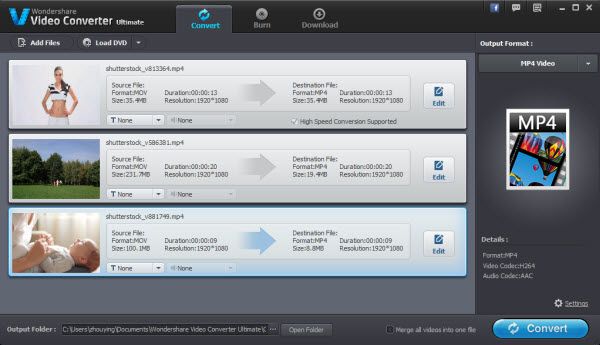 Step 2: Scegliere MOV H.264 come formato di output
Clicca "Formato di Output" poi seleziona "MOV" come formato di output e scegli H.264. Per selezionare H.264, devi cliccare il pulsante
nel pop up delle "Impostazioni" scegliendo H.264 nell'opzione "Video Encoder".
Step 3: Iniziare la conversione da AVCHD in MOV
L'ultima cosa che devi fare è quello cliccare "Convert" per convertire AVCHD in MOV. Quando la conversione è terminata, puoi ottenere un file MOV con codec video H.264. Puoi trovarlo con il tasto "Apri cartella" a sinistra in basso di questa applicazione.
Guarda il seguente Video Tutorial: