Come Trasferire gli SMS dell'iPhone a PC / Mac
Ho l'iPhone 4 e ho gi?perso tutti i messaggi che il mio ragazzo mi ha mandato e non voglio che questo accada di nuovo. Esiste un modo per copiare i miei messaggi di testo dal mio iPhone al mio portatile Sony, magari attraverso iTunes? Per favore ho bisogno di aiuto!
Se stai usando iTunes per gestire il contenuto del tuo iPhone, devi sapere che iTunes puo' eseguire automaticamente il backup dei dati di iPhone, inclusi i messaggi, quando fai una sincronizzazione, in modo da poter ripristinare il tuo iPhone con i dati precedenti se li hai persi. Tuttavia non puoi accedere o leggere il file di backup, e devi rinunciare a fare uscire dati dal tuo iPhone quando desideri ripristinarlo, e' anche un modo per eseguire il backup di SMS iPhone. Ebbene, c'e' anche un modo con cui puoi copiare direttamente i tuoi SMS da iPhone a PC o Mac. Tutto quello che ti serve e' un mezzo per copiare gli SMS iPhone.
Come trasferire messaggi iPhone sul PC/Mac
Prima di tutto, ottieni lo strumento per trasferire messaggi iPhone: Dr.Fone - Backup & Esportazione Dati iOS. Con questo programma, puoi copiare gli SMS di iPhone su PC o Mac in 3 passi.
Il Backup e Restore dei Dati iOS Data diventa Flessibile.
Un clic per fare il to backup dell'intero dispositivo iOS sul tuo computer.
Consentire di visualizzare in anteprima e fare il ripristino di qualunque oggetto dal backup su un dispositivo.
Esporta quello che vuoi dal backup al tuo computer.
Nessuna perdita di dati sul dispositivo durante il restore.
Fai un backup selettivo e fai il restore di qualunque dato vuoi.
7 Day Money Back Guarantee
3 Passi su come trasferire massaggi iPhone al PC
Passo 1. Avvia Dr.Fone e connetti il tuo iPhone al computer. Poi scegli il modo "More Tool", clicca "iOS Data Backup & Restore".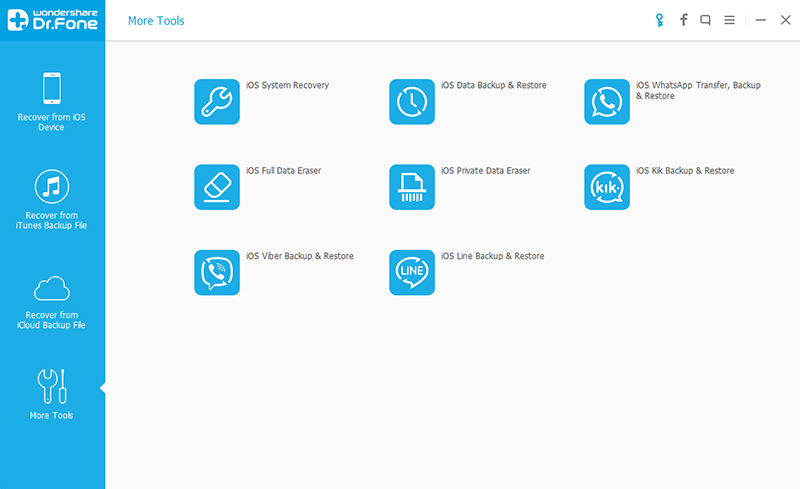 Passo 2. Scegli il tipo "Messages & Attachment" da salvere nel backup, poi clicca il bottone"Backup".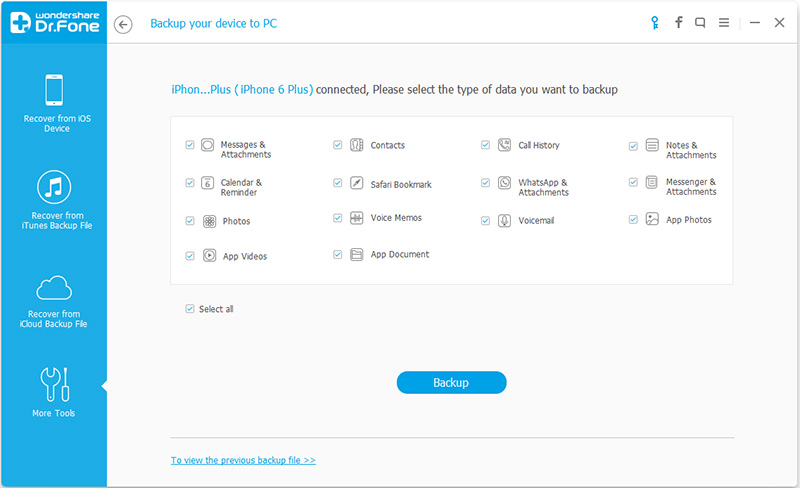 Ora vedrai che Dr.Fone sta' facendo il backup, per favore non scollegare il tuo iPhone.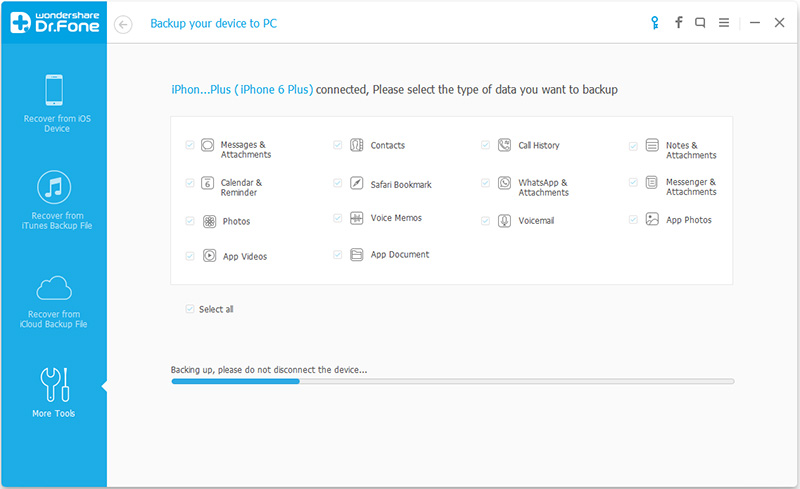 Passo 3. Dopo che il backup e' stato completato, Dr.Fone fara' una scansione del tuo iPhone, aspetta qualche minuto finche' e' completata. Vedrai i messaggi sul tuo iPhone, poi clicca su "Export to PC" per trasferire i messaggi al computer.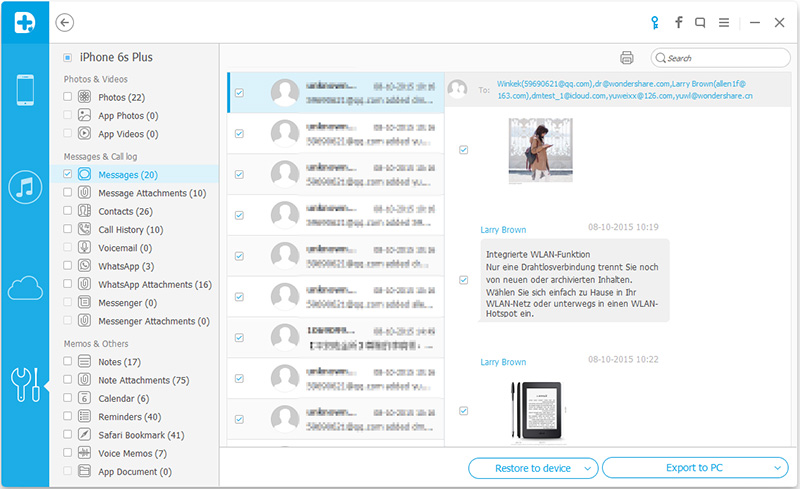 SOLUTION ARCHIVE
Solution to Your Problem is Clicks Away: