Come Estrarre i Messaggi di Testo dall'iPhone
Sei alla ricerca di un modo per estrarre i messaggi dal tuo iPhone in un formato di facile lettura sul PC? Fermati qui. Questo articolo ti presenta uno strumento efficace, che puo' estrarre i messaggi di iPhone con facilita'.
Come Estrarre i Messaggi di Testo dall'iPhone
Si tratta di Dr.Fone - Recupero Dati iOS. Con il suo aiuto, potrai estrarre selettivamente sul PC MMS, SMS e iMessage e relativi allegati sul tuo iPhone senza alcun problema. Inoltre, ti consente di estrarre i messaggi in file TXT, XML e HTML. Cosi', potrai stampare facilmente i messaggi quando ne hai bisogno it.
3 modi per recuperare i contatti da iPhone iPhone 6SE/6s Plus/6s/6 Plus/6/5S/5C/5/4S/4/3GS!
Recupera i contatti direttamente da iPhone, backup iTunes e backup iCloud.
Recupera i contatti tra cui numeri, nomi, e-mail, titoli professionali, aziende, ecc.
Supporta iPhone 6s,iPhone 6s Plus,iPhone SE e l'ultimo iOS 9 completamente!
Recupera i dati persi a causa di omissione, perdita, jailbreak, aggiornamento iOS 9 del dispositivo, ecc.
Selettivamente hai l'anteprima e recupera tutti i dati che tu desideri.
Passo 1. Connetti il tuo iPhone al PC tramite un cavo USB
Fai collegare il tuo iPhone al PC inserendo un cavo USB.In pochissimo tempo, Dr.Fone rilevera' il tuo iPhone. Quindi scegli il tipo di file, "Messages && Attachments" e "Start Scan".
Passo 2. Fai la scansione dati dell'iPhone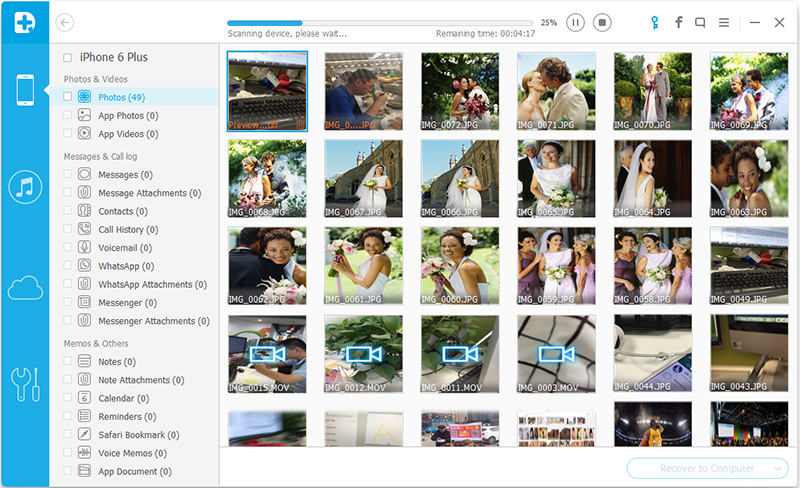 Passo 3. Verifica ed esamina i messaggi del tuo iPhone
La scansione richiedera' un po' di tempo. Quando la scansione e' terminata, potrai vedere tutti i messaggi, inclusi i messaggi cancellati e quelli esistenti sul tuo iPhone. Clicca il pulsante "Recover to Device" o "Recover to computer" per estrarre i messaggi nel posto che preferisci.
SOLUTION ARCHIVE
Solution to Your Problem is Clicks Away: