Perchè convertire AVI in MP4
Molte applicazioni multimediali e dispositivi portatili non supportano il formato video AVI e richiedono una conversione nel formato MP4. Ad esempio i dispositivi come iPhone, iPod, iPad, HTC ec... supportano video solo in formato MP4.
Come convertire AVI in MP4 per dispositivi mobili
Di seguito vediamo una guida per convertire AVI in MP4 su Windows (Windows 8 incluso), utilizzando un programma Video Converter Ultimate.
Nota: Se hai difficoltà nel convertire AVI in MP4 su Mac (Snow Leopard, OS X Lion included), puoi utilizzare un Video Converter Ultimate per Mac . In tal caso fai riferimento alla: Guida di Video Converter Ultimate per Mac.
Step 1. Importa video AVI da convertire in MP4
Avvia questo video converter. Clicca poi su "Add Files" e importa i video da convertire oppure trascina i files direttamente nella schermata del programma.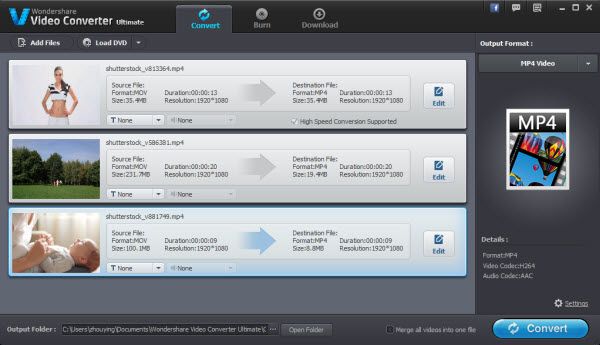 Step 2. Imposta formato di uscita
Clicca sull'icona del formato, sulla destra del video, e seleziona MP4 come formato di conversione dal menu a tendina.
Nota: Puoi modificare parametri e le opzioni di conversione andando nelle Impostazioni del programma.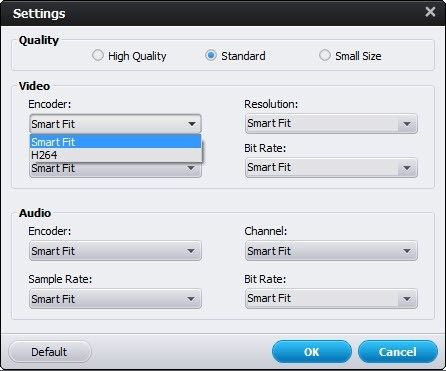 Step 3. Imposta cartella di destinazione (Opzionale)
Clicca in basso su "Cartella Uscita" per impostare la cartella di destinazione in cui verranno salvati i video MP4 ottenuti dalla conversione.
Step 4. Avvia conversione AVI in MP4
Clicca "Converti" per avviare il processo di conversione MP4 in AVI. Di seguito un video tutorial che mostra i passi sopra descritti.
Nota: E' anche possibile modificare e personalizzare i video prima della conversione applicando effetti, ritagliando video, aggiungendo filigrana, ecc...
Suggerimenti per Wondershare AVI to MP4 Converter:
1. Se vuoi convertire AVI in MP4 per dispositivi come iPhone, iPad e iPod, puoi ottimizzare le impostazioni agendo sui parametri visti allo Step 2.
2. Wondershare AVI to MP4 Video Converter Ultimate supporta conversione batch cioè conversione multipla e contemporanea di più files video contemporaneamente.