3 Ways to Import Photos from iPhone to Windows 10 Quickly
It is very common to hear about the transfer photos between iPhone and Mac systems. However, there are many iOS users who have no clue on how to transfer photos from iPhone/iPad to windows 10 laptop or even about the process of windows 10 importing photos from iPhone. Hence it is important for users to know about the process through which they can easily transfer iPhone/iPad photos to windows PC.
To follow these methods, you do not need to be equipped with anything special. Just follow the simple guide with each step carefully in this article and soon you will have your iPhone photos to your Windows 10 PC.
Now without wasting any more time, we are moving towards exploring the methods with which you can import photos from iPhone to windows 10.
You may be interested in: 7 Ways to Convert HEIC to JPG in Seconds
Part 1: Import photos from iPhone to Windows 10 using dr.fone - Transfer (iOS)
We shall start with the most important method to import photos from iPhone to Windows 10, that is, using the dr.fone – Transfer (iOS), which is considered to be the easiest, safest as well as most attention-grabbing software kit. This software works like a complete package tool for all your transfer related queries, issues, and tasks. What you need to do is to have access to the tool and follow some simple user-friendly steps and soon you will be able to import photos from your iPhone device to Windows 10.
Transfer Photos from iPhone/iPad to Windows 10 without iTunes
Transfer, manage, export/import your music, photos, videos, contacts, SMS, Apps etc.
Backup your music, photos, videos, contacts, SMS, Apps etc. to computer and restore them easily.
Transfer music, photos, videos, contacts, messages, etc from one smartphone to another.
Transfer media files between iOS devices and iTunes.
Fully compatible with all iOS versions that run on iPhone, iPad, or iPod touch.
3981454 people have downloaded it
Below are mentioned the required steps with details and relevant screenshots, just go through them to know more about the process.
Step 1: Open the interface visiting Official site of dr.fone – Transfer (iOS). After launching the tool out of various options you need to select the Transfer mode.
Step 2: Now Connect iPhone to Windows 10, that will prompt main connection window under toolkit.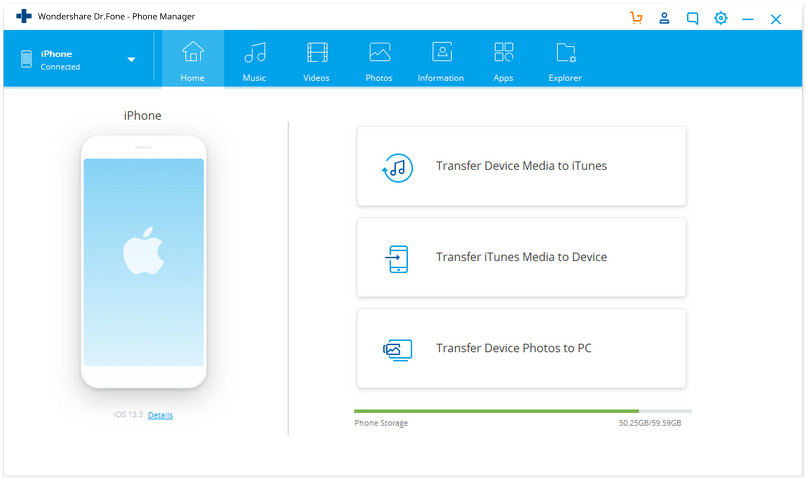 Step 3: From the home page, click on Photos Tab, list of photos available on your iPhone device will appear, select the desired photos and then Choose "Export to PC"
Step 4: Select the final folder under Windows 10 to save the photos, OK that. And soon you will have a progress bar that reflects the transfer process. And after that, your photos will betransferred to Windows 10 from your iPhone.
Using dr.fone – Transfer (iOS) not only save your time as well as it is one of the most valuable in terms of keeping the quality intact which performing windows 10 import photos from iPhone. So you can go with the process leaving all worries aside.
Part 2: Transfer photos from iPhone to Windows 10 using Photos App
The next method we are mentioning here is using Photos App which can assist in the purpose of importing photos from iPhone to Windows 10. Photos app under Windows 10 PC is considered as the organizer for photos related task, so you can also take the help of this app service from Microsoft.
The required steps which will lead you to successful transfer iPhone photos to your Windows 10 PC are as follows.
Step 1: First connect iPhone to PC. After that open the Start menu>there either type or directly select Photos application>an authority page will appear, just grant the permission to connect.
Step 2: When the Photos Application gets opened up, you need to look at top right side, here, use import option from right corner at top (You can take the help of screenshot below to get an idea)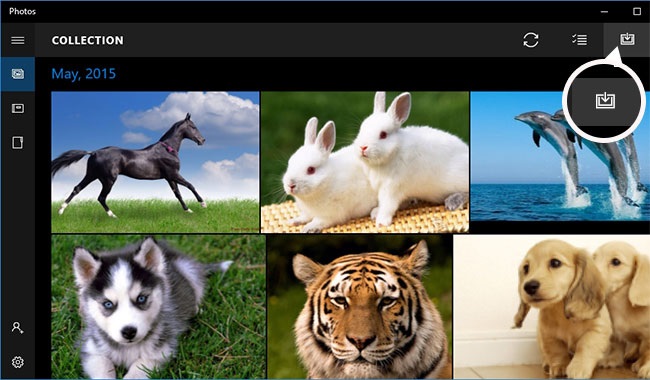 Step 3: A dialog box will show up, from where you need to select from which device want to transfer, in this case, select iPhone
Step 4: After selecting the iPhone device, there will be a short scan that will go on> once done with that a pop-up confirmation window will appear. Here use continue to import all or else select the ones you wish to import> then choose to continue option.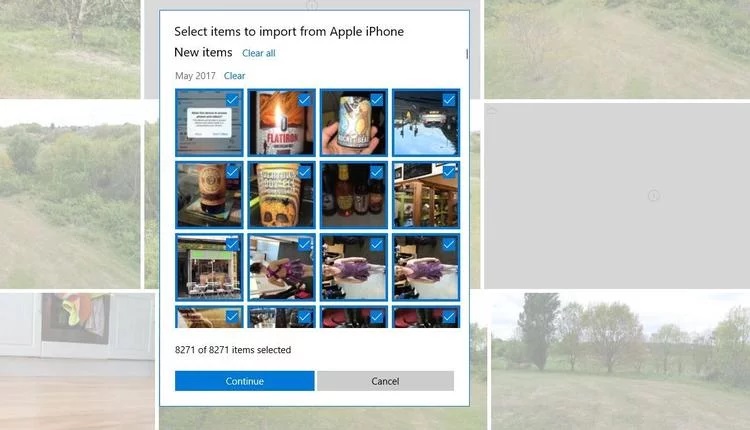 Step 5: Choose a location to save the photos and press OK to complete the transfer process.
Doing so will save your precious photos/ media files to the desired location on Windows 10 PC that you can access any time as per your convenience. As well as this way you can double ensure that the photo media is saved cautiously.
If you go through the above process then understanding how to transfer photos from iPad to laptop windows 10 becomes an easy task for you. With the help of this Photos application for Windows 10 PC, you can easily and comfortably transfer or import iPhone photos to Windows 10.
Part 3: Transfer photos from iPhone to Windows 10 using Windows Explorer
All the windows users must have heard about Windows Explorer, but only a few know that it can assist Windows 10 to import photos from iPhone. But the question is how to transfer photos from iPad to pc windows 10? Well, do not worry, we are here to explain you the complete process with relevant screenshots to explain you in a better way.
So, let us start understanding the process in depth with the help of detailed steps:
Step 1: Launch the windows explorer either using start menu
or with the help of Windows Key + E, this will automatically prompt to open up the windows explorer
Connect your phone to the pc> allow as trusted device> Choose Apple iPhone on the explorer window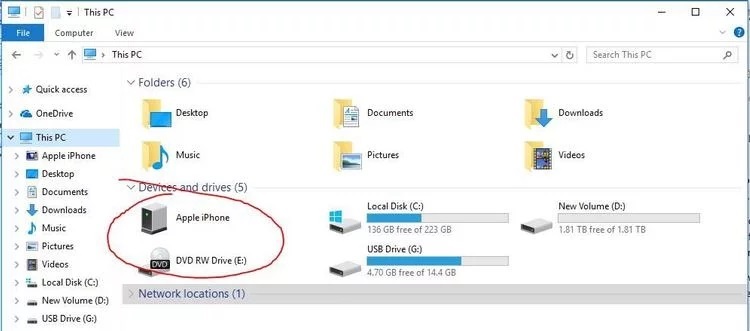 Step 2: Then move towards the internal storage device> there visit DCIM folder
For all photos> you can either use the shortcut keys such as ctrl-A+ ctrl-C or else visit Home menu> and select all
Step 3: Now open the folder in your windows 10 where you want to save the photos and press Ctrl- V (or paste)
Otherwise, you can select as per the requirement. Then choose the location where you want to keep safe your iPhone photos and paste there.
Following above steps will enable you to use your Windows Explorer service to import photos from iPhone to Windows 10, so just follow them and get access your valuable photos from your PC also.
In order to save or create a backup of our memorable moments which are captured under photos/images/videos, we should always remain cautious while choosing the platform which can perform the transfer process with ease. Well, you need not be concerned about that anymore. Methods guided above are well organized plus using dr.fone- transfer (iOS) toolkit provides you an efficient platform to enable importing photos from iPhone to Windows 10 with much ease and in a safer mode. Thus, you can protect all your valuable memories with photos forever.
iPhone Photo Transfer
Import Photos to iPhone

Export iPhone Photos

More iPhone Photo Transfer Tips