Getting iTunes Error 2001 While Restoing iPhone? Here's The Real Fix!
We all like to flaunt our iPhone, isn't it? and why not, its sheer look, and logo is enough to turn heads. It is true that Apple has been able to capture the smart phone market successfully, mostly since iPhone users are the most loyal ones and do not leave their iOS device for Android.
However, no matter how eye-catching, iPhone is not faultless, and iTunes error 2001 is just one of them. So, what is this error 2001? The iPhone error 2001, also popularly known as iTunes error 2001, usually occurs when you connect your iPhone to a PC and try to restore it using the iTunes software. Strange, isn't it? iPhone and iTunes are both developed by Apple but still, error 2001 iTunes occurs during the restoration process. The error message is similar to the screen shot below and reads as follows:
" The iPhone "iPhone" could not be restored. An unknown error occurred (2001)"
There is literally, nothing one can do when this pop-up appears other than clicking "OK". Nevertheless, we have for you 4 amazing ways to combat this iPhone error 2001, but let us first get to know a little more about iTunes error 2001 and why it happens.
Part 1: Reasons for iTunes error 2001
If you're wondering why iTunes error 2001 occurs when you try to restore your iPhone, here are some of the possible causes for it:
Old versions of any app or device create problems. Similarly, if your iTunes is not updated and you are still using its outdated version, error 2001 iTunes is bound to trouble you.
Also, remember that iTunes error 2001 happens when the connection between your PC and iPhone is not too strong. It may be because of the local and cheap USB cable you are using or because of some dust particles stuck in the charging slot of the iPhone.
A minor software glitch/crash can also cause iPhone error 2001 preventing it from getting restored via iTunes.
These are all speculations and no one has been able to pin point a single reason behind iTunes error 2001. So, whatever might be causing it, error 2001 iTunes needs to fixed immediately and the methods given below are instrumental in doing so.
Part 2: How to fix iTunes error 2001 without data loss using dr.fone?
Let us save you from the misery of trying various remedies to fix iTunes error 2001 by introducing dr.fone toolkit - iOS System Recovery. This software is developed to fix all kinds of iOS software glitches, including error 2001 iTunes, and can be used by you sitting at home to recover the firmware without any loss in data.
Fix iPhone system error without data loss.
Only fix your iOS to normal, no data loss at all.
Fix various iOS system issues stuck in recovery mode, white Apple logo, black screen, looping on start, etc.
Fixes other iPhone error and iTunes errors, such as iTunes error 4013, error 14, iTunes error 27,iTunes error 9 and more.
Works for all models of iPhone, iPad and iPod touch.
Fully compatible with the latest iOS 11.
3981454 people have downloaded it
Follow the steps below to fix iTunes error 2001.
Step 1. Download and install dr.fone for iOS. Run the toolkit and choose "System Recovery" to fix iPhone error 2001.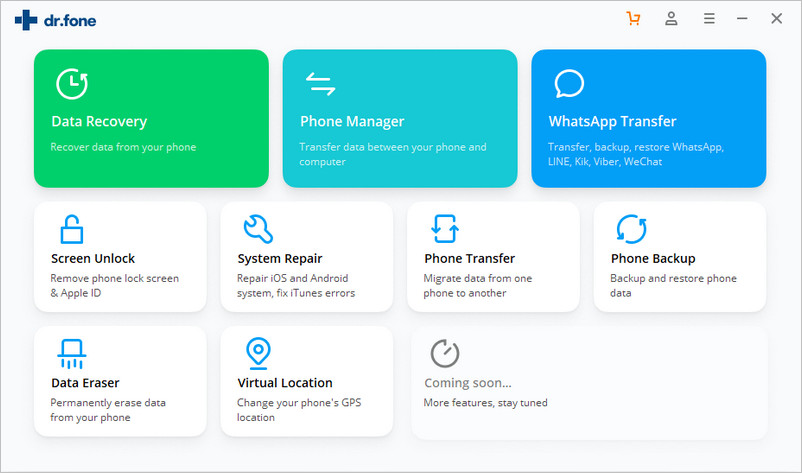 Step 2. Now, connect your computer and iPhone with the help of a USB cable. The software will detect your iPhone and all you need to do is click "Start".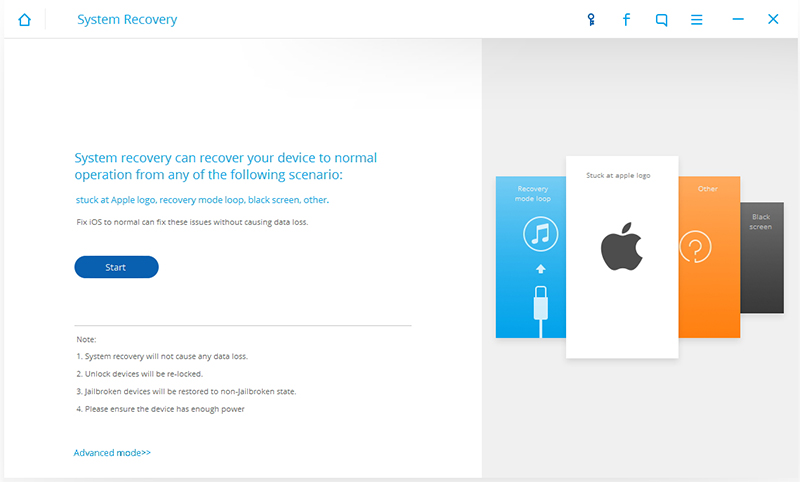 Step 3. Here you should boot your iPhone in DFU Mode similar to the screenshot below.
Step 4. Now, on the iOS system recovery interface, fill in your iPhone model number and its firmware details. Then click on "Download" to install the latest firmware on your iPhone which will fix iTunes error 2001.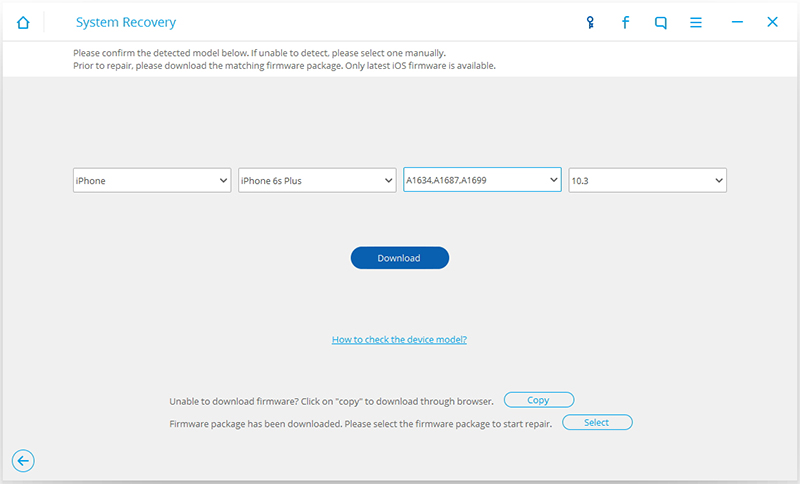 Wait for the software to install and once the firmware is downloaded and installed on your iPhone, iOS System Recovery software will begin to fix iPhone error 2001.
Step 5. When the software has successfully completed all its tasks, your iPhone will boot up normally all the way to its Lock Screen.
Do you know that iOS System Recovery software not only fixes the given problem but is also equipped to resolve other iOS issues? This is why we recommend it.
Part 3: Restore iPhone using a different lightning cable
Using a different lightning cable can help because it does not take a genius to figure out that iPhone error 2001 is due to a poor connection between the iPhone and iTunes. There could be two reasons for this and both of them can be tackled if you remember the points mentioned below:
Always use Apple's original lighting cable and not any other USB cable to ensure a strong a stable connection between iPhone and iTunes via PC.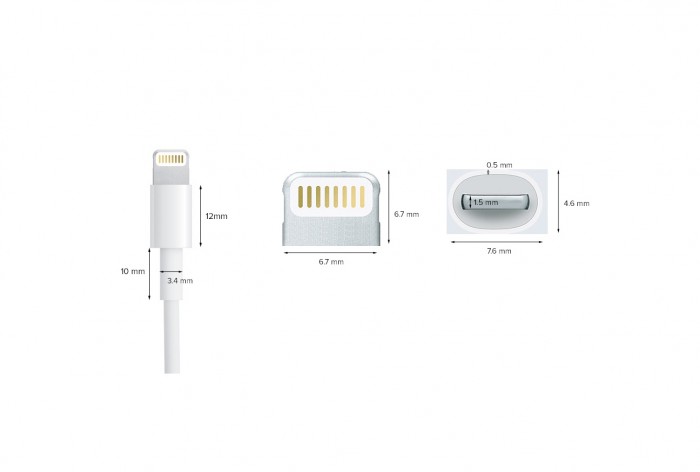 If your charging slot is dirty and has dirt accumulated in it, no matter which lightning cable you may use, you will see error 2001 iTunes. Clean the charging slot with a blunt pin and try restoring your iPhone using Apple's lightning cable only.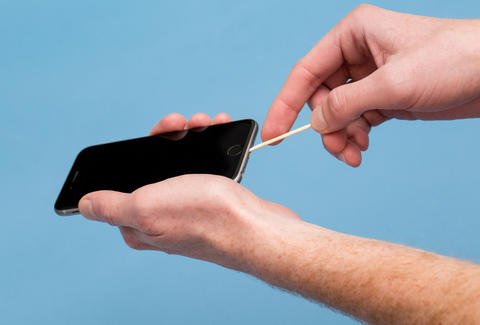 Part 4: Update iTunes to fix iTunes error 2001
You must always use the latest version of iTunes to avoid errors like iPhone error 2001. If iTunes is not up-to-date, it will malfunction and prevent your phone from restoring.
To update iTunes on Windows: Launch iTunes > click on "Help"> hit "Check for updates">Download.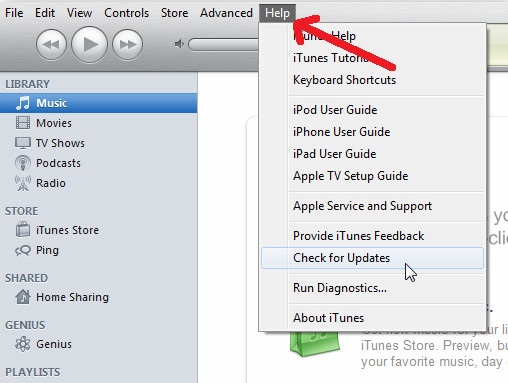 To update iTunes on Mac: Run iTunes > click on iTunes > click on "Check for updates"> Download.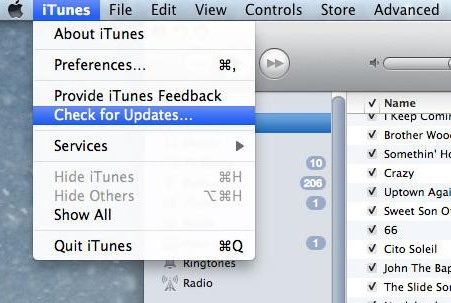 Once you have updated iTunes, try restoring your iPhone using it and you should not see iTunes error 2001 again.
Part 5: Reset iPhone to fix error 2001
Resetting your iPhone is actually one of the best thing you should do whenever iTunes error 2001 pops-up. Wondering why? Because restarting or hard resetting an iPhone solves many iOS issues by ending all background operations which might be running simultaneously while you try to restore your iPhone. We all know how to reset an iPhone, don't we? Just press the Home and Power On/Off button together for about 5-7 seconds till the phone turns off and reboots itself.
As promised, we have provided the most effective, easy and reliable ways to fix iTunes error 2001. These techniques have been tried by many satisfied users worldwide. Many other iOS users like you, who have experienced iPhone error 2001 in the past, also recommend these methods and we do hope that these methods prove useful to you as well. So do not just wait, go ahead and try them out now to restore your iPhone via iTunes and resolve the iTunes error 2001.
iPhone Problems
iPhone hardware Problems

iPhone Battery Problems

iPhone Media Problems

iPhone Mail Problems

iPhone Update Problems

iPhone Connection/Network Problems