iOS 12.3/13 Downgrade Stuck on Recovery Mode/DFU Mode/Apple Logo? Get it Out Now!
You may have experienced that when you want to give your iPhone a facelift by upgrading or downgrading, the process can successfully complete in a few minutes or give bewildering errors isn't it? One of the most common problems that users have faced is that once you update theiOS 12.3/13, and want to go back to the older iOS version, theiOS 12.3/13 downgrade is stuck on recovery mode. Although everything works fine, firmware verified by iTunes, iPhone restarts with the Apple logo, but again it sets out to the recovery mode with iTunes logo! Even after reinstallingiOS 12.3/13 beta when you move on to downgrade the recovery mode cycle repeats.
If you too have faced these downgrade problems, do not panic, it's actually easier to fix than you think. So, let us start with our article to know the best ways to get rid of theiOS 12.3/13 downgrade being stuck on recovery mode issue.
Part 1. FixiOS 12.3/13 downgrade stuck on recovery mode/DFU mode/Apple logo without data loss
One of the best possible ways to easily fix youriOS 12.3/13 stuck during downgrade is by adopting the services of the ultimate iPhone Toolkit known as dr.fone - Repair (iOS). This software program is the best for fixing all forms of iPhone errors or software related problems including iOS downgrade stuck in DFU mode. Some users have often experienced loss of data probably due to impatience, going with the wrong software or for pressing the wrong buttons. But with the use of dr.fone – Repair, you can take the fear of data loss off the table. The software can restore your device wheniOS 12.3/13 downgrade gets stuck without the loss of any personal data or files.
Fix with various iOS system issues like stuck on recovery mode/ DFU mode, white Apple logo, black screen, looping on start, etc.
Fix other iPhone error and iTunes errors, such as iTunes error 4013, error 14, iTunes error 27, iTunes error 9 and more.
Only fix your iOS to normal, no data loss at all.
Work for all models of iPhone, iPad and iPod touch.
Supports iPhone X / 8 (Plus)/ iPhone 7(Plus)/ iPhone6s(Plus), iPhone SE and the latestiOS 12.3/13 Beta fully!
3981454 people have downloaded it
The repair can also be carried out in just a few simple and easy steps in a completely hassle-free method, have a look:
Step 1: Launch dr.fone
First and foremost, you need to download and install dr.fone toolkit on your personal computer, then click on the "repair" option from the displayed thumbnails of options.
Step 2: Connect your iPhone to PC
Now connect your iPhone to your computer with the use of lightening USB cable. To avoid any form of disconnection or incomplete repair, ensure that you are making use of an authorized cable.
Step 3: Start Scanning
Once you have established the connection, the dr.fone software would immediately detect your iPhone. Now, simply hit the "Start" button on the screen to proceed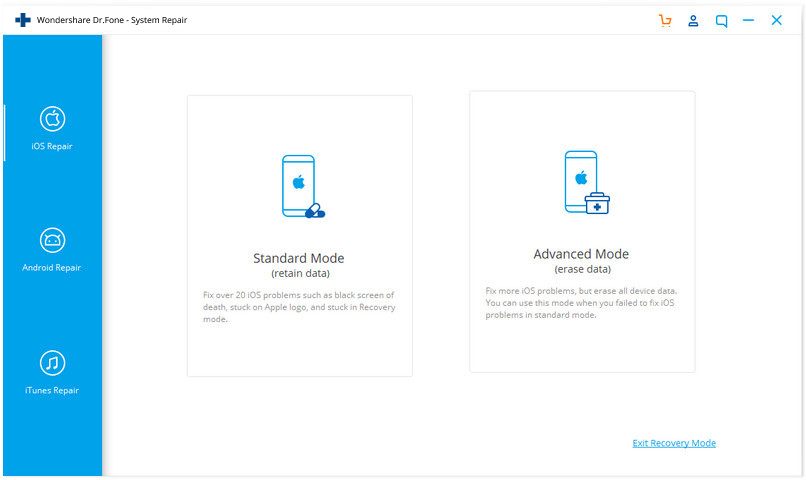 The next screen will display all the necessary information as regards to your just connected phone including the device's name, model, system version, serial number, date of production, warranty deadline and even whether or not the phone has been jailbroken. Now click on "Next" to proceed.
Step 4: Boot your iPhone in DFU mode
Note: DFU mode is an inbuilt developer option available on all iOS devices provided to help to make repairs or changes to the internal firmware of your iPhone in case it is faced with an unhealthy situation such asiOS 12.3/13 downgrade stuck on Apple logo.
Follow these few steps to boot your iPhone in DFU mode. The steps vary from one iPhone model to another. dr.fone will also display the steps for different iPhone versions, simply follow the onscreen instructions.
For iPhone 7, iPhone 8 and iPhone X
First, make sure your device has been powered off by pressing the Power button or Sleep button
Now while the device has been switched off, hold the Volume down button together with the Power button and keep holding both buttons down for about 10 seconds
After 10 seconds, release the Power button while still holding down the Volume button
Your iPhone should now boot in DFU mode
For other iOS devices/earlier models
Press and Power off your iOS device
Press the Home button and the Power button on your device and keep holding both buttons for about 10 seconds
After some time, take your hands off the power button while still holding the Home button down. Just wait until you see that the iPhone has been booted in DFU mode.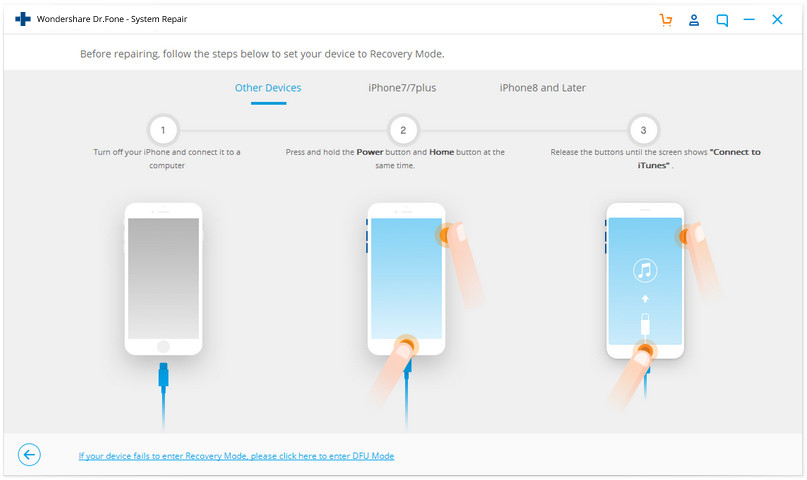 Step 5: Download iOS Firmware
On the next page, Make sure that the device information displayed is that of your iPhone device, then click on "Download" button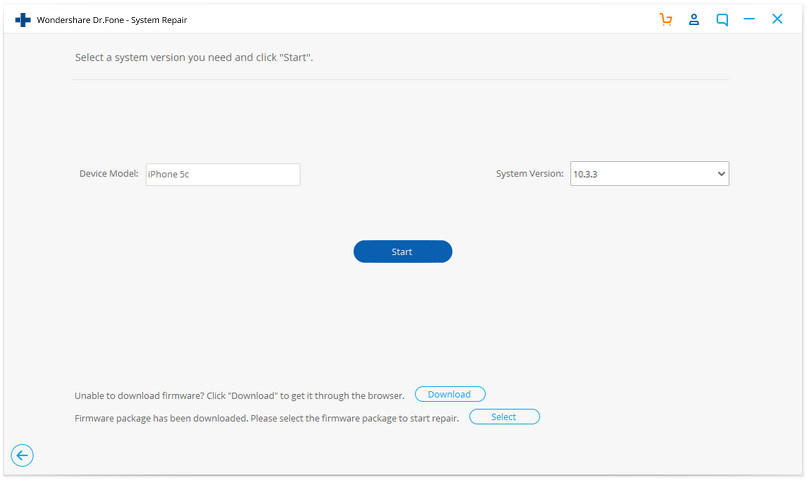 Ensure that you are connected to a fast and stable internet connection for dr.fone to download the firmware for your device and fix whatever might have led toiOS 12.3/13 downgrade stuck.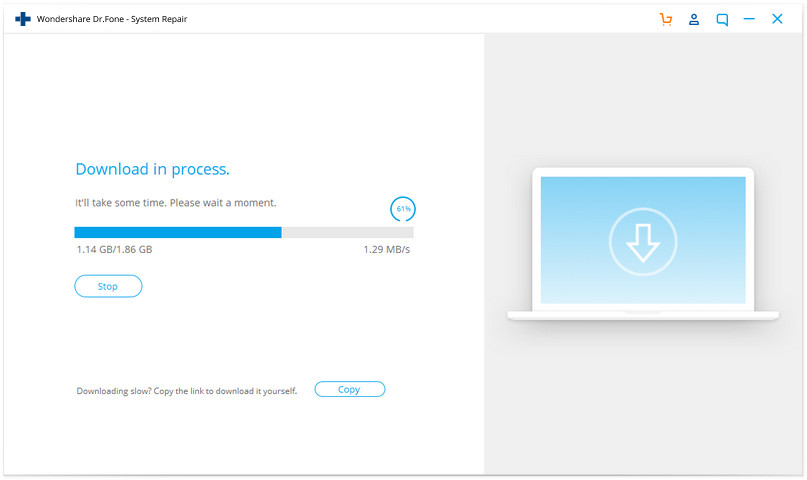 Step 6: Fix your iPhone
Finally, once you see a confirmation page that your download has been completed, you can now proceed to fix your iPhone, for that simply click on "Fix Now" button to start repairing your iPhone.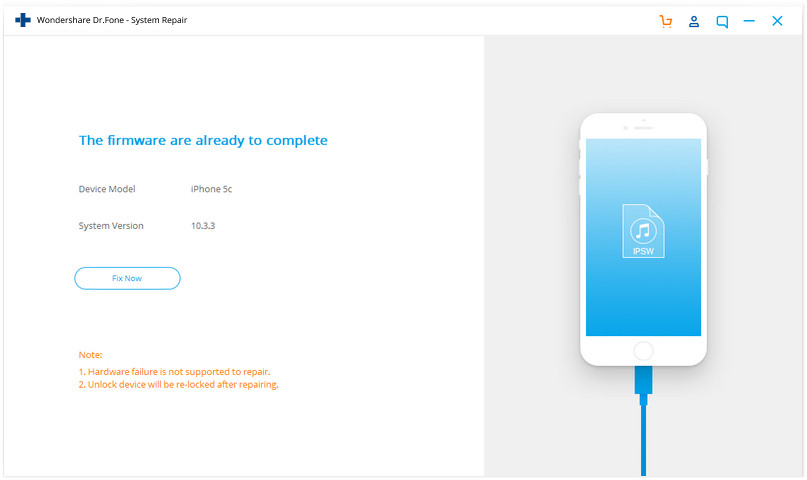 There you go, your iPhone would be repaired and it should now boot into normal mode after the fix has been successfully carried out. You will be greeted with a congratulatory message simply click "Done" to complete if not, you can click on the "Try Again" button to retry the fix.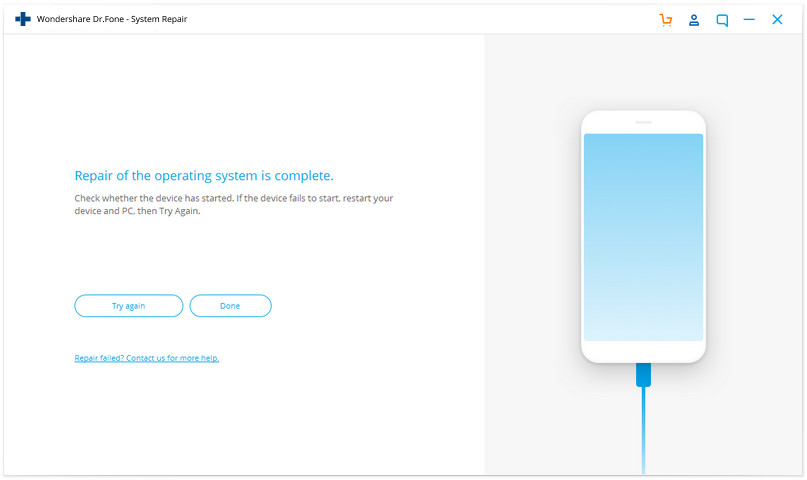 And just like that, dr.fone – repair has fixed your iPhone afteriOS 12.3/13 downgrade got stuck.
Part 2. Force restart iPhone to get out of recovery mode/DFU mode/Apple logo
When your iPhone'siOS 12.3/13 downgrade gets stuck in recovery mode, sometimes a simple force restart of your iPhone device can also fix this error in a jiffy. This might not work at all times but it is worth the try. Force restarting an iPhone device also differs from one model to another, although they might be similar and serve the same function.
Follow the steps below for your different iPhones.
iPhone 5, 5s, 6, 6 Plus, SE and Earlier models
To force restart these versions of iPhone, press your Power Button and Home button all at the same time. Keep holding them for a few seconds until you are able to see the Apple logo is displayed on your screen.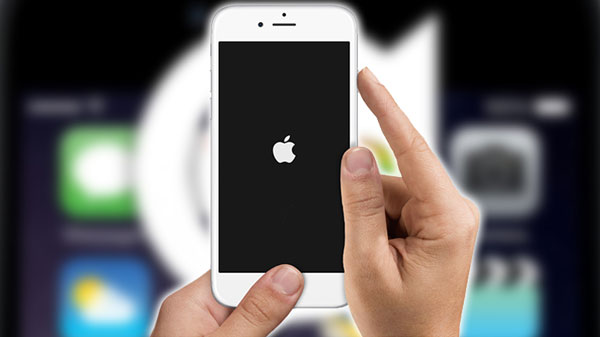 Your iPhone would now be restarted normally and hopefully; the issue might have been fixed.
For iPhone 7 and 7s
Force restarting an iPhone 7 or 7s device is a little different from its preceding iPhone models. For iPhone 7 and 7s, Press the Power Button and the Volume Down buttons all at the same time.
Wait until the Apple logo is displayed on the screen (during the process a slider will appear, just skip that step and keep on holding till Apple Logo appears)
Enter the Passcode (If any)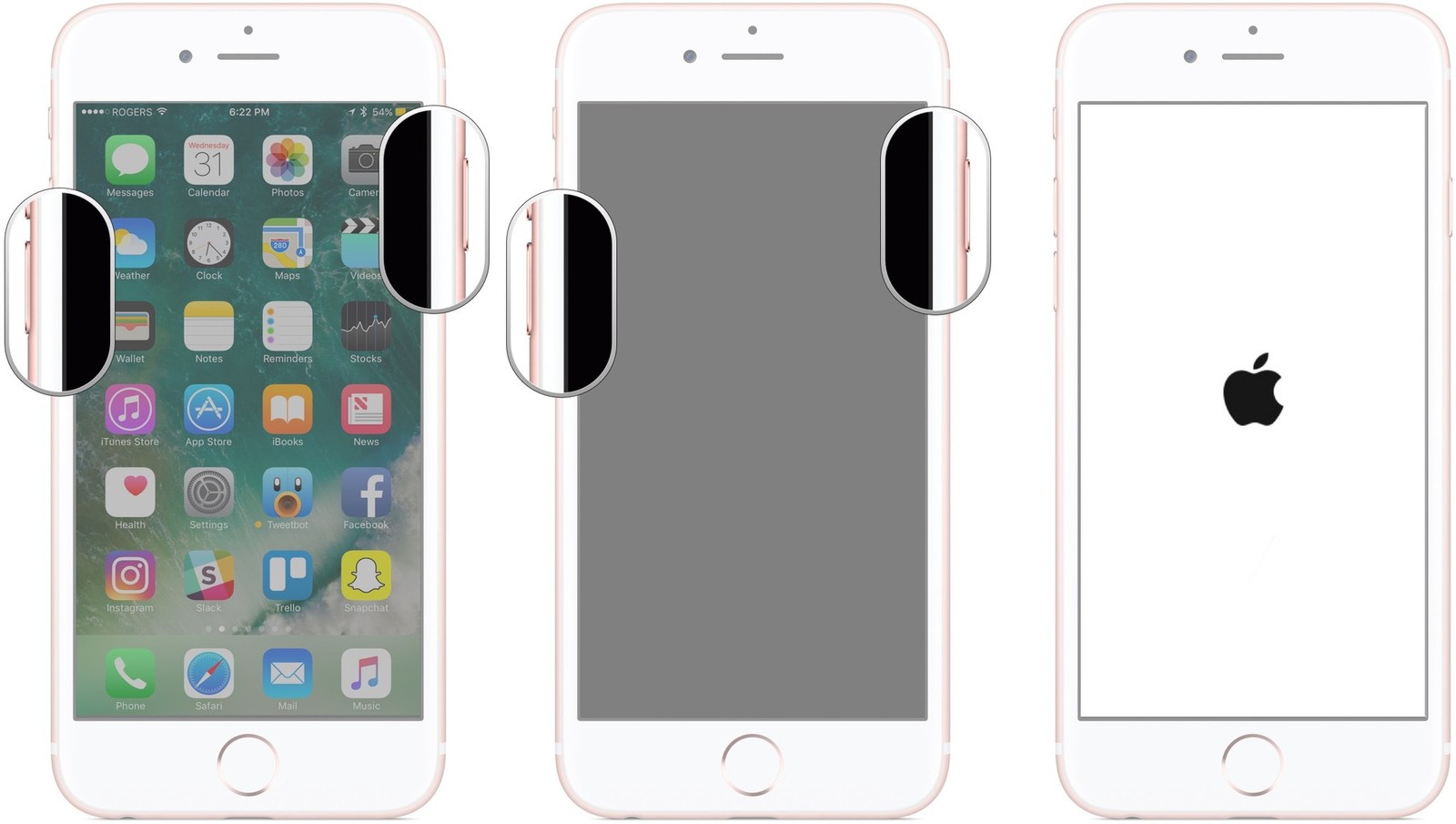 Your iPhone should now restart normally if the problem has been fixed.
For iPhone 8, 8 Plus and iPhone X
For, the newest models of iPhone, first you have to press and release the Volume Up button on your device.
Then you should press and release the Volume Down button as well
Now press and hold down the Power Button (or the other side button) for about 10 seconds, Apple logo will get reflected.
Your iPhone should now reboot in a normal mode then you can release the Power button.
Note: This process should be performed in rapid succession to ensure that they function properly.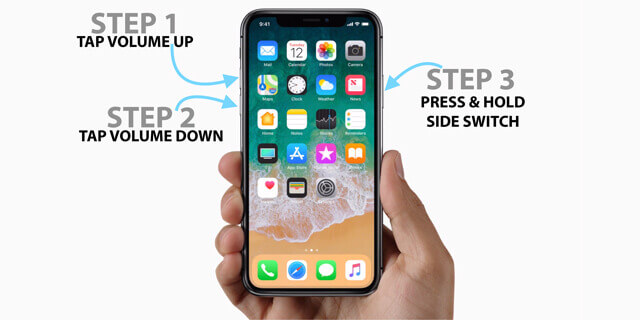 Part 3. Fix iOS 12.3/13 downgrade stuck on recovery mode/DFU mode/Apple logo using iTunes
Another method to consider wheniOS 12.3/13 downgrade is stuck on Apple logo/recovery mode/DFU mode is the use of Apple's iTunes. This method most often than not comes as a last resort because it performs a clean installation hereby causing loss of all data previously available on the device. Before performing an iTunes restore on your iPhone, it is recommended that you backup of all your files
Step 1: First make sure you have iTunes installed on your personal computer, then Launch iTunes.
Now connect your iPhone to your computer using a lightning USB cable and then boot your iPhone in DFU mode.
Step 2: Once you have booted your device in DFU mode, you will see a pop-up, a message from iTunes saying "there is a problem with this iPad/iPhone that requires it to be updated or restored".
Simply click on the "Restore" option and it will prompt the device to restore it from the last backed up data.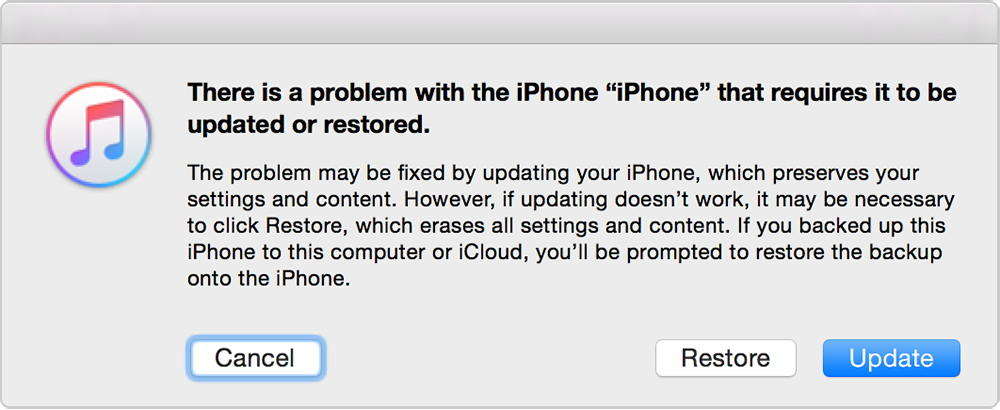 That was it, with the above steps, your device will be back to normal mode, and will be free for your use.
So, wheneveriOS 12.3/13 is stuck due to downgrading on your iPhone device, it is recommended that you make use of dr.fone - Repair (iOS) toolkit to restore your phone's Operating System back to normal. It will not only retrieve your iPhone is working condition but also promises no data loss in the process. However, you are free to choose any of the methods mentioned above to try and get your iPhone free from the stuck mode. Restarting must be used as the first option, if that doesn't work, you can move on to any of the other methods.
Lastly, we hope that you enjoyed reading this article. Do let us know your thoughts in the comments section below.
iOS 12
1. iOS 12 Troubleshooting