How to Downgrade from iOS 11.1/11.2/11.3 to iOS 10 Without Losing Data?
Are you facing setbacks or complications related to iOS 11.1/11.2/11.3/ and would like to downgrade it to iOS 10.3, 10.2, or 10? Don't worry – you are not the only one. Before the official release of iOS 11, many users got its beta version and complained about certain issues. The best way to resolve them is by performing an iOS 11 downgrade. While it is quite easy to upgrade your phone to a new iOS, you might have to walk an extra mile to downgrade iOS 11 (iOS 11.1/11.2/11.3). We have come up with this informative post to help you go back to iOS 10 versions from iOS 11.
Part 1: Backup your iPhone before downgrade from iOS 11 (iOS 11.1/11.2/11.3)
Before you downgrade iOS 11, it is important to backup your device. Since the process would wipe your device's storage, you would end up losing your important content. Therefore, it is highly recommended to backup your phone before performing iOS 11 downgrade. Ideally, you can do it in different ways.
1. Backup iPhone with iTunes
One of the best ways to backup your device is by using iTunes. Simply connect your iPhone to your system and launch iTunes. Afterward, you can go to its Summary page and click on the "Backup Now" button. You can choose to backup your content on the local storage or iCloud.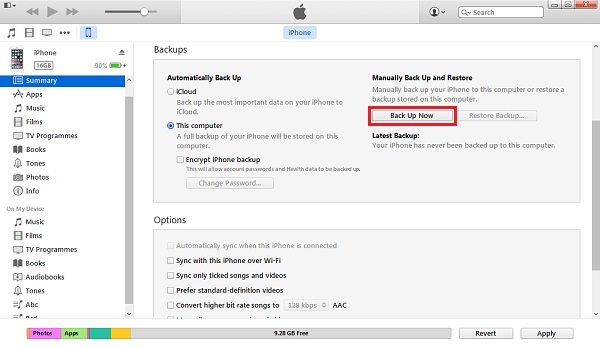 2. Backup iPhone with iCloud
Alternatively, you can directly backup your device on iCloud as well. Even though this is a more time-consuming process, it will let you perform the backup operation over the air. Go to your device's Settings > iCloud > Backup and turn on the feature of "iCloud Backup". Tap on the "Backup Now" button to take immediate actions.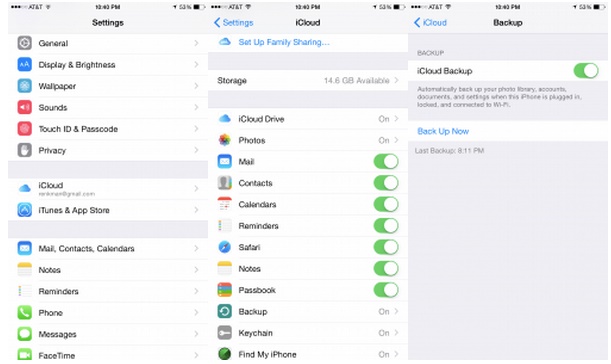 3. Backup iPhone with dr.fone - iOS Data Backup & Restore
It is undoubtedly one of the easiest and fastest ways to take a comprehensive or a selective backup of your device. You can simply select the kind of data files you wish to backup. dr.fone Data Backup & Restore provides a one-click solution to backup and restore your content in a hassle-free and secure manner.
Backup & Restore iOS Data Turns Flexible.
One click to backup the whole iOS device to your computer.
Allow to preview and restore any item from the backup to a device.
Export what you want from the backup to your computer.
No data loss on devices during the restore.
Selectively backup and restore any data you want.
Supported iPhone 7/SE/6/6 Plus/6s/6s Plus/5s/5c/5/4/4s that run iOS 10.3/9.3/8/7/6/5/4
Fully compatible with Windows 10 or Mac 10.12/10.11.
3981454 people have downloaded it
Part 2: How to Downgrade iOS 11 (iOS 11.1/11.2/11.3) to iOS 10?
After taking a backup of your data, you can easily go back to iOS 10 from iOS 11 without experiencing any data loss. Nevertheless, you should meet some prerequisites beforehand for a smooth transition. For instance, make sure that you are using an updated version of iTunes before performing iOS 11 downgrade. Go to iTunes (Help) > check for updates option to update your iTunes version.
Additionally, you need to turn off the "Find my iPhone" feature on your device. To do this, visit your device's Settings > iCloud > Find my iPhone and switch off the feature.
Lastly, you need to download the IPSW file of the iOS 10 version you want to downgrade to. You can visit IPSW website https://ipsw.me/ to get all the versions or check these links:
iOS 10.3 IPSW: https://www.ios9cydia.com/ios-10-3-3-download.html
iOS 10.2 IPSW: https://www.ios9cydia.com/ios-10-2-download.html
iOS 10.1 IPSW: https://www.ios9cydia.com/ios-10-1-download.html
iOS 10 IPSW: https://www.ios9cydia.com/ios-10.html
Now when you are ready, let's proceed and learn how to go back to iOS 10/10.1/10.2/10.3 by following these steps.
1. To start with, you need to switch off your iPhone and wait for a few seconds.
2. Now, put your phone into DFU (Device Firmware Update) mode. This can be done by pressing the Home and Power button at the same time. Keep pressing them for around 10 seconds. Let go of the Power button (while still holding the Home button). If the screen stays black, then you have entered the DFU mode.
3. In case if you are not able to enter your device in the DFU mode, then you might need to redo the steps. You can learn how to enter and exit DFU mode on iPhone in this article.
4. Launch iTunes on your system and connect your device to it. As you would connect your device to your system, iTunes will automatically detect it and provide a prompt like this. Click on Cancel to proceed.

6. Go to iTunes and visit its Summary section. If you are using iTunes on Windows, then press the Shift key while clicking on the "Restore iPhone" button. Mac users need to press Option + Command key while doing the same.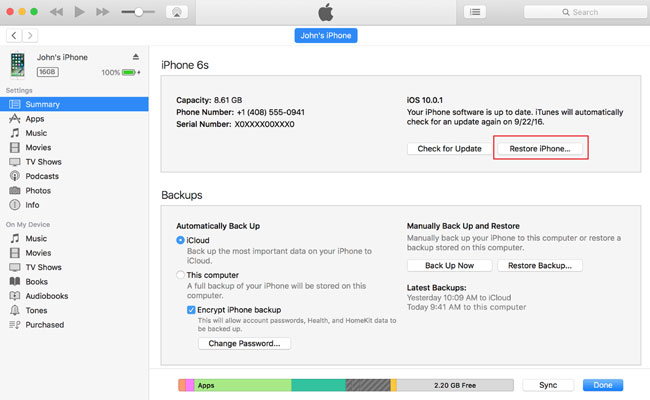 7. This will open a browser window. Go to the location where the downloaded IPSW file is saved and open it.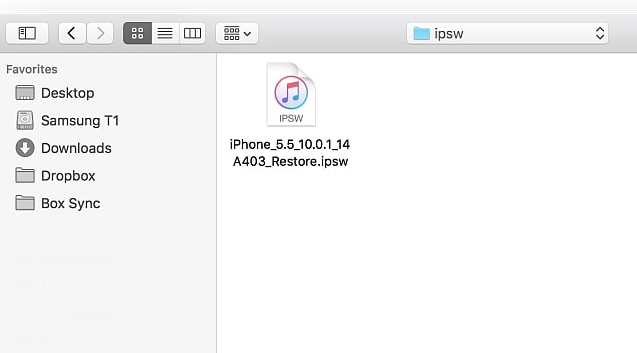 8. Wait for a while as your iPhone will be restored to the selected version of iOS. You can observe that the screen of your device would be changed as the restoring operation commences.
Wait for a while as iTunes would downgrade iOS 11 to the loaded IPSW version of iOS 10. Make sure that you don't disconnect the device until the operation is completed successfully.
Part 3: How to restore iPhone from backup after iOS downgrade?
After performing iOS 11 downgrade to the respective version of iOS 10, you can simply use your device the way you like. Though, you would be required to recover your data afterward. Once you go back to iOS 10, take the assistance of dr.fone - iOS Data Recovery to restore your backup to your device.
Since you won't be able to simply restore your content from the backup file of one iOS version to another, dr.fonewill provide a hassle-free solution. You can use it to restore backup from iCloud as well as iTunes. It can also perform a recovery operation to retrieve your previously deleted content from your device storage as well. You can choose to selectively restore iTunes and iCloud backup too. In this way, you would be able to retrieve your data after iOS 11 downgrade.
You can read this guide to restore iPhone from backup after iOS downgrade.
World's 1st iPhone and iPad data recovery software
Provide with three ways to recover iPhone data.
Scan iOS devices to recover photos, video, contacts, messages, notes, etc.
Extract and preview all content in iCloud/iTunes backup files.
Selectively restore what you want from iCloud/iTunes backup to your device or computer.
Compatible with latest iPhone models.
3981454 people have downloaded it
After following these simple instructions, you would be able to downgrade iOS 11 (iOS 11.1/11.2/11.3) without any trouble. Though, it is recommended to take a complete backup of your data and meeting all the prerequisites beforehand. This will let you go back to iOS 10.3 without facing any unwanted setback. Go ahead and implement these instructions. If you face any trouble, let us know about it in the comments below.
iOS 11
iOS 11 Tips

iOS 11 Troubleshootings

iOS 11 HEIF