How to unlock iCloud lock on iPhone and iPad
Did you buy a second hand iPhone or iPad? Perhaps you bought it from a friend or from eBay and now the device's iCloud is locked. Fret not because there is a way you can remove the iCloud lock or bypass iCloud lock from your iPad or iPhone even if you are not able to reach the previous owner and you do not know his apple ID and password. It is possible to unlock iCloud lock without going to apple store. Here, you will learn how to unlock icloud lock by just following a few simple steps as outlined below.
Part 1: Is it possible to unlock iCloud lock on iPhone
At the start of 2014, apple introduced what they call "iCloud Activation Lock". This means that your iPad, iPhone or Apple watch is now locked to your personal iCloud account unless you decide to share your login details with someone. Therefore, the only way you can access your device is by entering the iCloud userID and password. Essentially what this means is that your Apple device is useless unless you find a way to unlock it. The good news is that it is possible to unlock iCloud lock on iPhone or iPad even if you don't have the credentials.
Part 2: One-click to unlock iCloud ID with Convenient tool
Sometimes, getting some penny spent is a great idea. And in case you want to unlock iCloud locked device, spending is indeed a perfect idea. We would here like to suggest you dr.fone – Unlock (iOS) – a tool that assures to unlock iCloud ID in few clicks and gives satisfied results.
• User friendly; anyone can handle it
• No need for IMEI number or email ID/security answers
• Can easily unlock iCloud without password
• Support to wide range of iOS devices and works really fast
• Can unlock all types of lock screen in trouble-free way
Fix "iPhone Is Disabled Connect to iTunes" Error In 5 Minutes
Welcoming solution to fix "iPhone is disabled, connect to itunes"
Effectively remove iPhone lock screen without the passcode.
Works for all models of iPhone, iPad and iPod touch.
Fully compatible with the latest iOS.
3981454 people have downloaded it
Step 1: Download and Open the Tool
To begin with, get the tool downloaded and installed on your PC. Launch it and click on "Unlock" option from the main screen. Connect your device to the computer now.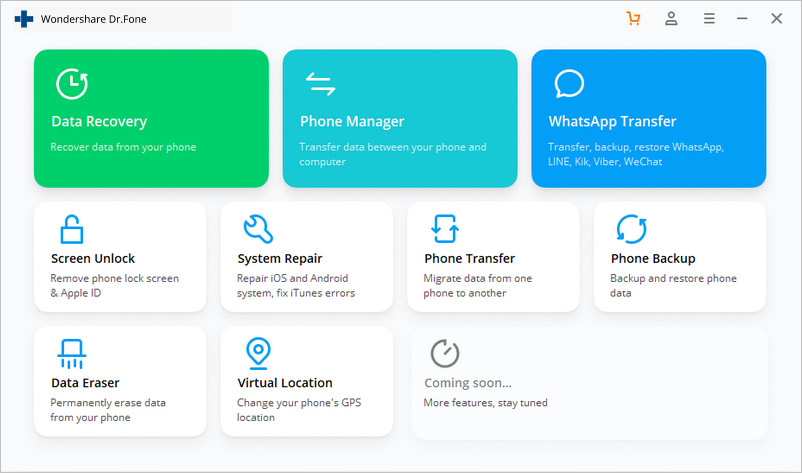 Step 2: Choose the Option
From the following screen, press the "Unlock Apple ID" button.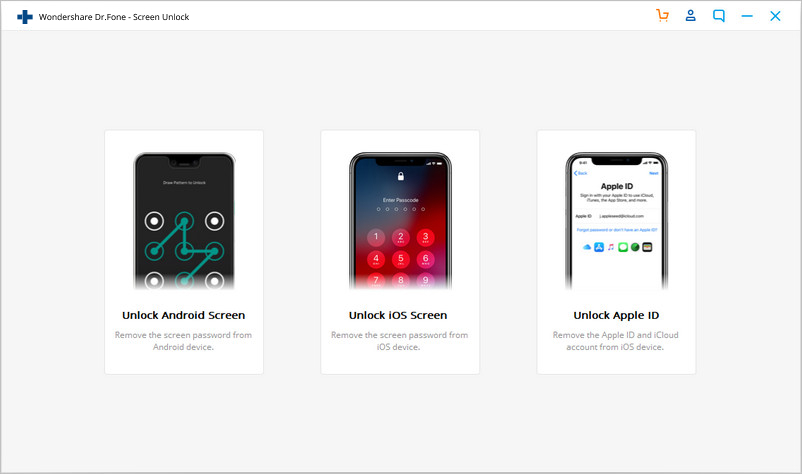 Step 3: Enter Password
To proceed, you are required to enter the password. Tap on "Trust this computer" on your device to go ahead with the scanning process.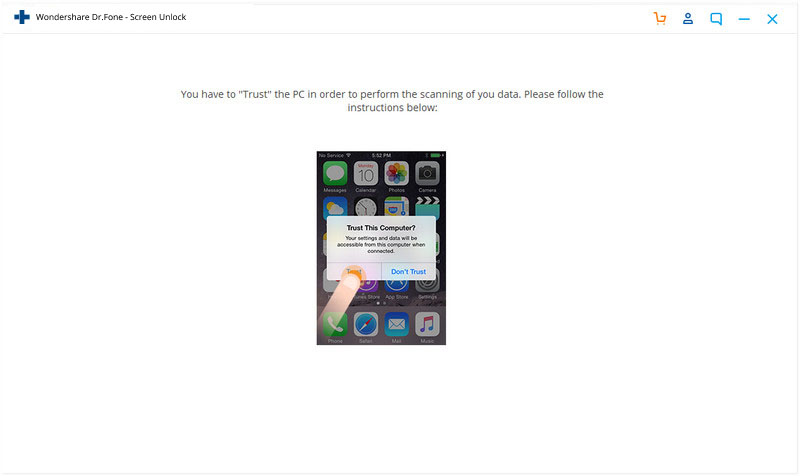 Step 4: Reset All Settings
Now, just follow the instructions displayed on the screen to reset all the settings from your device. You can then reboot your iPhone.
Step 5: Unlock iCloud Locked Phone
After when you iPhone gets restarted, you just need to sit relax as dr.fone will itself unlock iCloud locked phone.
Step 6: Verify the Process
Lastly, all you need is to check if you succeeded in unlocking iCloud lock. This can be done on the new window that appears.
Part 3: How to free unlock iCloud lock on iPhone
Since your iPhone is locked, you will not be able to access in files until you unlock iCloud in your Apple device. One way to unlock icloud locked phone is to bypass iCloud activation lock by following the steps below
Step 1. Take your iPhone and while on "Activate iPhone" Screen, press the home button and then press "Wi-Fi" settings. Next to the "Wi-Fi" symbol, tap on "i". Now you need to change the existing DNS settings. The DNS settings you need to type are as follows:
If you are in USA type in 104.154.51.7
In Europe, type 104.155.28.90
In Asia, type 104.155.220.58
The rest of the world--78.109.17.60
Step 2. Tap on the "Back" button then click "Done". Next, click "Activation help". Once you have done that, you will see a message that says :You have successfully connected to my server." If you tap on the menu, you wll be able to access different iCloud services such as iCloud Locked User Chat, Mail, Social, Maps, Video, YouTube, Audia and games, among others.
Part 4: How to unlock iCloud lock by Official iPhoneUnlock
Sometimes it may not be possible to completely unlock your iCloud Lock. For instance, the free method of unlocking your iCloud Lock only works on iOS 9 and iOS 8 for iPhone. Anything else will not work properly. Moreover, you may not be able to know how to unlock iCloud Lock free if you are in certain countries.That is when you can think of using Official iPhone Unlock service which will completely unlock your iPhone without any hassle. iCloud Activation Lock Removal tool will quickly remove the iCloud activation lock from previous owner's account. In short, this is an easy and seamless tool for removing iCloud lock in order to set your own.
Step 1 - visit the Official iPhoneUnlock by clicking on this link.
Step 2 - Enter your IMEI/Serial number of your device and send it.
Step 3 - Just wait for a comfirmation message telling you that iCloud Lock has been removed.
Step 4 - Now create a new iCloud account and start using your device
This tool works on all iPhone 6, 6+, 5S, 5C, 5, 4S, 4 and iPad 4, 3, 2 Air 2 and also works on iOS, and it doesn't matter why you are unlocking it from.
Conclusion
Unlike free iCloud Lock unlock solution, OfficialiPhoneUnlock(iCloud Activation Lock Removal) tool provides a permanent solution to the problem of how to how to unlock icloud locked irrespective of your country. It will only cost you a couple of dollars pounds to unlock your Phone. This is a small price to pay considering the fact that you might have spent hundreds of dollars to purchase a new iPhone or iPad.
iCloud
iCloud Unlock

iCloud Tips