iCloud IMEI Unlock: Remove iCloud activation lock with IMEI code
The iCloud IMEI Unlock method requires you to have your iPhone IMEI number before proceeding with the iCloud lock removal process. When it comes to bypassing the activation lock, the IMEI code plays a very significant role as we're going to see as we proceed.
In this article, I'm going to elaborate how you can easily bypass the iCloud activation lock with the help of the iCloud IMEI unlock.
Part 1: Basic Information about IMEI
1.1: Understanding the IMEI Code
The International Mobile Equipment Identity (IMEI) code/number is a highly unique identifying 15 digit number that distinguishes one mobile device from the other. This IMEI number is present in each and every phone regardless of the make or model. It plays an imperative role since it can be used to unlock locked mobile devices; track lost devices and at the same time, lock a stolen mobile device remotely.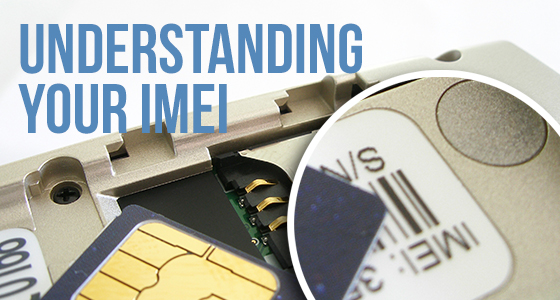 1.2: How to Find Your IMEI Code
How to find your IMEI code depends on a number of factors such as your phone make, the model as well as the company behind your device. In most cases, you can find the code on your mobile device just under the battery casing, on the SIM Card tray, and in some situations, on the inside part of the bottom phone cover. If by chance you still can't locate your code, I would highly advise you to dial *#06# on your phone dial pad. This prompt dial up happens to be the universal method used by each and every mobile company to locate the unique 15 digit IMEI number.
You can try to find your IMEI code through other two methods: check it on your device and via iTunes.
Method 1: On you iPhone device, directly go to Settings>General>About. Then you can find your IMEI code like below.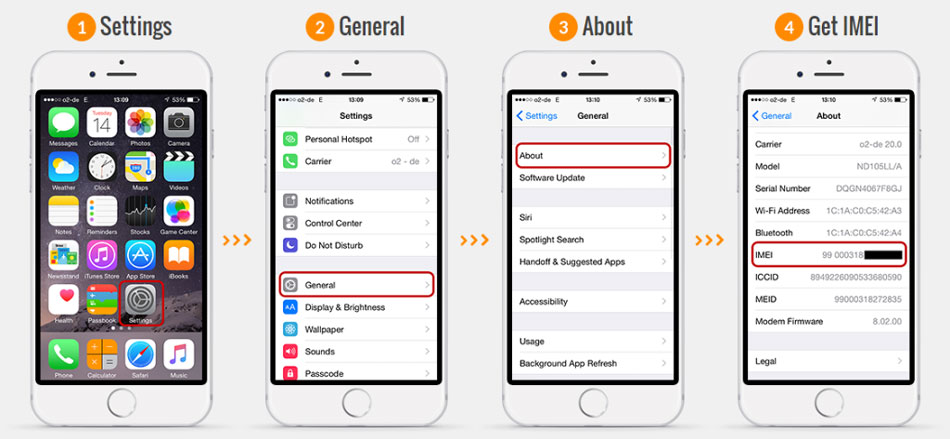 Method 2: Connect your iPhone device to your computer and launch iTunes. Click "Summary", then you will get your IMEI code.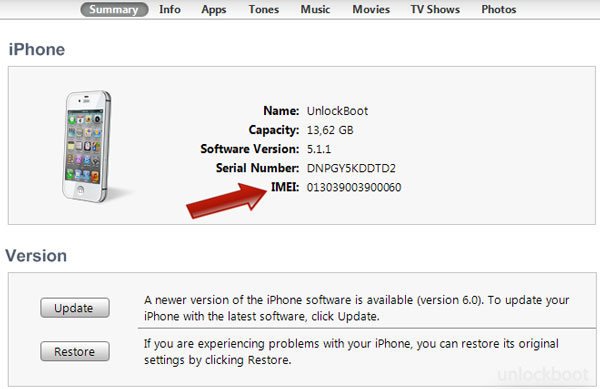 1.3: iCloud IMEI Check for iPhone
For you to access and use iCloud, you need to check IMEI iCloud to retrieve or confirm your unique IMEI code. For you to unlock your iCloud account or lock swiftly, I would highly advise you to have this 15 digit code with you on a piece of paper. Each and every iPhone device comes with an iCloud account that is distinguished by this unique number. If your iCloud account is locked, the first thing you need to do is to go through the iCloud IMEI check process to retrieve your code. You can do this by using the methods mentioned in part 1.2.
Part 2: iCloud IMEI unlock with OfficialiPhoneUnlock
2.1: Description
While searching for an optimum iCloud IMEI unlock method, I have come across many different programs and websites that claim to check IMEI for iCloud and unlock the iCloud activation lock. Some of these methods are free while some charge a fee for the services offered. Some are downloadable while some are not. Among the methods I have used, none of them comes close to the Official iPhoneUnlock method.
What I like about this unlocking method is the fact that it's an online process that requires no download and never ending installation procedures. With this method, the only thing that I ought to have is my unique IMEI code, a valid email address, and my best preferred online payment method. At only £19.99, this method guarantees me and you a swift unlocking process that only takes a waiting period of about three (3) business days.
2.2 Steps to unlock iCloud activation lock
The OfficialiPhoneUnlock method gives you the opportunity to check IMEI iCloud and remove the activation lock that bars you from accessing your iCloud account. The following is a simplified process on how you can unlock the iCloud Activation Lock on your iPhone.
Step 1: Visit OfficialiPhoneUnlock Website
For you to unlock the iCloud Activation Lock, you first have to visit the Official iPhoneUnlock website. And click "iCloud Unlock" to bypass the iCloud activation lock.
Tip: Before proceeding, check IMEI iCloud and write down your iPhone unique 15 digit code since you're going to need it.
On the interface of the web page, you'll be in a position to see the types of devices that are supported by the company. Scroll down the page and enter your Handset type and IMEI number in the spaces provided and click on the "Add to Cart" tab.
Step 2: Input Contact Details
With your handset type and IMEI number submitted, a new web page with an "Add email" option will open up. Enter your primary email address and press "Continue". If you have extra devices that you want to unlock, you can add them at this point by clicking on the "Add more unlocks to your cart" tab. If you are okay with what you see, click "Continue".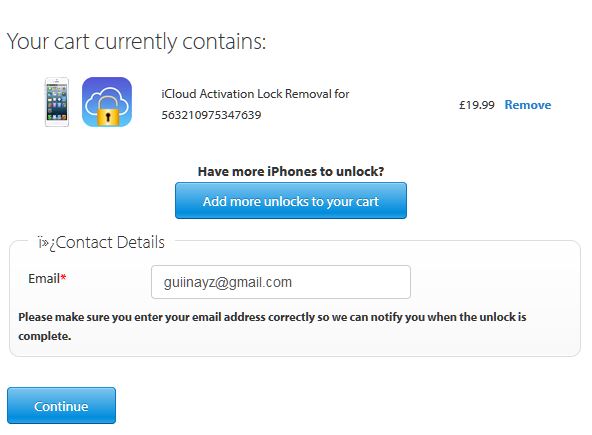 Step 3: Payment Options
In this step, you'll be required to select your best-preferred payment method. You can choose the method that best suits you depending on your preferences. Each and every transaction that you are going to initiate will be highly secured and encrypted by NochEX and hence you don't have to be worried about online credit card theft.
Step 4: Payment and Unlock Confirmation
Once your payment method has been confirmed, you will receive an email from the company informing you that they have received your payment. The email will also give you the waiting time required to bypass the iCloud lock. In standard time, the gross waiting period is between 1-3 days. After the three (3) days have elapsed, you will receive an email informing you that the iCloud Activation Lock has been bypassed successfully. From this point, you can freely use your iPhone and iCloud account at your own will.
As we have seen, the iCloud IMEI unlock process using OfficialiPhoneUnlock method requires little skills and time to bypass the activation lock. Also, the amount of cash required is minimal as compared to other methods which can be quite expensive and complicated to some users. With us, we have a solution that will take you a long way in terms of iPhone and iCloud use and hence you should never be worried just because you can't access your iCloud account.
iCloud
iCloud Unlock

iCloud Tips