What No One Tells You About Backing Up Contacts to iCloud
Well, many of iOS users are not aware of the basic uses of iCloud backup services. Are you also one of them and want to know how to backup contacts to iCloud? Then let us move on to know the basics of iCloud backup.
The purpose of iCloud backup is to provide users with a safe repository for their information. If your device goes missing or breaks, you can add your old information to the new device quickly using the iCloud backup service.
iCloud backup includes the following information:
App data
Photos and videos
Call history
App organization
iMessage archives
Apple Purchase history
Ringtones
Device settings
iMessage, MMS and text message
Apple purchase history of music, movies, TV shows, apps, books
HomeKit configuration
Home screen and app organization
Now you may have come across a lot of myths about iCloud backup, isn't it? Many writers have stated that iCloud backups contacts. But, this is not the case. iCloud backup doesn't protect your contacts however, you can sync your phone contacts to iCloud.
You can do this by logging into iCloud Contacts from any of the linked devices. To access iCloud contacts you have to first know the method used to sync your contacts to iCloud.
So, let us begin by understanding how to sync iPhone contacts to iCloud in the sections below.
Part 1. How to Sync iPhone contacts to iCloud?
If you are wondering how to sync/backup my contacts to iCloud, it is simple. You just need to take a few extra steps to get the job done. However, you must think carefully before you backup contacts to iCloud. By default, iCloud does not sync contacts because of the need for users to protect personal information like names, phone numbers, and addresses. Many users are concerned about storing personal information online.
Thus, to backup/sync iPhone contacts to iCloud, follow the process outlined below.
Step 1: Go to the Settings menu.
The process starts with visiting the 'Settings menu> then you need to choose the 'iCloud' option
Step 2: Select the Contacts tab so that it turns green.
Now, simply turn On the Contacts tab, thus, iCloud will now start syncing your contacts.
Step 3: Confirm the option to sync all contacts with iCloud.
Finally, a confirmation message will appear, you need to accept that to confirm the syncing of iCloud contacts.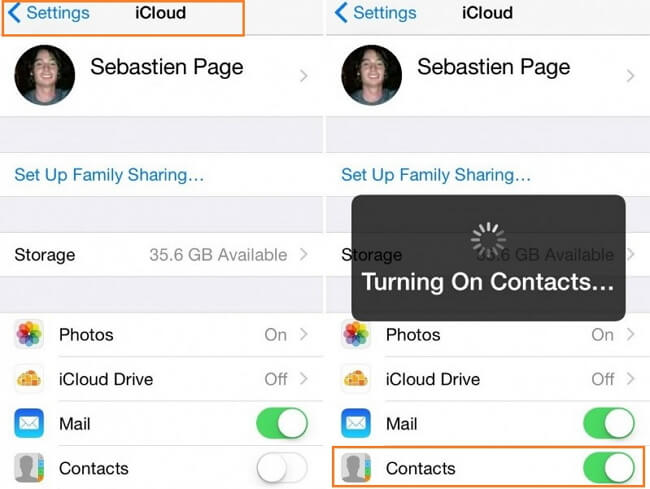 Syncing of contacts with iCloud service is quite easy. Now you know how to backup all contacts to iCloud.
Part 2. How to backup iPhone contacts without iCloud?
iCloud is incredibly convenient but it is not the perfect storage solution. Here are some issues that you may face with iCloud backup.
Apple offers only a limited amount of space for users to store data. You will get 5GB of storage on iCloud for free however if you want extra you will have to pay for it. Paying for additional iCloud space will be a significant expense in the long run.
Cloud computing is not as safe as it should be. The cloud has security issues and iCloud is no exception. If you store all your information, including contacts on iCloud, there is no guarantee that no one would access that information.
Since iCloud is not always safe, we need alternatives to backup contact information. Hence, the question how do I backup my contacts without iCloud? Well, the answer lies beside you. If your PC is free of viruses and malware, it is the best place to store contact information. An alternative means to backup contacts to iCloud would be dr.fone - Backup & Restore (iOS). This is the best iPhone data backup and restore software which can be used to create a backup of your iPhone contacts without iCloud. Thus dr.fone as a whole is the perfect solution to your dilemma.
Backup iPhone Contacts without iCloud/iTunes.
One click to backup the whole iOS device to your computer.
Support to backup Social apps on iOS devices, such as WhatsApp, LINE, Kik, Viber.
Allow to preview and restore any item from the backup to a device.
Export what you want from the backup to your computer.
No data loss on devices during the restore.
Selectively backup and restore any data you want.
Supported iPhone 7/SE/6/6 Plus/6s/6s Plus/5s/5c/5/4/4s that run iOS 10.3/9.3/8/7/6/5/4
Fully compatible with Windows 10 or Mac 10.13/10.12/10.11.
3981454 people have downloaded it
Now to sync contacts to your PC, follow the process outlined below:
Step 1: Download and Install dr.fone – Backup & Restore (iOS). After launching dr.fone on your computer, select the 'Backup & Restore' option. Plug your iOS device into the computer and dr.fone will automatically detect the device.
Step 2: Once dr.fone has detected the iOS device, you will get the screen below. Select 'Backup' to move on to the next process.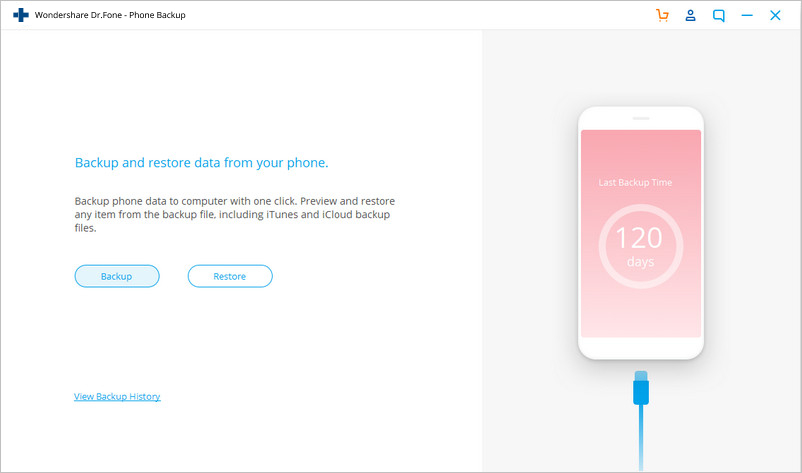 Step 3: Sdr.fone will detect the file types available on your iOS device. Select the files you want to backup and select 'Backup'.
Step 4: You can view all backup history and then choose whether to backup a single file or multiple files onto your computer.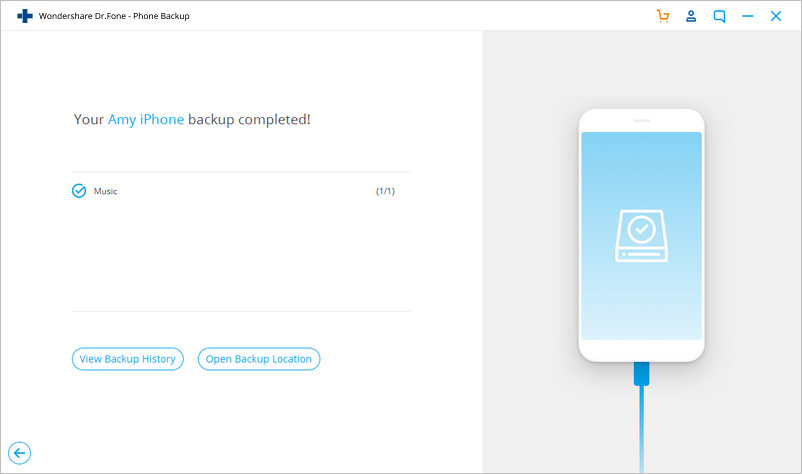 Then proceed to backup using the Next button at the bottom end.
Part 3. Other cloud services to back up iPhone contacts
iCloud is definitely not the safest of cloud technologies. The online storage platform from Apple lacks many security features like two-factor authentication. The lax in security combined with limited space means you should have one or two alternatives on your list.
If you are in earnest search of how to backup iPhone contacts to iCloud, here are three well researched and fantastic alternatives to iCloud for backing up contacts
3.1 Dropbox
It is not possible to create a list of the best cloud computing software without mentioning Dropbox. Dropbox was initially devised as a way for companies to improve productivity by sharing files over the cloud. Today, Dropbox has expanded its user base to over 500 million users, making it a top choice for cloud computing. Dropbox is an excellent alternative to iCloud because of its cost-effectiveness, accessibility, and integrated Microsoft Office features. When you start off with Dropbox you get 2GB for free, if you wish to get more space you can upgrade your pricing plan.
Features:
Shares files with several users.
Microsoft Office Integration for reading documents
Edit and share files online.
Can backup any files/folders
Recover file option from 30 to 120 days (While dealing with accidentally deleted files)
How To Sync and backup iPhone Contacts to Dropbox:
While moving ahead with backing up iPhone contacts to Dropbox, first you need to export the contacts (as vcf file) to the system.
Step 1: On your iPhone device visit the settings menu> Turn On contacts sync to all under the iCloud account.
Step 2: Now, you need to head to iCloud.com> after Signing in> click on the gear icon> select Export vCard (To your PC)

Step 3: Now, login to Dropbox and initiate backup
Step 4. Upload the vCard files to create an iPhone Contacts backup to Dropbox by login to Dropbox account and clicking on Upload files option.
3.2 iDrive
iDrive is one of the oldest backup software available today. However, regular incisive updates have kept iDrive amongst the relevant cloud backup software today. iDrive is the most secure cloud platform on the list because of its security features. If you need a cost-effective alternative to iCloud, consider using iDrive because it is cheap to start with. Once you start with iDrive, you will get unlimited space to store all your data including photos, videos messages, contacts and more.
Features:
Social media backup (Facebook and Instagram)
Instant file syncing and backup
You get free storage space up to 5GB
Backup data from unlimited devices with a single subscription.
Let us learn how to backup iPhone contacts using this iCloud alternative
Step 1: Connect your iPhone to your computer and log into your iDrive account.
Step 2: When you log in, you will see an option called 'Backup' under the Cloud Backup section.
Step 3: Select 'Contacts' and click on 'Backup Now'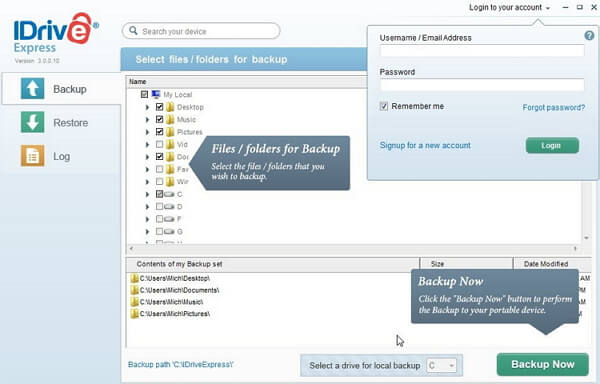 3.3 SOS Online Backup
SOS Online backup is another cost-effective alternative to backup contacts besides iCloud. It is accessible and easy to use and available on both Mac and Windows. This cloud platform offers unlimited versioning and very well designed mobile apps. SOS online is known for its speed, you will not have a problem uploading several files in quick succession. In addition to high speed, SOS online comes with extra features like NAS support, private encryption and true archiving. The cloud service is free thus can say that SOS online is perfect for individuals who want an accessible, and responsible platform to store the contacts online.
Features:
Very fast upload speeds
File versioning is unlimited
A trial period that lasts for 15 days
So here is the way to backup all contacts to the iCloud alternative:
Step 1: Download the SOS Backup Online App for iPhone
Step 2: There you need to select your account type. You can choose between 'Regular', 'Standard UltraSafe' and 'UltraSafe Max'. The third account offers more security features than the first one.
Step 3: You will be taken to a home screen that contains all the information about your account. Now SOS must scan the iPhone to find the files. You can either manually scan or have the app do a complete scan.
Step 4: Select all the files you want to backup, including 'Contacts'. You will have the option to edit some advanced settings. Click on 'Next'
Step 5: The screen contains information about timed backups. It includes 'Frequency', 'Schedule' 'Timing'. Customize the settings as you see fit and click 'Next'.
Step 6: You will be taken to the 'Backup Status Screen' It will display the progress made by SOS Online backup in transferring contacts from your iPhone.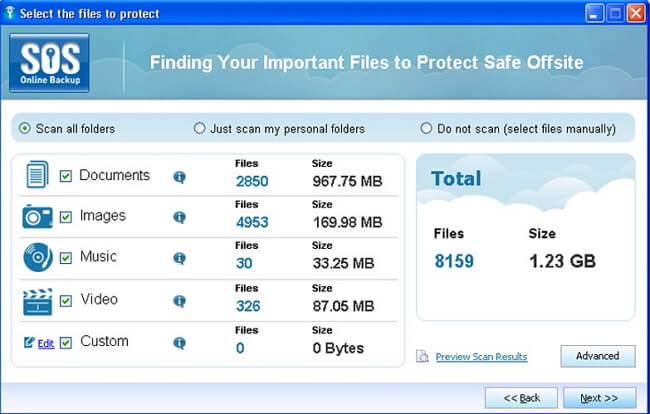 Thus, now you know about many processes and alternatives to backup contacts to iCloud. So you stand in a position to resolve your issue on how to backup iPhone contacts to iCloud easily.
Lastly, we hope that you enjoy reading the article, which specifically caters to the needs of "how do I backup contacts to iCloud" as well as all related information.
iCloud Backup
Backup Contacts to iCloud

Extract iCloud Backup

Restore from iCloud

iCloud Backup Issues