How to Reset iPad Itself or iPad Passcode
If you own an iPad, then you must be familiar with the wide range of features that the device offers. Although, there are times when users wish to reset the iPad passcode or restore the entire device as well. From troubleshooting an issue to reselling a device, there could be different reasons behind it. No matter what situation you are in – we are here to help you with this complete guide on how to reset iPad (passcode and the device). For your convenience, we have come up with stepwise solutions to reset iPad in every possible way. Let's learn how to reset iPad and its password right away!
Part 1: 3 Solutions to Reset iPad
To start things off, let's learn how to reset iPad and get rid of all the saved data in it. If you are reselling your iPad or the device has been infected by a malware, then you should factory reset iPad for sure. Following are some of the best ways to reset iPad in no time.
1.1 Reset iPad to Factory Settings in One Click
Now, you can reset your iPad in a single click with the assistance of dr.fone – Erase (iOS). One of the best data eraser applications out there, it can get rid of all kinds of content from your iPad instantly.
It is a part of the dr.fone toolkit and features an extremely user-friendly interface. The tool can entirely wipe off all the saved information from your iPad, making sure that even a recovery tool can't get back the deleted data. If you want, you can first preview your data and select the files you wish to delete as well.
Effective Solution to Reset iPad to Factory Settings
It provides a fast one-click solution to factory reset iPad and entirely wipe off every kind of stored information from it.
You can delete your photos, videos, contacts, call logs, messages, notes, third-party data, backups, and every essential detail from your iPad.
Since the tool performs multiple passes, it will make sure that even a data recovery application can't retrieve the deleted content.
The application can also help you selectively delete your data or make more space on your iPad by compressing the files.
The tool is extremely easy to use and is fully compatible with every leading iPad model. The desktop application runs on both macOS and Windows.
4,683,556 people have downloaded it
If you want to learn how to reset iPad entirely with just one click, then follow these simple steps.
1. Launch the dr.fone toolkit on the system and open the "Erase" section. Also, connect your iPad to it using an authentic cable.
2. Go to the "Erase All Data" option from the left once your iPad is detected and click on the "Start" button to commence things.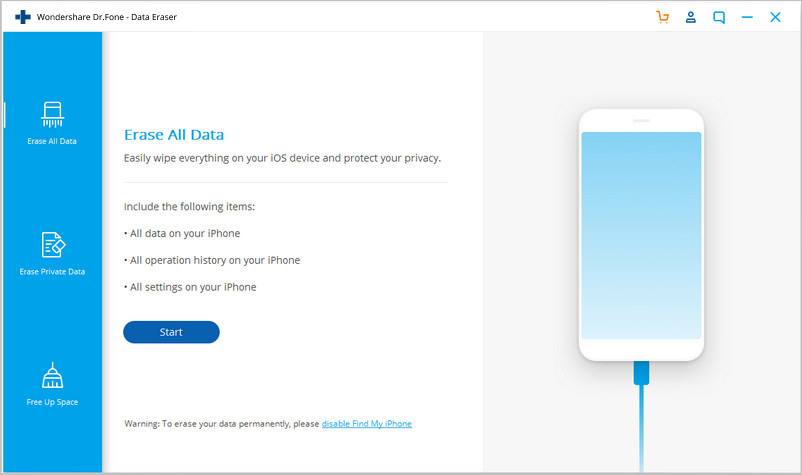 3. The interface will display three different levels to erase data – low, medium, and high. Just select a level to proceed. Though, the higher the level, the better the results would be.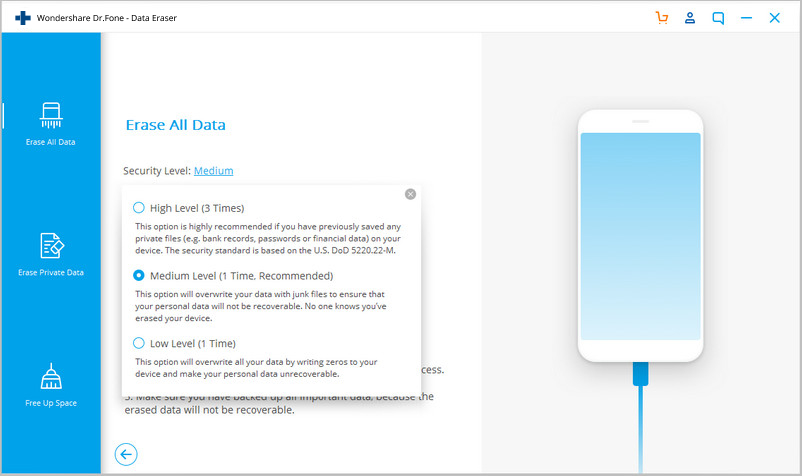 4. Now, just enter the displayed code and click on the "Erase Now" button to start the process.
5. That's it! The application will start erasing all the saved data from your iPad. You can simply wait for a while and make sure that the process is not halted in between.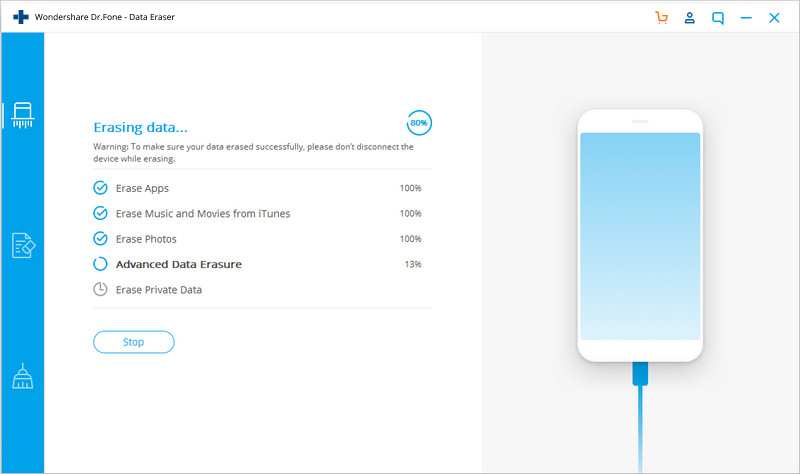 6. When the process is completed, you will be notified. You can just close the application and safely remove your iPad. Your iPad would be restarted in the normal mode with no existing data in it.
1.2 Soft Reset (Restart) iPad
With the help of dr.fone – Erase (iOS), you can easily factory reset iPad. Though, there are times when users simply wish to soft reset their iOS device. Ideally, a soft reset means restarting a device since it breaks the ongoing power cycle. This can also fix some minor software related issues with the device as well. Here's a quick way to soft reset iPad.
Simply press and hold the Power (wake/sleep) button on your iPad. Mostly, it is placed on the top of the device.

Release the button when you would get the power slider on the screen. Swipe it right to turn off your iPad.
Wait for a while for it to be turned off and press the Power key again to restart your iPad.
1.3 Hard Reset iPad
If your iPad is malfunctioning, then you can do a hard reset on it as well. This would forcefully restart your iPad even when it is stuck or has been frozen. That is why, it is known as a hard or forceful reset. Though, it will not wipe any existing data on your iPad and would only reset its current power cycle.
To hard reset your iPad, press and hold the Power (wake/sleep) and the Home buttons at the same time.
Keep holding both the buttons for another ten seconds at least.
Your iPad would vibrate and will be restarted forcefully. Let go of the buttons when the Apple logo appears on the screen.
Part 2: 3 Solutions to Reset iPad Passcode
By now, you must be able to factory reset iPad or soft/hard reset it as well. This will help you fix any major issue with the device. Nevertheless, there are times when users simply wish to reset the passcode of the iOS device. This can be done in the following manner.
2.1 One Click Reset iPad Passcode if you forgot it
If you have been locked out of iPad, then don't worry – you can still move past its lock screen using dr.fone – Unlock. The application can remove all kinds of locks from an iOS device including 4-digit codes, 6-digit codes, Touch ID, and Face ID. It can remove even the most complicated alphanumeric codes while resetting your device. Yes – your iPad would reset and be updated to the latest firmware in the process. Though, no harm or unwanted damage would be done to the device. All you need to do is follow a click-through process and your iPad would be restarted with no passcode. To learn how to reset iPad passcode, simply follow these steps:
1. Connect your iPad to the system and launch the dr.fone toolkit on it. From its home, go to the "Unlock" section. Choose to Unlock iOS screen to proceed.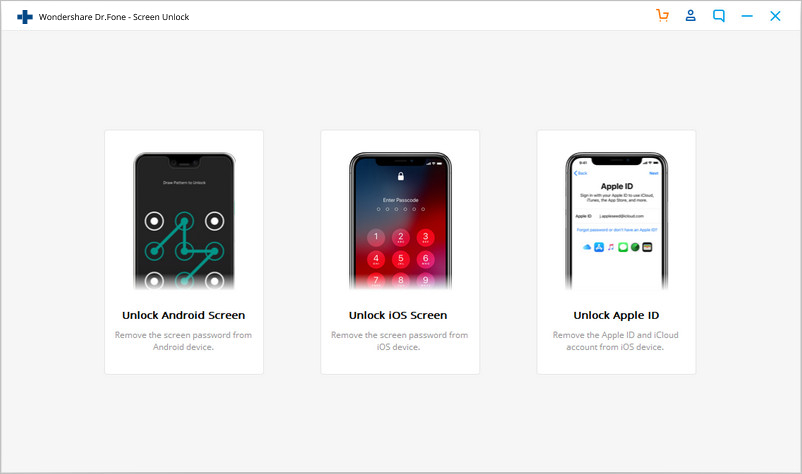 2. Now, you need to boot your iPad in the DFU (Device Firmware Update) mode. Firstly, turn it off and wait. Now, press the Power and the Home buttons for at least 10 seconds simultaneously. Afterward, let go of the Power key while still holding the Home button for another 5 seconds.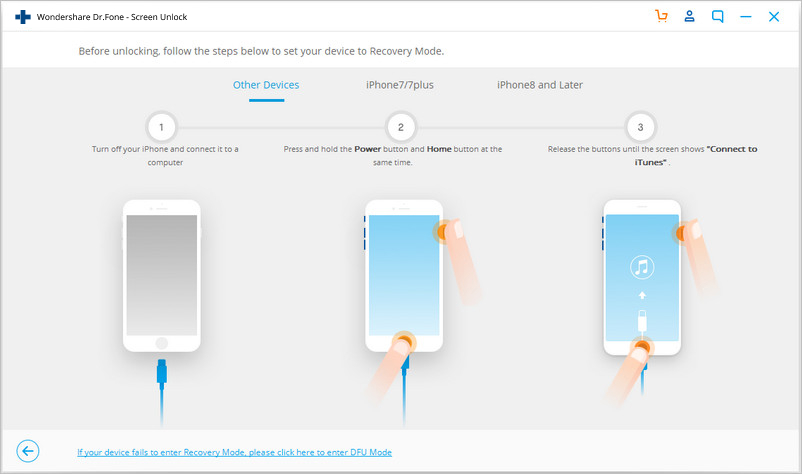 3. Once the device enters the DFU mode, the application will detect it automatically and present the following option. Just enter the device model and the system version to start the process.
4. Wait for a while as the application would download the relevant firmware update for your iPad. When it is completed, you will be notified. Click on the "Unlock Now" button when you get the following screen.
5. In no time, the existing lock on your iPad would be deleted and your device will restart in the normal mode. You can access it without any lock screen on the device.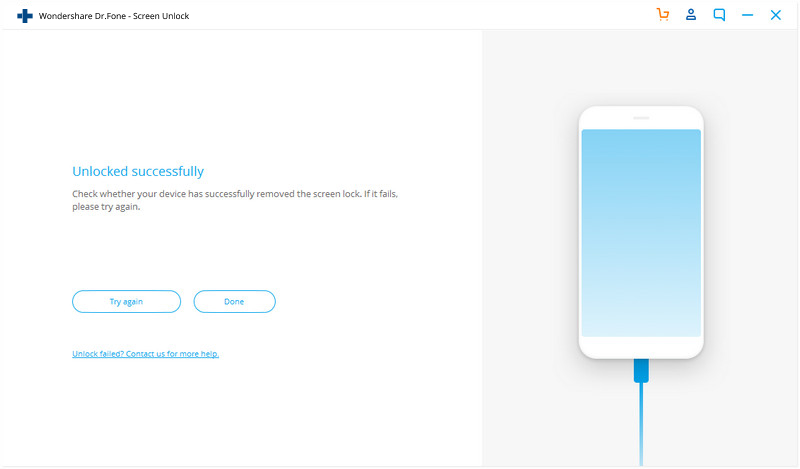 In this way, you can reset iPad passcode with a single click. Please note that this will erase the existing data on your iPad. This is because, as of now, Apple doesn't allow us to reset iPhone/iPad lock screen without restoring the device to factory settings.
2.2 Reset iPad Passcode from Settings
If you already remember the existing passcode of your iPad, then you won't face any trouble resetting it. You can just go to your iPad settings and change the passcode. Just be sure that the new passcode is not the same as the existing one. Also, try to create an alphanumeric passcode to keep your iPad secure. Here's how you can reset iPad password in a jiffy.
Firstly, unlock your iPad by entering its existing passcode.
Tap on the Settings icon and visit its Touch ID & Passcode settings.
Scroll down and tap on the "Change Passcode" option. You need to enter the existing passcode of your iPad to authenticate yourself.
Now, enter the new passcode that you wish to set. You have to confirm it twice to avoid any error.
If you want, you can tap on the "Passcode Options" to create custom numeric or alphanumeric codes as well.
2.3 Reset iPad Screen Time/Restrictions Passcode
Screen Time or Restrictions is a native feature of iOS that lets us limit the use of the device. Earlier, the feature was known as Restrictions, but with iOS 12, it was revamped as Screen Time. The feature is mostly used by parents to restrict the usage of the device by their kids. Therefore, the Screen Time/Restrictions passcode is different than the original passcode of the device so that the kids can't guess it. If you want, you can also learn how to reset Restrictions passcode on iPad by following these steps:
Unlock your iPad using its original lock screen passcode and go to its Settings > Screen Time. In the older iOS versions, it is under Settings > General > Restrictions.
Scroll a little to see the "Change Screen Time Passcode" option. Simply tap on it and confirm your choice to change the passcode. If you want, you can remove the passcode from here as well.

3. Firstly, you need to authenticate by entering the existing Screen Time/Restrictions passcode. Later, you can enter and confirm the new passcode to change it. Just make sure that the Screen Time passcode and your iPad lock screen codes are not the same.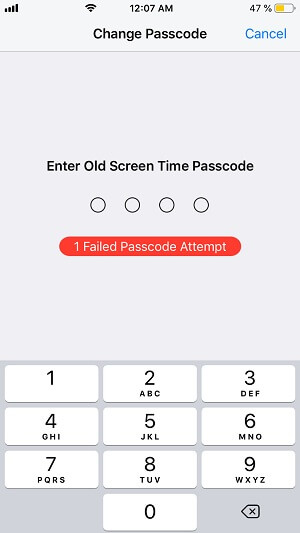 This brings us to the end of our guide on how to reset iPad and iPad passcode. As you can see, we have presented not one, but six different solutions to reset iPad in every possible way. If you want to have a hassle-free solution, then you can just use dr.fone – Erase (iOS) to factory reset iPad in no time. Apart from that, you can also try dr.fone – Unlock (iOS) to remove the existing lock screen of your iPad. Feel free to try the option of your choice and let us know about your experience as well.
Master iOS Space
Delete iOS apps

Delete/resize iOS photos

Factory reset iOS

Delete iOS social app data