How to Uninstall iOS Beta from iPhone?
"How to downgrade from iOS Beta to a previous stable version? I have updated my iPhone to the latest iOS Beta release, but it has made my device malfunction and I can't seem to downgrade it as well!"
This is a recent query that was posted by a concerned iOS user a while back. If you have also been enrolled to the iOS Beta program, then you must be getting updates about the new releases too. A lot of times, people upgrade their device to the latest iOS Beta release, only to regret it afterward. Since a Beta update is not stable, it can slow down your phone or make it malfunction. Don't worry – you can easily downgrade from iOS Beta to a previous stable version without losing your data. In this post, we will teach you how to uninstall iOS Beta in two different ways.
Part 1: How to Un-enroll from iOS Beta Program and Update to Official iOS Release?
Apple runs a dedicated Beta Software Program to test the release of the beta versions of the software and get feedback from its users. The advantage of the program is that it lets us experience a new iOS version before its commercial release. Sadly, the Beta version is often unstable and it can do more harm to your phone than good. The best way to restore iPhone from Beta is to un-enroll from the program and wait for the release of a new stable version. This will overwrite the existing Beta profile and would let you update your phone to a new stable release. Here's how to uninstall iOS Beta and update your iPhone to a stable release.
In order to un-enroll from the iOS Beta Program, go to the official Beta Software Program website and log-in to your Apple account.

Here, you can get updates about the Beta releases and manage your account. Scroll down and click on the "Leave Apple Beta Software Program" and confirm your choice.
Great! Once you have un-enrolled from the software program, you can easily downgrade from iOS Beta to a stable version. On your phone, you will get a notification like this, stating the release of the new iOS update (whenever it is released commercially). Just tap on it to proceed and install the new iOS version.

Alternatively, you can also go to your device's Settings > General > Software Update to view the latest available version of iOS update.

Read the update information and tap on the "Download and Install" button. Wait for a while and maintain a stable internet connection as your phone would restore iPhone from Beta to a new stable version.
While the process is simple, you would have to wait for a while for a new stable version of iOS to release. In the meantime, you still have to work with iOS Beta that might harm your device. Also, you might end up losing your important data in the process, if you wish to downgrade from iOS beta the usual way.
Part 2: How to Uninstall iOS Beta and Install an Existing Stable iOS Version?
If you don't want to lose your data while doing an iOS Beta downgrade, then take the assistance of dr.fone – Repair (iOS System Recovery). It is a must-have tool for every iPhone user as it can fix all kinds of issues related to the device. For instance, some of the common problems that it can resolve are the screen of death, bricked iPhone, device stuck in a boot loop, DFU issues, Recovery Mode issues, and so on.
Apart from that, you can also use it to downgrade from iOS Beta and install the previous stable iOS version on your phone. During the process, the existing data on your phone would be retained and you won't suffer from unexpected data loss. Just follow these steps and learn how to downgrade from iOS Beta to a stable version in minutes.
Uninstall iOS beta and downgrade to official iOS.
Only fix your iOS to normal, no data loss at all.
Fix various iOS system issues stuck in recovery mode, white Apple logo, black screen, looping on start, etc.
Downgrade iOS without iTunes.
Works for all models of iPhone, iPad and iPod touch.
Fully compatible with the latest iOS 12.
3981454 people have downloaded it
Firstly, launch the dr.fone toolkit on your computer and from its home, visit the "Repair" section. Also, use a working lightning cable and connect your iPhone to the system.

The application will automatically detect your phone and would present two different repairing modes – Standard Mode and Advanced Mode. The Standard Mode can fix numerous iOS issues without causing data loss. On the other hand, the advanced mode is opted to fix critical problems. In this case, we will pick the standard mode as we wish to downgrade from iOS Beta without any loss of data.

On the next screen, the interface will display details about the device model and system version. Just verify it and click on the "Start" button to proceed.

This application will automatically look for the latest stable iOS version that is available for your device. It will start downloading the relevant firmware update and would let you know the progress via an on-screen indicator.

After the application has successfully downloaded the firmware update, it will verify your device and make sure it is compatible with it. We would recommend not removing the device as of now and let the application perform the needed process.
You will be notified in the end when the process is completed. Now you can safely remove your iPhone from the system and check the updated iOS version on it.
Part 3: How to leave the iOS Beta program?
The Apple Beta Software Program is a freely available and voluntary service that iOS users can subscribe to. It will let you get early access to iOS Beta updates before their commercial release. This helps Apple to know the feedback of its actual iOS users and work on the software update. Though, the Beta release can lead to unwanted issues on your phone and might end up in serious malfunctioning. Therefore, you can leave the iOS Beta Program whenever you want to by following this simple drill.
Unlock your device and go to its Settings > General > Profile. You might have to scroll all the way down to get the "Profile" tab.
Here, you can see all the saved profiles of the existing iOS Beta updates. Just tap on the previous Beta update to proceed.
View its details and tap on the "Remove Profile" option.
Confirm your choice by tapping on the "Remove" button again and enter the passcode of your phone to verify.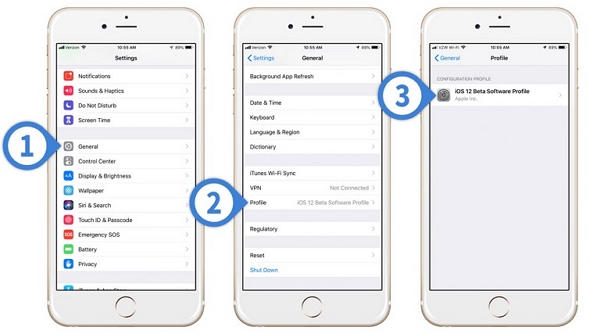 Subsequently, you can also go to the official website of Apple Beta Software Program and log-in using your Apple ID and password. From here, you can leave the Apple Beta Software Program whenever you want.
Now when you know how to uninstall iOS Beta on your iPhone, you can easily downgrade from iOS Beta to a previous stable version. If you don't want to suffer from unwanted data loss while doing an iOS Beta downgrade, then take the assistance of dr.fone – Repair. A highly useful iPhone repairing tool, it will make sure you never suffer from any iOS related issue again. Apart from doing an iOS Beta restore, it can resolve all kinds of issues related to your phone without any data loss. Go ahead and download the resourceful application and use it at the time of needs to fix your iOS devices in minutes.