Top 6 iOS 13 Downgrade Tools 2019
Have you recently updated your iOS device to a wrong or unstable firmware(ios 13) release?
Don't worry – you are not the only one as the issue is more common than you can imagine. A lot of times, iPhone or iPad users update their devices to a beta or any other corrupt iOS release, only to regret it afterward. In order to resolve this situation, you can use an iOS 13 downgrade tool.
Though, you should be extremely cautious while picking downgrade software for your device. If the iPhone downgrade tool is not reliable, your device can get stuck or lose all data completely. To teach you how to downgrade iPhone software like a pro, we have handpicked the 6 recommended tools right here.
1. Best iOS 13 Downgrade tool: dr.fone - Repair
The first spot on our list of the best downgrade software for iOS is dr.fone – Repair. A part of the dr.fone toolkit, it provides fast and professional solutions to fix any iOS device. It doesn't matter if your device is stuck on the boot loop or if it has got a screen of death – the application can fix it all. Not just that, it can also downgrade your iPhone/iPad to a stable official release without causing any data loss on it.
Pros
High success rate and extremely easy to use
No data loss or unwanted harm is caused to the device
Extensive compatibility with every leading iOS model(iOS 13)
Cons
Only free trial version available
Follow the steps below to downgrade iOS 13 with dr.fone - Repair.
Launch the dr.fone toolkit and connect your iOS device to the system using a working cable. Launch the "Repair" section from its home to continue.

On its welcome screen, you can see options to perform either Standard Mode or Advanced Mode. The Standard Mode would keep your data while the advanced repairing can resolve even some crucial issues. Choose the relevant option when you are ready (i.e. Standard Mode in this case).

Furthermore, the application will automatically extract details about your device and display it on the interface. Since you need to do iPhone software downgrade, change the current ios 13 system version to an existing stable one instead and start the process.

That's it! This will start the downloading for the selected firmware.

Once the firmware download is finished, you will be notified. Just click on the "Fix Now" button to downgrade your iPhone/iPad.

Then dr.fone will automatically restart your iPhone with an existing stable iOS version installed. In the end, you can safely remove your iPhone and use it on the older iOS you selected.
2. Top iOS 13 downgrade tool: Tinyumbrella
Developed by The Firmware Umbrella, it is a freely available Windows application that can be used to downgrade iPhone software. Ideally, the application is used to enter or exit iOS devices in/from Recovery Mode. Besides that, you can also use it to forcefully install a software update on the iPhone to downgrade it.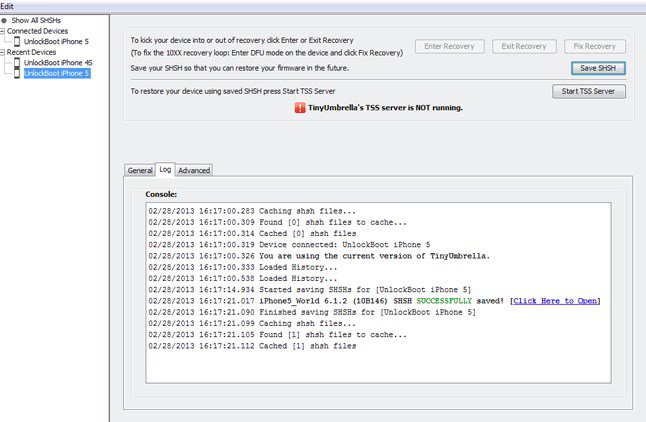 Since it is a freeware, you don't need to pay anything in order to use this iPhone downgrade tool.
The application is a bit complicated to use and will need you to download the relevant IPSW file beforehand.
It is majorly used to boot the iPhone in recovery mode and exit it when the device is stuck in the recovery mode.
In order to get positive results, you are needed to jailbreak your iOS device.
During the downgrading process, it would end up deleting the existing data on your phone.
Pros
Freely available
Can boot devices in Recovery Mode
Can also resolve device stuck in Recovery Mode issue
Cons
Difficult to use
Only available for Windows
Low success rate
Will erase the existing data on your phone
3. Top iOS 13 downgrade tool: TaigOne Downgrader
If your iOS device is already jailbroken, then you can also take the assistance of TaigOne Downgrader. As the name suggests, it will downgrade your iPhone or iPod to an existing firmware version. Since it is not an official solution, it might cause unwanted damage to your device (including some data loss). Also, you need to take the assistance of a third-party installer like Cydia to get TaigOne Downgrader.
This is a free iPhone software downgrade app that is available for jailbroken devices.
Users need to select the firmware update they wish to downgrade their phone to.
The process would wipe off the existing data and saved settings on the device.
It does not work with the latest iOS models like iPhone XR, XS Max, etc.
Pros
Freely available
Automatic firmware download
Cons
Will erase the existing data on your device
Only work on jailbroken iPhone models
Does not support the new firmware updates
4. Top iOS 13 downgrade tool: ReiBoot
ReiBoot by Tenorshare is another popular iOS downgrade tool that you can consider trying. Since the desktop application is available for both Mac and Windows versions, you won't face any trouble using it. It also supports all kinds of new and popular iOS models. Apart from downgrading your phone, it can also fix other issues related to it.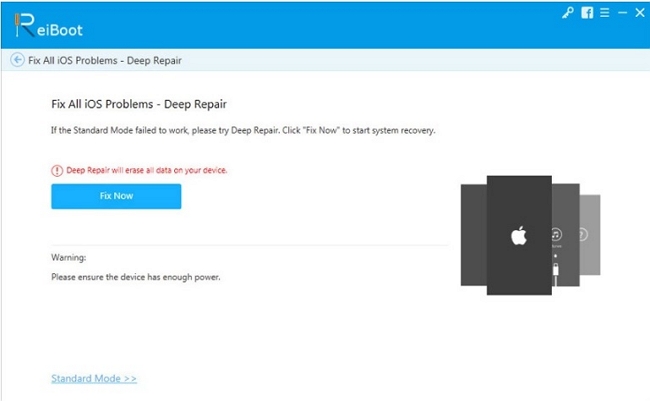 It provides a one-click solution to enter or exit a device to/from Recovery Mode easily.
The ReiBoot pro version can also fix different kinds of issues related to your iOS device. This also includes a malfunctioning or frozen phone.
It can also downgrade the software on your iPhone to a previous stable version.
While downgrading, it might cause some unexpected data loss on your phone.
Pros
The tool is quite easy to use and follows a click-through process.
It supports all the new and leading iOS devices.
High success rate
Cons
Paid (only the Pro version can downgrade your iOS device)
It might end up deleting the existing data on your phone.
Top iOS 13 downgrade tool: iMyfone Fixppo
iMyfone by Fixppo is a popular iOS Recovery tool that can also be used as an iOS downgrade software as well. This is a premium iPhone downgrade tool that runs on leading macOS and Windows versions. You can give its free version a try or buy its premium subscription from its website. The tool can be used not only to downgrade iPhone software but also to fix different kinds of iOS-related problems with your phone.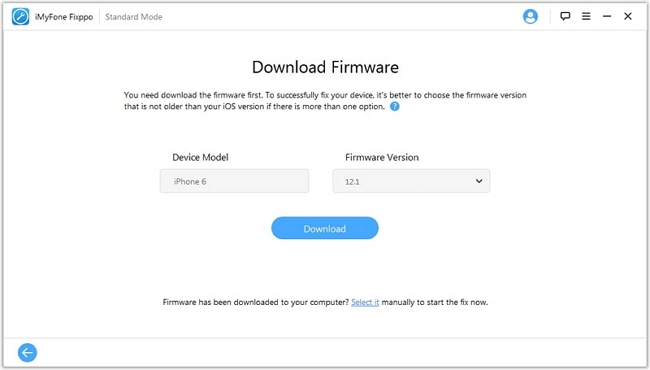 The application can fix all sorts of issues like the screen of death, device stuck in recovery mode, unresponsive screen, and so on.
It features two different repairing modes – standard and advanced. The standard mode can fix your device without losing its data.
Users can select the firmware version they wish their iOS device to downgrade to.
It is compatible with leading iPhone, iPad, and iPod models running till iOS 12.1
Pros
Simple and easy to use with trusted results
Your existing data will be retained during the downgrading process
Cons
Paid (only free trial version)
As of now, it does not support iOS 12.3 or iOS 12.2 versions
6. Top iOS 13 downgrade tool: iAnyGo
This is the last spot on our list of iOS downgrade software that you can consider using. Although the trial version of the iOS downgrade tool is available for free, it won't be able to meet your requirements. If you want to downgrade iPhone software without any issue, then consider downloading its premium desktop application.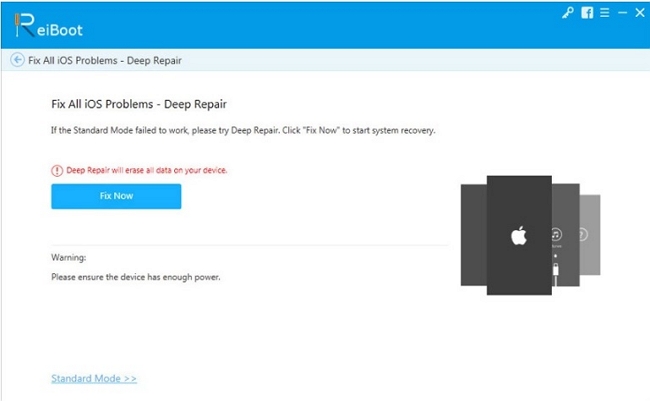 The application will automatically detect your device and will present the different iOS versions that it supports.
There is a no need to download an IPSW or firmware file separately as the application will do it for you.
Although, the application does not guarantee that it would retain the existing data on your phone during the process.
It supports leading iOS versions, till the latest iOS 12.1 (does not support iOS 12.3 or iOS 12.2).
Pros
It is easy to use the tool as it has a friendly interface.
Users can pick the iOS version they wish to downgrade.
Cons
It is not available for free
Does not support the latest iOS 12.3 or 12.2 as of now
Might end up erasing the existing data on your phone
Now when you know about 6 different iOS 13 downgrade software options, you can easily pick the best alternative. From the above-listed suggestions, dr.fone – Repair is certainly the best iOS downgrade tool that you can try. Not only to downgrade iPhone software, but you can also use it to fix all kinds of iPhone or iTunes related problems as well. Keep the tool handy and never suffer from unexpected data loss due to iOS downgrade again.