How to Undo an Update on iPhone/iPad?
"How to undo an update on iPhone? I have updated my iPhone X to a beta release and now it seems to malfunction. Can I undo iOS update to a previous stable version?"
This is a query of a concerned iPhone user posted on one of the forums about an unstable iOS update. Recently, a lot of users have updated their device to the new iOS 12.3 only to regret it afterward. Since the Beta version is not stable, it has caused tons of issues with iOS devices. In order to fix this, you can simply undo the software update on the iPhone and downgrade it to a stable version instead. In this post, we will let you know how to undo an iOS update using iTunes as well as a third-party tool.
Part 1: Things you should know before undoing an iOS Update
Before we provide a stepwise solution to undo iOS update, it is important to note certain things. Consider the following things in mind before you take any drastic step.
Since downgrading is a complex procedure, it might lead to unwanted data loss on your iPhone. Therefore, it is recommended to always take a backup of your data before you undo the iPhone/iPad update.
You would need a dedicated desktop application like iTunes or dr.fone – Repair to undo software update on iPhone. If you find a mobile app claiming to do the same, then avoid using it (as it can be a malware).
The process would automatically make some changes on your phone and might overwrite existing settings.
Make sure that you have enough free space on your phone so that you can install the new update easily.
It is recommended to turn off the Find my iPhone service before undoing an iOS update. Go to your device's Settings > iCloud > Find my iPhone and turn the feature off by confirming your iCloud credentials.

Part 2: How to Undo an Update on iPhone without Losing Data?
Since native tools like iTunes would wipe the existing data on your iPhone during the downgrade process, we recommend using dr.fone – Repair instead. A highly advanced and user-friendly tool, it can fix all kinds of issues related to an iOS device. For instance, you can readily fix a frozen or malfunctioning iPhone at the convenience of your home with dr.fone – Repair. Apart from that, it can also undo iOS update without losing the existing data on your phone.
Undo an iOS update Without data loss.
Only fix your iOS to normal, no data loss at all.
Fix various iOS system issues stuck in recovery mode, white Apple logo, black screen, looping on start, etc.
Downgrade iOS without iTunes at all.
Works for all models of iPhone, iPad and iPod touch.
Fully compatible with the latest iOS 12.
3981454 people have downloaded it
The application is a part of the dr.fone toolkit and runs on every leading Windows and Mac version. It supports all kinds of iOS devices, including those running on iOS 12.3 as well (like iPhone XS, XS Max, XR, and so on). If you wish to learn how to undo an update on iPhone using dr.fone – Repair, then follow these instructions:
Step 1: Connect your iPhone
Firstly, connect your iPhone to the system using a working cable and launch the dr.fone toolkit on it. From the available options on its home, select "Repair" to start things.
Step 2: Pick a repairing mode
Visit the "iOS Repair" section from the left section and select a mode to repair your device. Since you only wish to undo iOS update without any data loss, select the Standard Mode from here.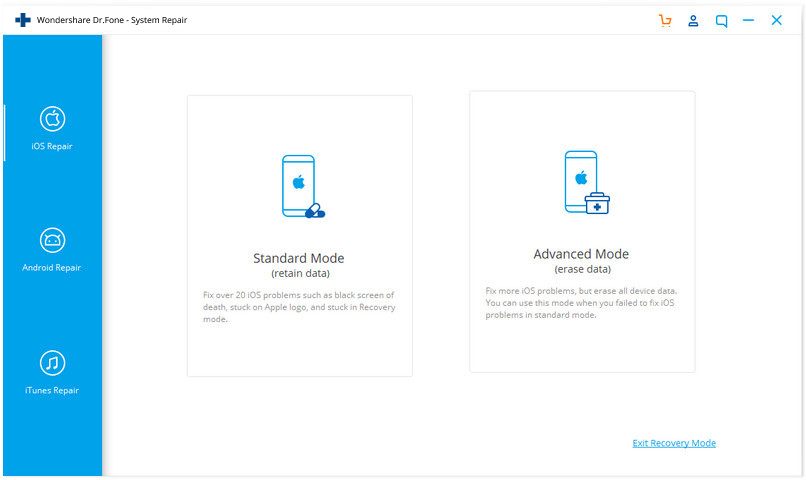 Step 3: Verify device details and download an iOS update
As you would proceed, the application will automatically detect your device's model and system. Here, you need to change the current system version to an existing stable one. For instance, if your iPhone runs on iOS 12.3, then select 12.2 and click on the "Start" button.
This will make the application download the stable version of the firmware available for your phone. Just hold on for a while as the downloading process might take a few minutes. When the firmware download is completed, the application will perform a quick verification to make sure it is compatible with your device.
Step 4: Complete the installation
As soon as everything gets ready, you will be notified by the following screen. Just click on the "Fix Now" button to undo software update on iPhone.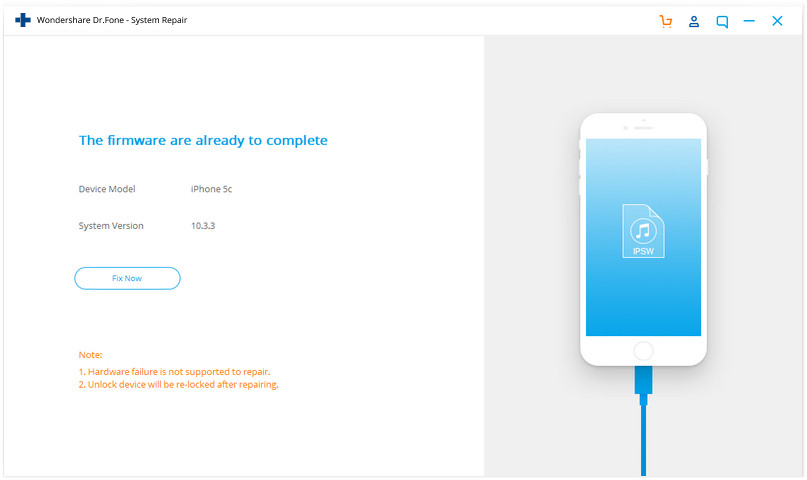 Sit back and wait for a few more minutes as the application would install the relevant iOS update on your phone and restarts it in the normal mode.
Part 3: How to Undo an Update on iPhone using iTunes?
If you don't want to use a third-party application like dr.fone to undo iOS update, then you can also give iTunes a try. To do this, we will first boot our device in the Recovery Mode and would later restore it. Before you proceed, make sure that you have an updated version of iTunes installed on your system. If not, you can update iTunes before learning how to undo an iOS update. Furthermore, you should also be familiar with the following limitations of this solution.
It will wipe the existing data on your iOS device by resetting it. Therefore, if you have not taken a prior backup, you would end up losing your stored data on the iPhone.
Even if you have taken a backup on iTunes, you can't restore it due to compatibility issue. For instance, if you have taken a backup of iOS 12 and have downgraded it to iOS 11 instead, then the backup can't be restored.
The process is a bit complicated and will take more time than a recommended solution like dr.fone – Repair.
If you are fine with the above-mentioned risks to undo software update on the iPhone, then consider following these steps:
Step 1: Launch iTunes
To start with, launch an updated version of iTunes on your Mac or Windows system and make sure it stays running in the background. Now, use a working cable and connect your iPhone to the system. Turn your iOS device off, if it isn't already.
Step 2: Boot your device in Recovery Mode
Using the correct key combinations, you need to boot your phone in the recovery mode. Kindly note that the exact combination might change between different iPhone models.
For iPhone 8 and later versions: Quick press and release the Volume Up button and then the Volume Down button. Now, press the Side button and keep holding it for a while until your phone boots in the recovery mode.

For iPhone 7 and 7 Plus: Connect your phone and press the Power and the Volume Down buttons at the same time. Keep holding them for the next few seconds until the connect-to-iTunes logo would appear.
For iPhone 6s and previous models: Hold the Power and the Home buttons at the same time and keep pressing them for a while. Let them go once the connect-to-iTunes symbol will come on the screen.
Step 3: Restore your iOS device
Once your phone would enter the Recovery Mode, iTunes will automatically detect it and display a relevant prompt. Just click on the "Restore" button here and again on the "Restore and Update" button to confirm your choice. Agree to the warning message and wait for a while as iTunes would undo iOS update on your phone by installing a previous stable update on it.
In the end, you would be asked to enter your Apple ID and password to authenticate the action and boot the phone in normal mode.
Part 4: How to Delete an iOS Beta Profile on iPhone/iPad?
When we install an iOS Beta version on our device, it creates a dedicated profile during the process. Needless to say, once you have completed the downgrading, you should get rid of the iOS Beta profile. Not only will it make more free space on your phone, but would also avoid any software-related issues or conflicts on it. Here's how you can delete the iOS Beta profile on your phone in a jiffy.
Unlock your iOS device and go to its Settings > General > Profile.
Here, you can see the iOS Beta profile of an existing installer. Just tap on it to access the profile settings.
At the bottom of the screen, you can see an option for "Remove Profile". Tap on it and select the "Remove" option again from the pop-up warning.
In the end, authenticate your action by entering the passcode of your device to delete the beta profile permanently.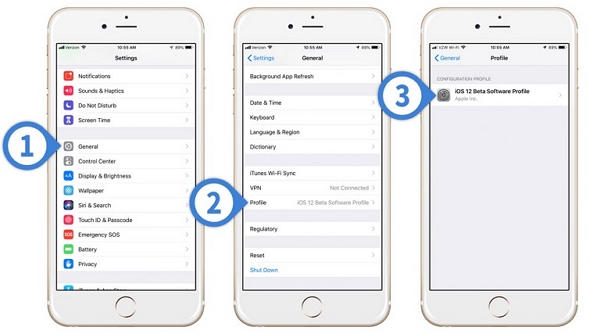 By following this simple tutorial, anyone can learn how to undo an update on iPhone or iPad. Now when you know can you undo an iOS update and how you can easily resolve the recurring issues on your device? Ideally, it is recommended only to update an iOS device to a stable official release. In case if you have upgraded your iPhone or iPad to a beta version, then undo iOS update using dr.fone – Repair. Unlike iTunes, it is an extremely user-friendly solution and will not cause unwanted data loss on your device.