2 Ways to Access Android Phone with Broken Screen
We've all been there - your phone slips from your fingers and starts tumbling towards the ground, and that dreaded thought pops into your mind: "Oh no! Please don't let the screen be broken!"
Your smartphone's screen is its most important component – after all, we use our screens to navigate between apps, send text messages, check email and watch videos. When it is cracked or broken, it can be a huge pain.

When their phone screen is shattered, many people write off their device as unusable. This is not true! It is still possible to access a phone with a broken screen, even if it seems shattered beyond repair. You can indeed back up all of your content on an Android phone, allowing you to move your information to a new device and/ or restore your existing phone once the screen has been fixed. Whew!
Have you recently smashed your phone's screen? If so, you are not alone. Read ahead as we take a detailed look into 2 of the most effective ways to access an Android device with a broken screen. By the end of this article, you will know exactly how to recover your valuable data.
Part 1: How to Access Files on an Android phone with a Broken Screen with dr.fone toolkit
While you are understandably attached to your phone, the most important aspect of any Android device is not its physical shell, but rather the files and software housed inside. Thankfully, the dr.fone - Recover (Android) tool is a solution that allows you to easily access all files on your Android phone, even in the case that the screen is broken beyond repair. dr.fone - Recover (Android) is the world's first data retrieval software for broken Android phones and tablets, and it will help you to recover your data with confidence and ease.
Here are just some of dr.fone's many features:
World's 1st data retrieval software for broken Android devices.
It can also be used to recover data from broken devices or devices that are damaged in any other way such as those stuck in a reboot loop.
Highest retrieval rate in the industry.
Recover photos, videos, contacts, messages, call logs, and more.
Compatible with Samsung Galaxy devices.
3981454 people have downloaded it
The advantages of using dr.fone are that it is incredibly simple to use (even for people with no technological skills), it is very reliable, and it is accessible to everyone.
How to Use dr.fone to Access Files on an Android phone with a broken screen?
Step 1: Download and install dr.fone to your PC. Launch the program, and then select Recover among all the tools.
Step 2: Next, click Recover Android Data.
Step 3: Go to Recover from broken phone tab, and select the file types you would like to recover. If you want everything simply click "select all."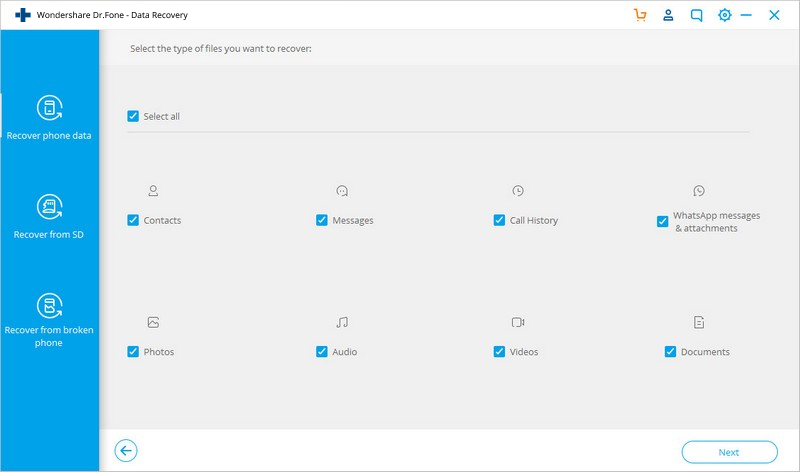 Step 4: dr.fone will then ask you exactly what is wrong with your phone. If the screen is broken, select "Black screen (or screen is broken)" in order to proceed.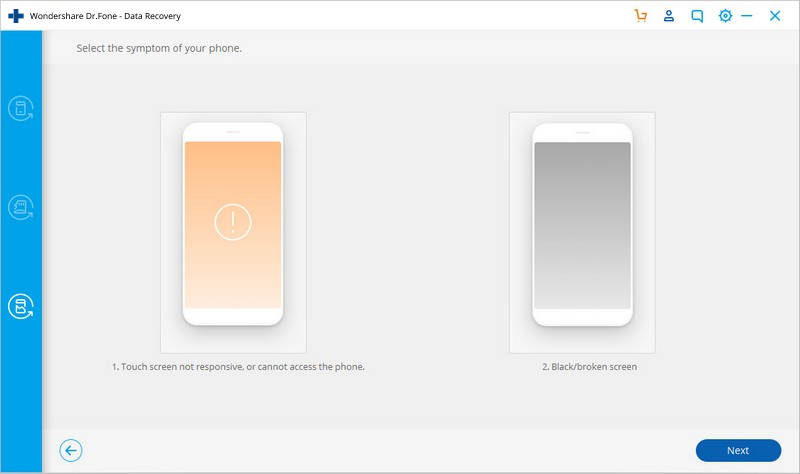 Step 5: In the next window, select the correct name and model of your device. Unsure about the correct answer? Click on "How to confirm the device model" for guidance.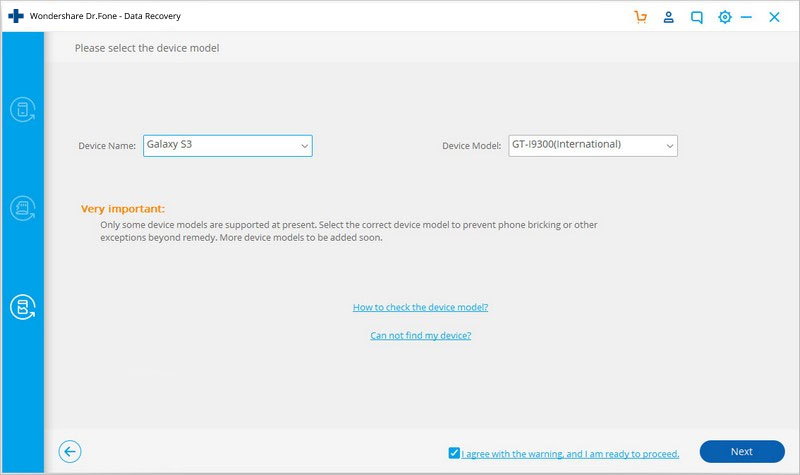 Step 6: In the next window you will be provided with clear instructions on how to enter "Download Mode" for your particular device.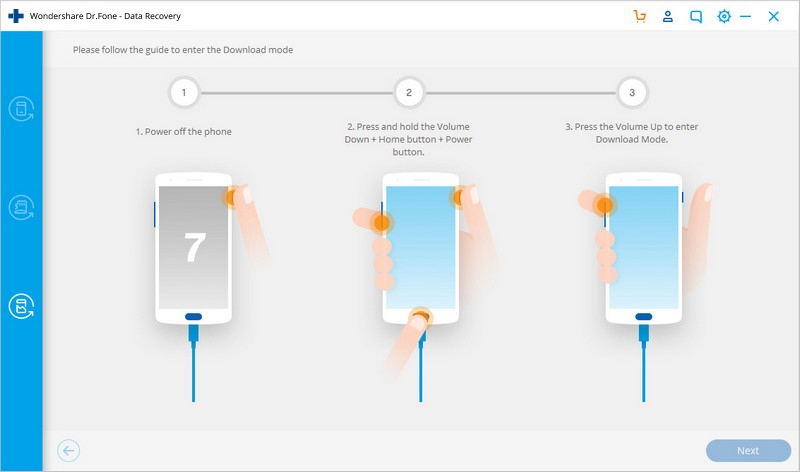 Step 7: Once the phone is in download mode, dr.fone will start to analysis it and then scan it for all your files.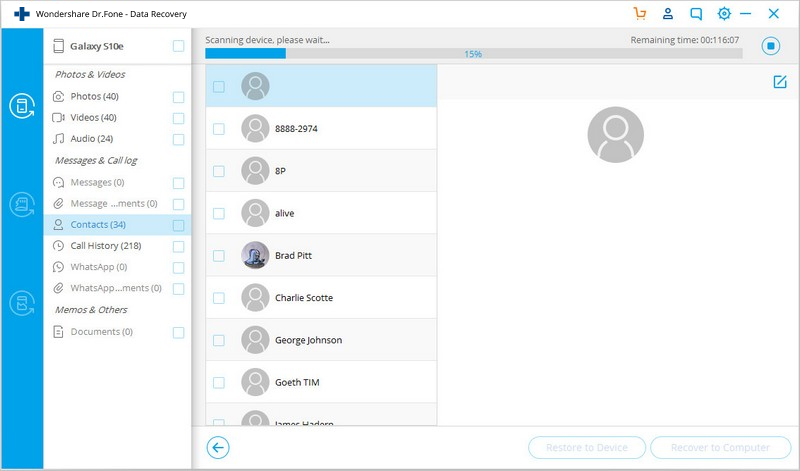 Step 8: After analysis and scanning, all of the files on the device will be displayed in the resultant window. Select the ones that you would like to recover, and then click on "Recover."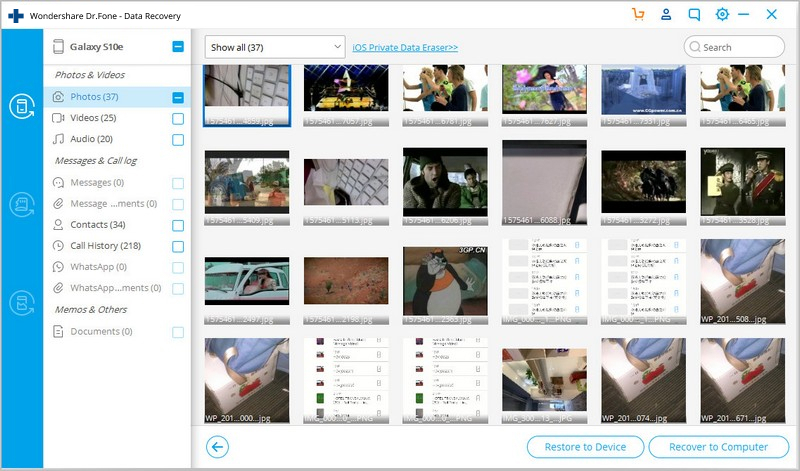 Ta-da! All of your data and information should be safely recovered, allowing you to reinstall it on a new phone, or on your existing phone once you have the screen repaired.
How to Access Android Phone with Broken Screen from a PC
Want to try accessing your Android phone data on your PC without using an external program? This has only recently been made possible, but a new, free tool known as Android Control, which is developed by XDA Forum Member k.janku1, can now enable you to gain access to you Android device via a PC, and consequently save all of your data. This can be a huge relief if you have broken your phone and are panicking about your info!
You will need to have enabled USB debugging on your device in order for this method to work, and you also need to install ADB on your computer. Here's how to use Android Control.
Step 1: Install ADB on your PC. You can download it here: http://forum.xda-developers.com/showthread.php?t=2317790. The program will create a shortcut on your desktop that can then be used to open a command prompt.
Step 2: Once the command prompt is open enter the following code:
Adb shell
echo "persist.service.adb.enable=1" >>/system/build.prop
echo "persist.service.debuggable=1" >>/system/build.prop
echo "persist.sys.usb.config=mass_storage,adb" >>/system/build.prop"
Step 3: Reboot.
Step 4: At this point, simply connect your Android device to your PC and the Android Control Screen will popup allowing you to control your device via your computer.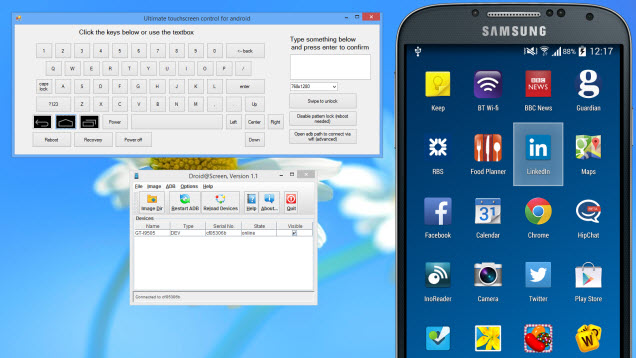 While this solution will work for some, it is best suited to those who love coding and who have already installed USB debugging on your phone. Is this you? If so – you're in luck!
Part 3: A Comparison of Both Methods
Both of the methods described above are very effective in allowing access to a device with a broken screen, but let's be honest: the second option is a lot more complicated, and if you are not familiar with programming commands you might find yourself completely lost.
These methods do have some differences that can either make them the ideal solution for you or a complete waste of your time.
What's best for your lifestyle? Some of the most glaring differences include:
dr.fone toolkit for Android is infinitely simpler. To use this program, you only need to connect your phone to your PC and follow a few simple steps to access your files. In order for Android Control to work, it requires that you have already enabled USB debugging on your device before the accident, and so may not work when you need it most.
Android Control gives you a way to control the device from an external source – you will then need to select the files that you want to save manually and then copy them to your PC. Conversely, dr.fone toolkit will allow you recover all of the files on your device and save them to your PC in just one click.
dr.fone toolkit is very easy to use, even if you don't consider yourself to be a tech-savvy individual. On the other hand, Android Control requires that you not only know how to enable USB debugging, but that you know how to use ADB. This is beyond the capacity of most users, but tech savvy individuals will likely prefer this method.
As you can see, one of these methods is very easy to use and helps you to claim control over all of your files in less than 5 minutes. The other, Android Control, does require advanced knowledge of ADB, but it can also be quite effective in its own right. If you have some degree of knowledge and skill in computing, you will likely prefer Android Control.
Whichever method you choose to use, we hope that you are able to get all of your files back – a smashed screen can be extremely stressful, and it's nice to have this weight off of your shoulders!
Unlock Android
1. Android Lock

2. Android Password