Top 3 Efficient Samsung to Mac Transfer Solutions
Samsung and Mac are two fundamentally different software systems. Hence, it becomes very difficult for owners of both a Mac and Samsung to transfer files. This is so because the two devices are not compatible. If you own a Samsung and also a Mac you will have a hard time exchanging data between the two devices.
However, fortunately, you do not have to be stuck. Why? Because there are several third-party solutions in place to help you connect Samsung to Mac. These third-party solutions will also give you the freedom to transfer content between Samsung and Mac and that too without any data loss, whenever you need it.
So, let's move on and explore a few software which can help you seamlessly transfer data from Samsung to Mac.
Part 1: Transfer files from Samsung to Mac in 1 click
This method is the best and the most interesting one as it helps you transfer Samsung files to Mac in just a single click. Well, I am talking about the ever ready software called dr.fone (Mac) - Transfer (Android). It is regarded as the most appreciated tool for transferring all types of data on Samsung to Mac computer or another iOS/Android device. dr.fone (Mac) - Transfer (Android) is a product of Wondershare, the company which specializes in developing software products to make life and work easier for everyone. This tool can help you manages a wide variety of content as you keep much more than just contacts and photos on our smartphones. The actual list can include podcasts to videos to music to images and much more.
However, with dr.fone you can manage these types of files effortlessly as it is compatible with all devices. Thus, those with older Android OS can also utilize its services and proceed with Samsung to Mac transfer.
Transfer Data Between Samsung and Mac Seamlessly.
Transfer files between Android and computer, including contacts, photos, music, SMS, and more.
Manage, export/import your music, photos, videos, contacts, SMS, Apps etc.
Transfer iTunes to Android (vice versa).
Manage your Android device on computer.
Fully compatible with Android 8.0.
3981454 people have downloaded it
To download, visit the website and thereafter install the copy for Mac. Also, make sure you have the Transfer – Android module installed into your Mac. The dr.fone (Mac) - Transfer (Android) Android module lets you transfer from Mac to Samsung directly using just a USB cable.
Once you have the required software, follow the steps outlined below.
Step 1 – Download dr.fone
Now to start the transfer process, install the software which will directly bring you to the main page of dr.fone. From the interface, as shown below, select the 'Transfer' option.
Step 2 – Connect Samsung Device
After that, connect your Android/Samsung device to your Mac with your USB cable (Here, you must ensure that you only use an authorized cable to avoid any disconnection in between).
Step 3 – Choose Transfer to Mac System
As soon you connect your Samsung Device to Mac OS, dr.fone will recognize the Samsung phone, then, you can choose between 3 different functions. Click on 'Transfer Device Photos to Mac'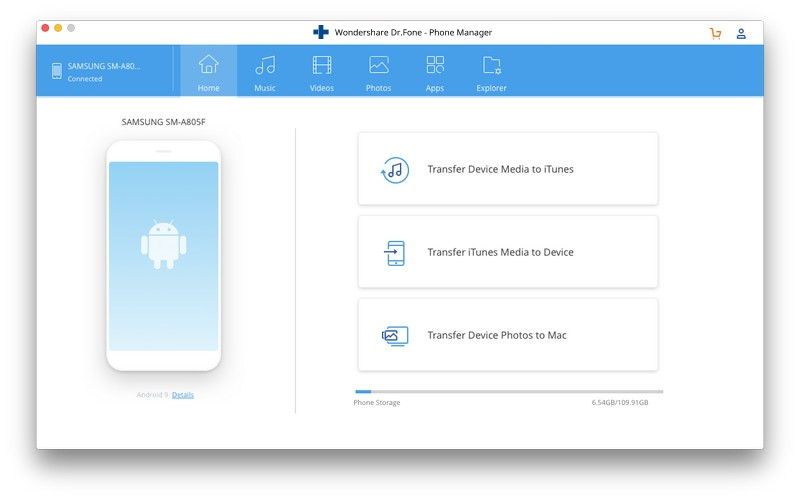 Step 4 Visit the Section to choose the file type
On the next screen, you will view various options to choose from such as Photos, Music, Videos, Apps etc. So from there, you can select one of the options as per your need for transferring data from Samsung to Mac.
Here, we are taking the example of Photos (you can go with other options too) – To transfer photos from Samsung to Mac selectively, click on the 'Photos' tab. You will see previews of all the photos, simply click on the ones you want to export to Mac.
Step 5: Choose to Export
Since you are done with selecting the required images (data), proceed by selecting the Export button. This will once again give you two options: You need to choose "Export to Mac" which will initiate the process of transfer from Samsung to Mac in a matter of seconds.
dr.fone (Mac) – Transfer (Android) gives you the chance to explore your devices and manage them in a better way. As currently, your prime focus is on data transfer from Samsung to Mac, you can follow the step by step process as explained above.
Note: Data transfer through dr.fone is fast as well as without any possibility of data loss.
Part 2: How to transfer files from Samsung to Mac using Samsung Smart Switch?
In this section, you will get to know how to use Samsung Smart Switch to connect Samsung to Mac. Samsung Smart Switch which is a software designed for the transfer of files between devices with at least one Samsung device. As you are looking for ways to transfer files from Samsung device to Mac, Samsung Smart Switch can be another great tool to help you with it.
So, if you want to give Samsung Smart Switch a try? Then, first of all, you will need to download and install the Samsung Smart Switch to your computer. Once the installation is done, you can begin the process of transfer of content from Samsung to Mac. Have a look at the required steps for the same below:
Step 1 – Connect your Samsung device to your Mac via USB.
Step 2 – Open Smart Switch application on the Mac and choose "USB file transfer" option to transfer via USB cable.
Step 3 – Now, wait for the software to recognize your phone. Once the phone is recognized, Smart Switch will display its name.
Step 4: A list of data files will appear. Choose the ones you wish to transfer as backup from Samsung to Mac. After that Press the "OK" button to complete the file transfer from Samsung to Mac.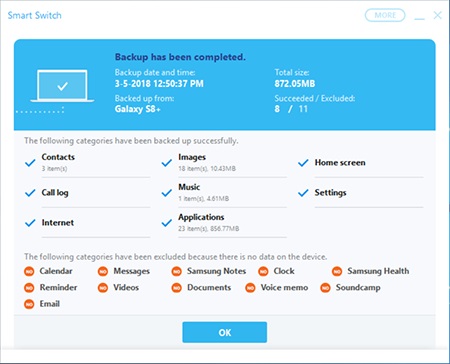 Soon, the files will get transferred from your Samsung phone to your Mac system.
Samsung Smart Switch is highly beneficial because it is fast, efficient, and easy. Users can transfer multimedia content from Samsung to Mac in seconds. However, there are some disadvantages that users should be aware of like:
Samsung Smart Switch is designed to transfer files to Samsung devices only.
You cannot perform the opposite transaction, for example, if you want to transfer photos to iPhone from Samsung, it cannot be done.
This limited functionality can limit the appeal of Samsung Smart Switch.
Part 3: How to transfer files from Samsung to Mac using Android File Transfer?
Android File Transfer is a file management system for Mac. It comes from developers of Android and is meant to bridge the gap between iOS and Android. Android File Transfer is a handy system to transfer data from Samsung to Mac because it is super easy and smooth. You can transfer, delete and organize the content quickly and easily. It is very convenient for people who own a Samsung and a Mac and need to transfer content between both the devices. Android File Transfer is great because it can do lots of work without any hassles and in a quick mode. Hence, you have the freedom to focus on what is important: Contacts, music, photos and social media.
If you are interested in using Android File Transfer, then consider installing the software to your Mac by visiting Android File Transfer.
After downloading and installing the file management system, follow the guideline outlined below.
Step 1 – To begin, open AndroidFileTransfer.dmg
Step 2 – Then, drag the Android File Transfer to the Applications
Step 3 – Now, just connect your Android device to your Mac with the help of a USB cable.
Step 4 – Here, you need to click two times on the file 'Android File Transfer'
Step 5 –Lastly, browse the files and folders on your mobile device and then proceed to Copy and Transfer files as you see fit.
As you can clearly see, there is a significant advantage in using Android File Transfer. The process is made painless, quick and efficient.
However, Android File Transfer is not a perfect solution because there are certain drawbacks with this application as below:
The file management has a handful of functions, which include copying and deleting files. However, there is nothing else that can be done with Android File Transfer because the functionality is limited.
There are several features that could help file transfer not available on Android File Transfer.
Users cannot preview files, search files or copy/paste files. Therefore, if you have a vast amount of files that need management it is going to be difficult to manage.
Due to the Android File Transfer's limited functionality, it can also be frustrating for some users who want to finish file transfer Samsung to Mac quickly.
Thus, now you are aware of three very efficient ways to complete the process of Samsung to Mac file transfer through the article guidelines by us. After a thorough look at the three different ways, I am sure you can very well conclude that dr.fone (Mac) - Transfer (Android) is the best choice. It acts not only as the perfect data transfer tool but also ensures the safety of your data. Additionally, it can be used among any devices, whether iOS or Android or even Symbion operating systems.
So, without simply waiting, go ahead and try out the dr.fone – Transfer (Android) tool for a complete solution your Samsung to Mac transfer issues.
Samsung Tips
Samsung Tools

Samsung Tool Issues

Transfer Samsung to Mac

Samsung Model Review

Transfer from Samsung to Others

Samsung Kies for PC