[Full Guide] How to Export Contacts from Android?
Contacts are an imminent part of our daily lives. But there are times, when you have to export contacts from Android to PC or to another device. For instance, you bought a new Android/iOS device and now you want to transfer your contacts to it. Or, you may wish to have an extra copy of your contacts, so that you need not to worry about data loss scenarios. Now, if you are looking for the ways about how to export contacts from Android phone, you have landed to the right place. Today's post is specifically tailored to make you familiar with the easiest and the best possible methods to export contacts from Android phone. Keep reading!
Part 1.How to export contacts from Android to PC/another phone?
In the very beginning, we would like to introduce the one of its kind solution, i.e. dr.fone - Transfer (Android). The tool is quite efficient when it comes to exporting contacts from Android. With this powerful tool you can effortlessly transfer/export contacts, photos, videos, Apps, files, and what not. dr.fone – Transfer (Android) is a renowned and trustworthy tool which is recommended by millions of happy users across the globe. With dr.fone – Transfer (Android) you have the privilege to not only export or transfer your data to PC. But, you can also manage (import, edit, delete, export) your data in a safe and secured manner. Let's now explore the advantages of exporting contacts from Android phone via the dr.fone – Transfer:
One Stop Solution to Export Contacts from Android to PC
Transfer, manage, export/import your music, photos, videos, contacts, SMS, Apps etc.
Backup your music, photos, videos, contacts, SMS, Apps etc. to computer and restore them easily.
Transfer iTunes to Android (vice versa).
Fully compatible with 3000+ Android devices (Android 2.2 - Android 8.0) from Samsung, LG, HTC, Huawei, Motorola, Sony etc.
3981454 people have downloaded it
With this mighty tool, users can effortlessly transfer/export their data from iTunes to Android or vice versa.
dr.fone – Transfer supports the transfer of almost all major data types that includes videos, contacts, photos, apps, SMS etc. etc.
This tool enables you to migrate your important data like contacts, SMS etc. between cross platform devices like Android to iPhone (or vice versa), iPhone to PC (or vice versa) and Android to PC (or vice versa).
The tool offers full compatibility for devices running on the latest firmware versions in the market, i.e. Android Oreo 8.0 and iOS 11.
Almost all variants of iOS and Android are well supported by dr.fone –Transfer.
On top of all, you also have the functionality to send text messages to your contacts with this tool.
A convenient and effective way to manage/import/export contacts on Android.
This tool works smoothly irrespective of the operating system you use on your PC as it supports both Mac and Windows based systems.
How to export contacts from Android phone to Windows/Mac PC
We bring you the detailed process about how to export contacts from Android to your PC using the dr.fone – Transfer, in this section. Here's what you need to do.
Please do remember:
to use the genuine lightning cable (preferably the one supplied with your device).
that your device is connected properly to avoid any sort of inconvenience. As improper connection or loose connection may hinder the process and stop you from achieving desirable results.
Step 1: Download and launch the dr.fone – Transfer tool.
Step 2: Hit on the 'Transfer' tab and connect your Android device with your PC.
Step 3: The dr.fone – Transfer tool will detect your device automatically.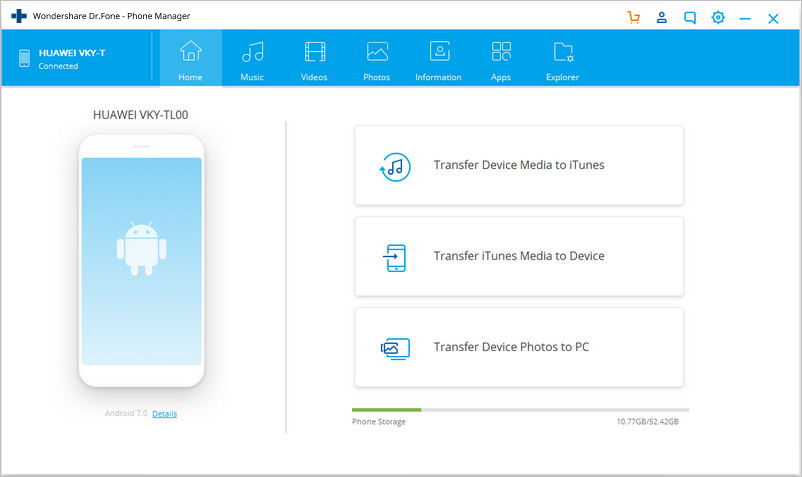 Step 4: Next, select 'Information' tab from the top and then select the desired contacts.
Step 5: Hit on the 'Export' icon. Then, depending upon your requirement opt for either of the options mentioned below.
to vCard: to save the exported contacts into a vCard/VCF (virtual contact file) file.
to CSV: to export the contacts into a CSV (comma-separated value) file format.
to Windows Address Book: to export and add the contacts into a windows address book.
to Outlook 2010/2013/2016: select this to export your contacts directly to your Outlook contacts.
to Device: make use of this to directly export contacts from Android to other iOS/Android device.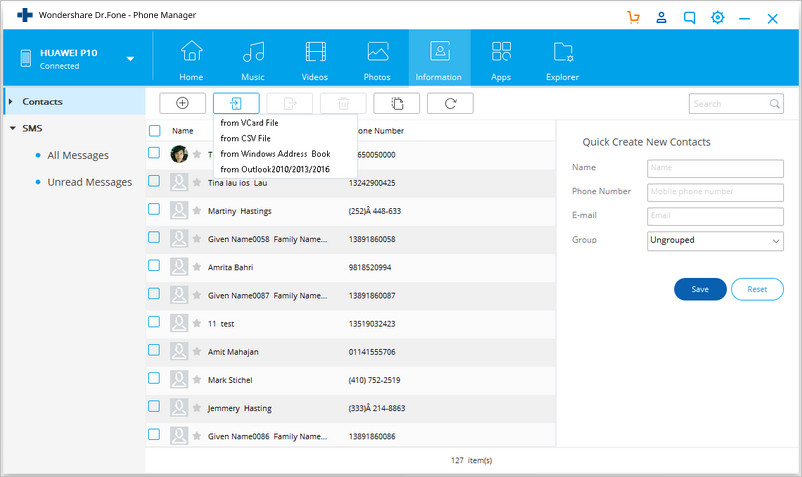 Step 6: Lastly, select the preferred location where you wish to save the exported contacts from Android phone.
Within a short while the export process will be completed. And a pop-up message will come up on your screen notifying 'Export Successfully'. You're all sorted now.
Tip: To import contacts to Android from your PC, you can also make use of the 'Import' icon available just beside the 'Export' icon.
Part 2. How to export contacts from Android to Google/Gmail?
In this part of the article, we bring you the two methods with which you can export Android phone contacts to Google/Gmail. First method is to import the vCard(VCF) or CSV file directly to your Google contacts. Or alternatively, you can directly import contacts from Android to Google/Gmail. Let's now figure out the step by step process to perform both the methods.
Import CSV/vCard to Gmail:
Visit the Gmail.com and log into your Gmail account in which you wish to export phone contacts to.
Now, hit the 'Gmail' icon available on the Gmail dashboard in the top-left corner of your screen. A drop down menu will appear. Select the 'Contacts' option to launch the Contacts Manager dashboard.
Then, push the "More" button and select the 'Import' option from the appearing drop down menu.
Note: You can make use of this menu for other operations as well like export, sort and merge duplicates etc.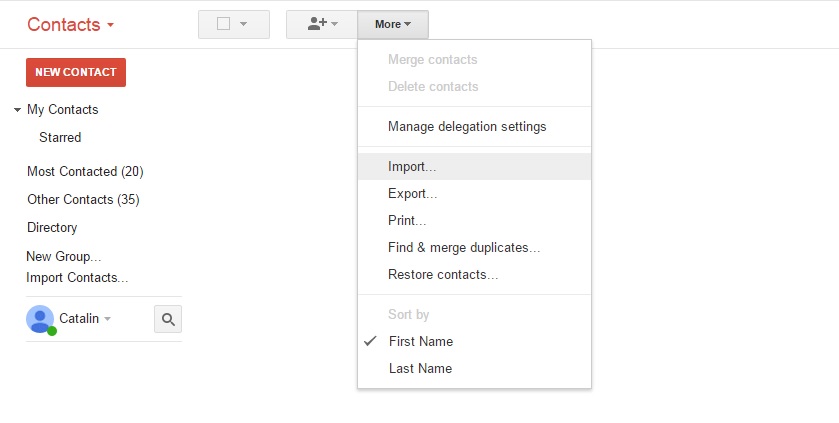 Now, an 'Import Contacts' dialog box will appear on your screen. Hit the "Choose File" button to navigate through your computer and upload the preferred vCard/CSV file. Using the 'File Explorer' window, locate the CSV file we created using the dr.fone – Transfer app in the former part of the article. Once done, hit the "Import" button and you're all sorted.
Alternate Method:
Make sure your device has been linked with a Google account already. If it is not, then you have to configure your device with a Gmail account first. And then, start with the below mentioned procedure.
Launch 'Settings' on your Android, tap on 'Accounts', then select 'Google'. Choose the desired 'Gmail account' to which you wish to export Android contacts.

Now, you'll be brought up to a screen where you need to select the data types you wish to export to Google account. Turn on the toggle switch besides 'Contacts', if it is not already. Then, hit on the '3 vertical dots' located at right top corner and tap the 'Sync Now' button afterwards.
Part 3. How to export Android contacts to USB storage/SD card?
Here in this section we are going to uncover how to export contacts from Android phone using the in-built import export Android contacts feature. Make sure that you have enough space available in your external storage, i.e. SD card/USB storage. Also, this method will export your phone contact to a vCard (*.vcf). This type of file can be used to import contacts over Google or restore contacts back to your smartphone device. Here is the step by step tutorial for it.
Grab your Android device and launch the native 'Contacts' app over it. Now, touch-tap the 'More/Menu' key on your device to bring up a pop up menu. Then, select the Import/Export option.

From the upcoming pop up menu, hit the 'Export to SD Card' option. Confirm your actions by tapping on 'OK'. The export process will then be initiated. Within a short span of time, all your Android contacts gets exported to your SD card.
Final Words
A new phone without contacts seems incomplete. These are the only source to keep us connected with our close ones. Therefore, we offered you the simplest ways for exporting you contacts to another device. We hope this article proved helpful to you and you now well understood how to export contacts from Android. Do share your thoughts with us and let us know your experience of exporting contacts. Thanks!
Android Transfer
Transfer From Android

Transfer from Android to Mac

Data Transfer to Android

Android File Transfer App

Android Manager

Seldom-Known Android Tips